Gold 1.758,18 Eur
Silber 21,32 Eur
Platin 921,74 Eur
Palladium 1.480,60 Eur
(49) 2935 - 3 390 375
Europaweite Lieferung
Europaweite Lieferung
Gold 1.758,18 Eur
Silber 21,32 Eur
Platin 921,74 Eur
Palladium 1.480,60 Eur
SILBER 15,39 EUR
PLATIN 853,48 EUR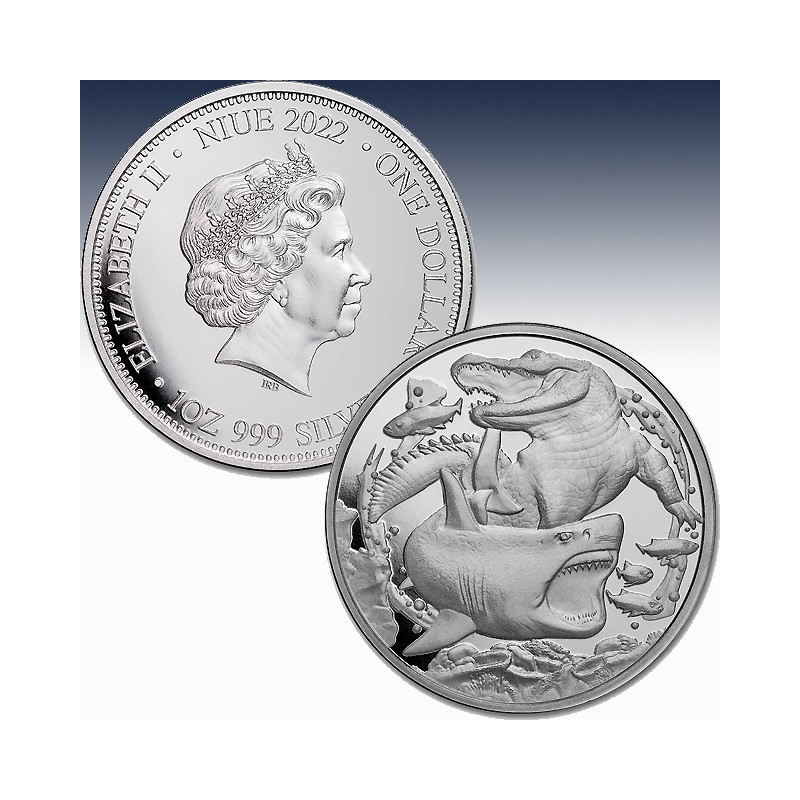  
1 x 1 oz Silbermünze 1$ Niue "Apex Predators - Shark vs Crocodile 2022" -BU-*
| | | |
| --- | --- | --- |
| Hersteller: |   | New Zealand Mint |
| Nennwert: |   | 1 Dollar |
| Prägung: |   | Stempelglanz |
| Stückelung: |   | 1 x 1 Unze |
| Material: |   | Silber |
| Feinheit: |   | 999/1000 |
| Gewicht: |   | 31,1 Gramm |
| Durchmesser: |   |  39,00 mm |
| Auflage: |   | 10.000 Stück |
1 x 1 Unze (oz) Silbermünze 1$ Niue "Apex Predators - Shark vs Crocodile 2022"

(diff.besteuert nach §25a UStG)
This is the final coin in the Apex Predators series and has a mintage of 10,000 worldwide.

Coin Highlights:
Contains 1 oz of .999 fine Silver.
Mintage of 10,000 coins.
Single coins are in plastic capsules. Multiples of 20 coins come in heat-sealed rolls.
Obverse: Shows the right-facing profile of Her Majesty Queen Elizabeth II. Inscriptions include the country of issue, year of issue, face value, size and purity.
Reverse: Features a fierce battle between a shark and crocodile. The battle is taking place underwater and there are images of fish and plants surrounding them.
Sovereign coin backed by Niue government.
Apex Predators are generally the most dominant animal in their ecosystem. These predators are also known as alpha predators and are generally at the top of the food chain. These animals live in all kinds of environments, from the tundra, to the savannas, to the mountains, to the desert, and to the oceans. Without fear of any other predators, apex predators have free reign over their domain.
Technische Daten
Gewicht

31.103

Material

Silber

Jahreszahl

2022

Preis-Addition

13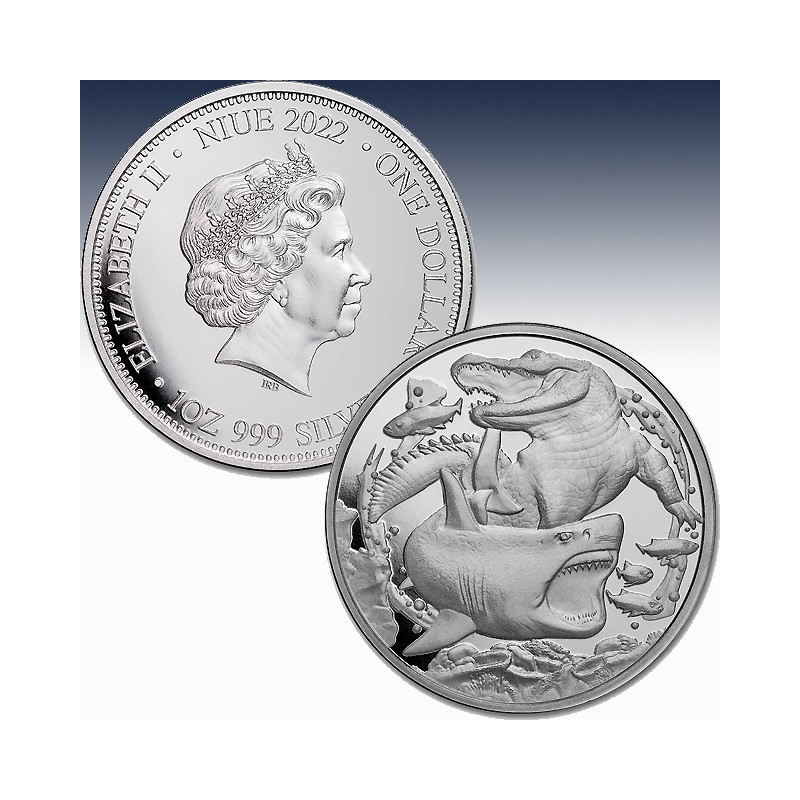 | | | |
| --- | --- | --- |
| Hersteller: |   | New Zealand Mint |
| Nennwert: |   | 1 Dollar |
| Prägung: |   | Stempelglanz |
| Stückelung: |   | 1 x 1 Unze |
| Material: |   | Silber |
| Feinheit: |   | 999/1000 |
| Gewicht: |   | 31,1 Gramm |
| Durchmesser: |   |  39,00 mm |
| Auflage: |   | 10.000 Stück |