Gold 1.760,72 Eur
Silber 21,35 Eur
Platin 923,53 Eur
Palladium 1.490,29 Eur
(49) 2935 - 3 390 375
Europaweite Lieferung
Europaweite Lieferung
Gold 1.760,72 Eur
Silber 21,35 Eur
Platin 923,53 Eur
Palladium 1.490,29 Eur
SILBER 15,39 EUR
PLATIN 853,48 EUR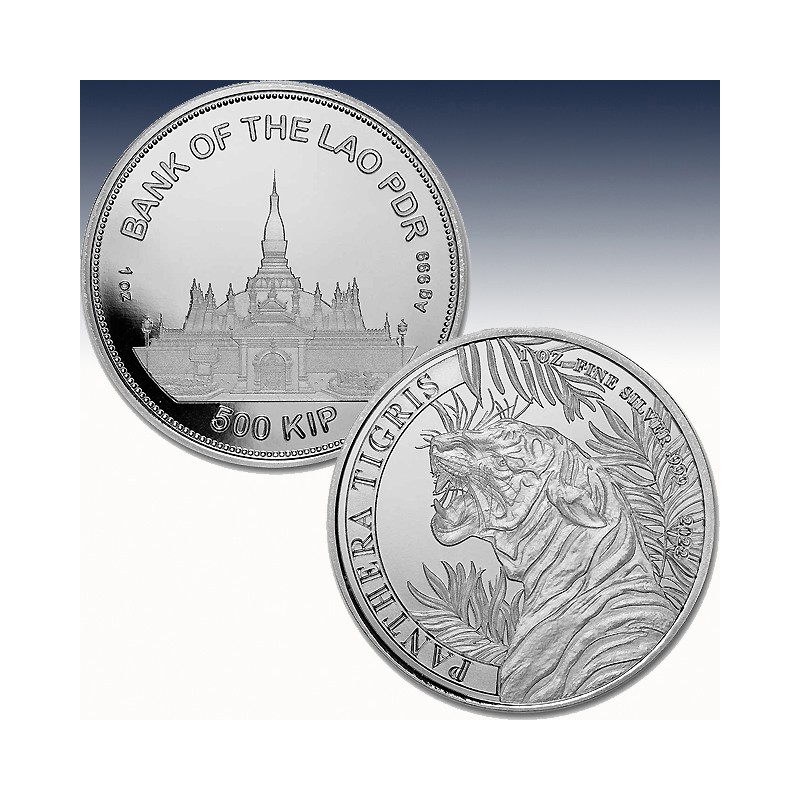  
1 x 1 oz Silbermünze 500 KIP Laos "Tiger - Panthera Tigris 2022" -BU-*(Kapsel)
| | | |
| --- | --- | --- |
| Hersteller: |   | 9Fine Mint |
| Nennwert: |   | 500 KIP |
| Prägung: |   | Stempelglanz |
| Stückelung: |   | 1 x 1 Unze |
| Material: |   | Silber |
| Feinheit: |   | 999/1000 |
| Gewicht: |   | 31,103 Gramm |
| Durchmesser: |   |  39 mm |
| Auflage: |   | 10.000 Stück |
1 x 1 oz (Unze)Silbermünze 500 KIP "Tiger - Panthera Tigris 2020"
(diff.besteuert nach §25a UStG)
This bullion Silver coin issued by the country of Laos features the Indochinese Tiger.

Coin Highlights:
Contains 1 oz of .999 fine Silver.
Mintage of 10,000.
Individual coins come in protective packaging. Multiples of 20 come in heat-sealed rolls.
Obverse: Depicts the Bank of the Lao P.D.R., which is located in Vientiane and is the central bank of Laos. Also included is the face value, purity and weight.
Reverse: Features a profile of a tiger looking over his shoulder. His mouth is open and teeth are showing, indicating that the tiger has given a warning sign of its presence. He is surrounded by forest foliage. Also included is the year of issue, purity and weight.
Sovereign coin backed by the Laos government.

Nam Et-Phou Louey National Protected Area is one of the only places in Indochina where tigers can naturally survive outside of zoos. Tigers were once widespread throughout most of the forested areas across Laos, but today they have disappeared from many parts of the country.
Der Nennwert beträgt 500 KIP . Diese Münze hat einen Anteil von 99,9% Feinsilber mit einem Durchmesser von 38,81mm, wiegt 31,103 Gramm und wurde in einer wunderschönen"Brilliant uncirculated" Produziert.
Laos Gold & Silver Coins
This is only the third release in this series featuring the rare tiger. Each year a new design features the tiger. This Silver bullion program has become popular not only with bullion buyers, but also collectors who want to own each design. The first coin in the Laos bullion program featured a tiger emerging from the forest and became a very popular Brilliant Uncirculated coin for collectors and investors. There are very few bullion coins issued by the country of Laos, though it has issued numerous Proof coins in the past with exceptional designs.
Technische Daten
Gewicht

31.103

Material

Silber

Jahreszahl

2022

Preis-Addition

12.5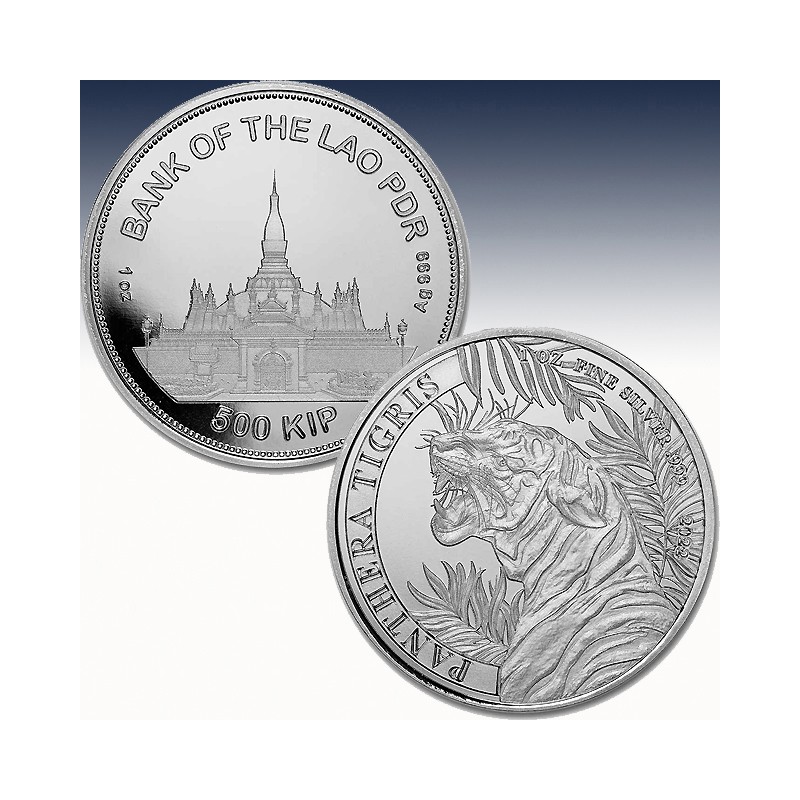 | | | |
| --- | --- | --- |
| Hersteller: |   | 9Fine Mint |
| Nennwert: |   | 500 KIP |
| Prägung: |   | Stempelglanz |
| Stückelung: |   | 1 x 1 Unze |
| Material: |   | Silber |
| Feinheit: |   | 999/1000 |
| Gewicht: |   | 31,103 Gramm |
| Durchmesser: |   |  39 mm |
| Auflage: |   | 10.000 Stück |