Gold 1.863,05 Eur
Silber 21,38 Eur
Platin 855,59 Eur
Palladium 879,72 Eur
(49) 2935 - 3 390 375
Europaweite Lieferung
Europaweite Lieferung
Gold 1.863,05 Eur
Silber 21,38 Eur
Platin 855,59 Eur
Palladium 879,72 Eur
SILBER 15,39 EUR
PLATIN 853,48 EUR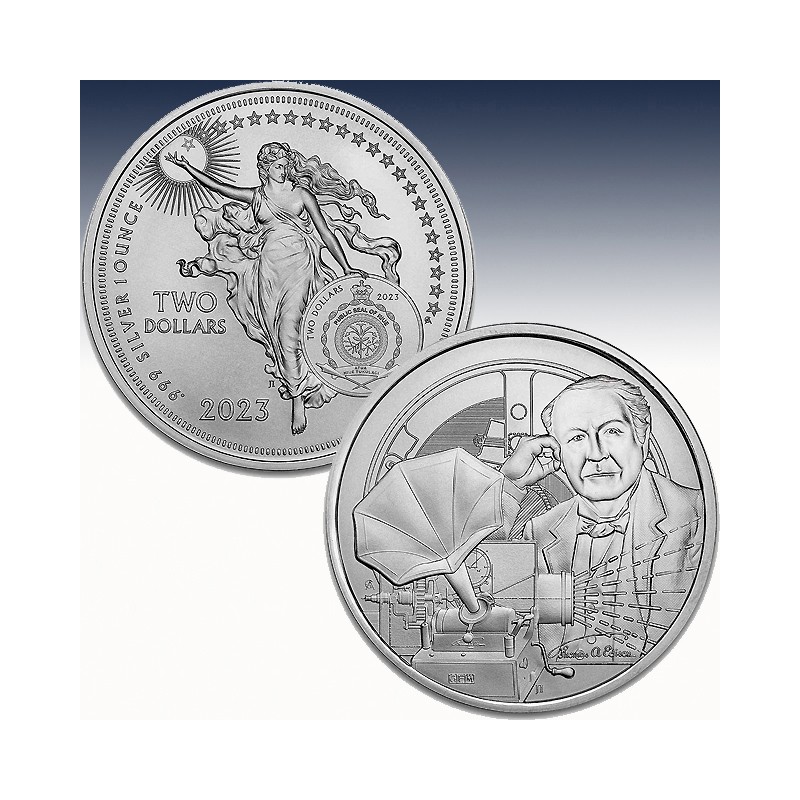  
1 x 1 oz Silbermünze 5$ Niue Islands "Silver Icons of Inspiration - Thomas Edison 2023" -BU- *
| | | |
| --- | --- | --- |
| Land: |   | Niue Island |
| Nennwert: |   | 5$ |
| Prägung: |   | Stempelglanz |
| Stückelung: |   | 1 x 1 Unze |
| Material: |   | Silber |
| Feinheit: |   | 999/1000 |
| Gewicht: |   | 31,1 Gramm |
| Durchmesser: |   |  39,00 mm |
| Auflage: |   | 10.000 Stück |
1 x 1 Unze (oz) 5$ Niue Islands
"Silver Icons of Inspiration - 7# Thomas Edison 2023"
The next release in the Icons of Inspirations APMEXclusive® series features a beautiful design celebrating Thomas Edison. Artwork by famed coin designer Joel Iskowitz pays an elegant tribute to this quintessential American inventor.

Coin Highlights:

Contains 1 oz of .999 fine Silver.
Limited mintage of 10,000 coins, delivered in an enhanced BU satin finish.
Individual coins packaged in protective capsules. Multiples of 10 arrive in heat-sealed rolls.
Obverse: Thomas Edison, with a motion picture camera emanating light rays in front of his image. A reel is displayed behind his image.
Reverse: A triumphant image of a muse with an arm extended toward the sun, the seal of the nation of Niue, $2 face value and the date.
Coin designs created by famed coin designer Joel Iskowitz.

2023 Niue 1 oz Silver Icons of Inspiration: Thomas Edison BU
The next release in the popular series of coins celebrating famous  Icons of Inspiration features Thomas Edison, one of the most influential inventors throughout history. Born with partial deafness, this became the motivation behind his behavior and career, which resulted in a world-record 1,093 patents in which he singly or jointly owned.

This release includes 10,000 Silver BU, 100 Proof Silver and 100 Gold BU coins designed by the esteemed artist Joel Iskowitz. Ten of the Proof Silver and Gold BU coin certificates of authenticity are signed by Joel Iskowitz to add an extra level of appeal. The obverse depicts Thomas Edison's portrait, along with a motion picture camera, which Edison invented many of the components of. Also featured in the image is a motion picture reel, along with his signature.

Thomas Alva Edison
With 1,093 record breaking patents, Thomas Alva Edison was one of the greatest inventors in history. Born in Milan, Ohio, but living a large portion of his life in West Orange, New Jersey, Edison is probably best known for inventing the incandescent light bulb, in which he failed 2,774 times before finally breaking through! He also created the phonograph and the motion picture camera, as well as made major contributions in improving the telegraph and telephone. He died a folk-hero to many, as his life epitomized the American Dream. He lived a rags-to-riches story as he overcame his partial deafness, and through hard work and determination, became a world-renowned inventor and an icon.
Technische Daten
Gewicht

31.103

Material

Silber

Jahreszahl

2023

Preis-Addition

8.8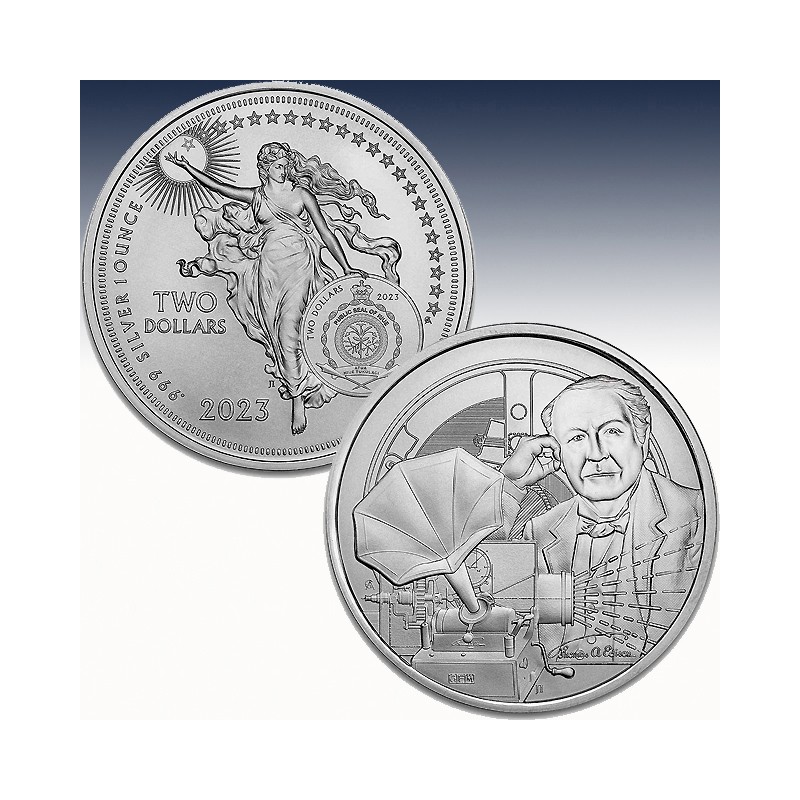 | | | |
| --- | --- | --- |
| Land: |   | Niue Island |
| Nennwert: |   | 5$ |
| Prägung: |   | Stempelglanz |
| Stückelung: |   | 1 x 1 Unze |
| Material: |   | Silber |
| Feinheit: |   | 999/1000 |
| Gewicht: |   | 31,1 Gramm |
| Durchmesser: |   |  39,00 mm |
| Auflage: |   | 10.000 Stück |