Gold 1.748,00 Eur
Silber 20,61 Eur
Platin 907,24 Eur
Palladium 1.864,50 Eur
(49) 2935 - 3 390 375
Europaweite Lieferung
Europaweite Lieferung
Gold 1.748,00 Eur
Silber 20,61 Eur
Platin 907,24 Eur
Palladium 1.864,50 Eur
SILBER 15,39 EUR
PLATIN 853,48 EUR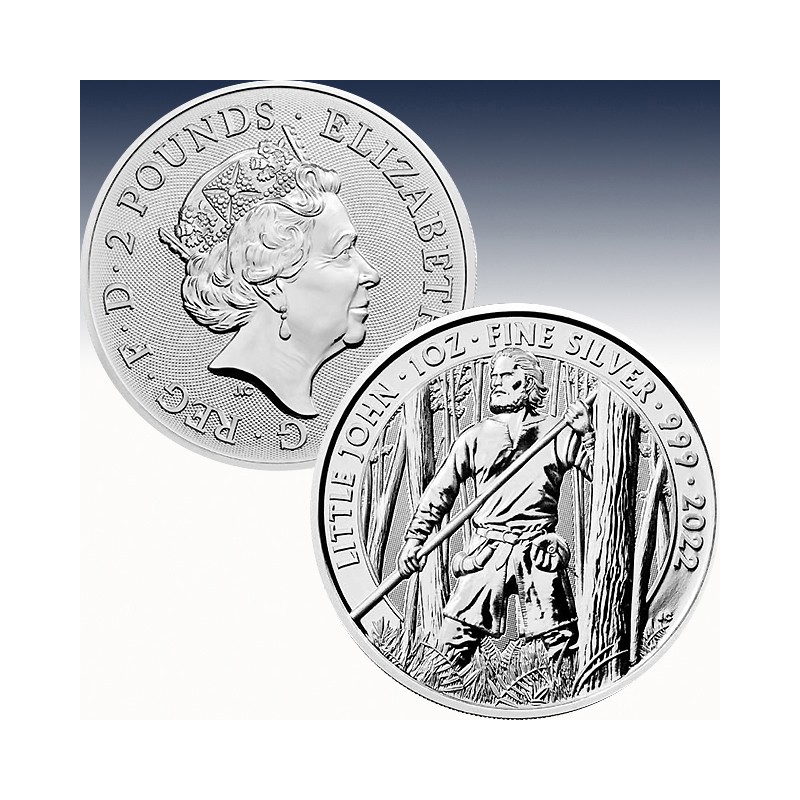  
1 x 1 Oz 2 Pfd Großbritannien "Myths and Legends - Little John 2022" -BU-*
| | | |
| --- | --- | --- |
| Hersteller: |   | The British RM |
| Nennwert: |   | 2 PFD |
| Prägejahr: |   | 2021 |
| Stückelung: |   | 1 Unze |
| Material: |   | Silber |
| Feinheit: |   | 999/1000 |
| Gewicht: |   | 31,10 Gramm |
| Durchmesser: |   | 38,60mm |
| Auflage: |   | 25.000 Stück |
1 x 1 Unze (oz) 2Pfd Großbritannien
"Myths and Legends - 3# Little John 2022"

(diff.besteuert nach §25a UStG)
Eine neue Ausgabe der British Royal Mint mit dem Motiv "Robin Hood".
This Silver bullion coin from The Royal Mint features Robin Hood as the first design in the Myths and Legends series.
In the third release of the Myths and Legends Series at the Royal Mint, the band of Merry Men takes shape around Robin Hood with the depiction of Little John in the collection. Once again available in 1 oz silver and 1 oz gold issues, the Royal Mints fine craftsmanship and coin design shine through in this release.
Coin Highlights:
Available to you in an individual plastic flip, an acrylic tube of 25 coins, or a Monster Box of 500 coins!
3rd design in the Myths and Legends Series!
Artwork by Jody Clark!
Contains 1 Troy oz of .999 pure silver in BU condition.
The face value of 2 Pound sterling (GBP) is fully backed by the British government.
On the obverse is Queen Elizabeth II.
The reverse features Little John standing in Sherwood Forest.
Micro-dot texture included in the reverse background field.
The only character from the mythical folktale of Robin Hood that is mentioned more than the titular character is Little John. The figure of Little John serves as Robins second-in-command among the Merry Men and is one of the oldest characters in the tale, right alongside Robin Hood himself.
All of these 2022 1 oz British Silver Little John Coins are available to you in Brilliant Uncirculated condition. Individual specimens in this series come with a plastic flip. Multiples come in packaging that includes acrylic tubes of 25 coins or Monster Boxes of 500 coins. The Monster Box holds a total of 20 individual tubes inside. These coins come with a new micro-dot texture in the background field for security, a measure introduced on the Robin Hood coin in 2020.
On the obverse of 2022 British Silver Little John Coins is an effigy of Queen Elizabeth II. The Queen is shown here in right-profile relief in the fifth-generation portrait for the Royal Mint. This design was created in 2015 and shows the Queen at the age of 89 wearing the George IV State Diadem Crown on her head.
The reverse side of the 2022 1 oz Silver Little John Coin features a towering effigy of Little John. He is featured standing in Sherwood Forest with a large staff in hand. Little Johns name is an ironic play on words as the historical accounts tell of a man with a giant frame. Standing 7 feet tall, his weapon of choice is the quarterstaff.
Diese Sammlermünze wird als ganze Unze herausgegeben und besteht aus 99,9 Prozent Feinsilber in der Prägung "Stempelglanz"!
Sie hat einen Durchmesser von 38,6 mm. 
Auch diese Silbermünze gilt als gesetzliches Zahlungsmittel in ihren Herausgeberland Großbritannien.
Pro Einheit mit 25 Münzen erfolgt die
Lieferung im Original - Münztube!
Technische Daten
Gewicht

31.103

Material

Silber

Jahreszahl

2022

Preis-Addition

7.25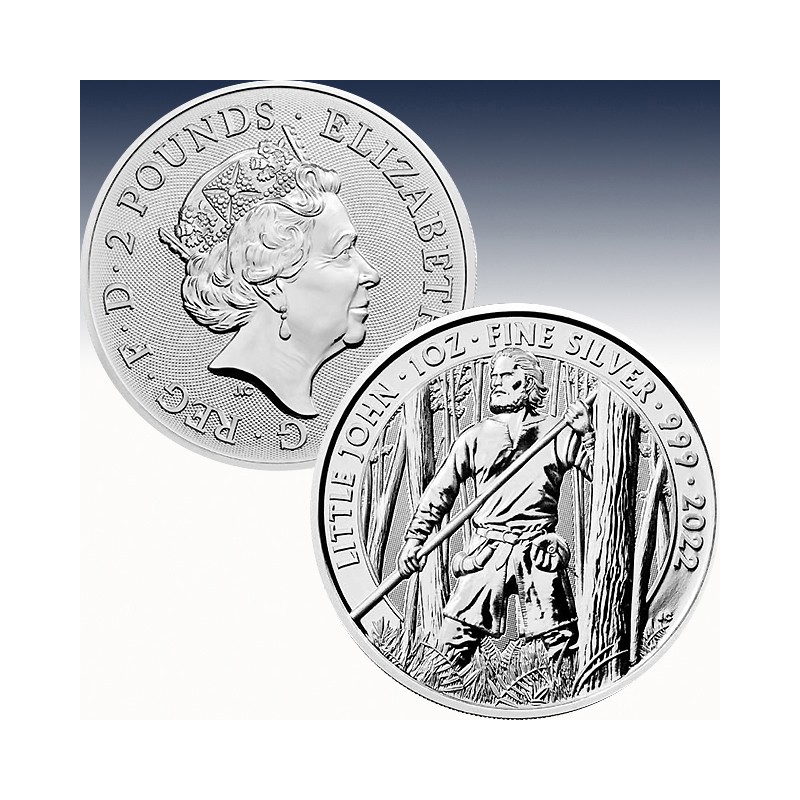 | | | |
| --- | --- | --- |
| Hersteller: |   | The British RM |
| Nennwert: |   | 2 PFD |
| Prägejahr: |   | 2021 |
| Stückelung: |   | 1 Unze |
| Material: |   | Silber |
| Feinheit: |   | 999/1000 |
| Gewicht: |   | 31,10 Gramm |
| Durchmesser: |   | 38,60mm |
| Auflage: |   | 25.000 Stück |