Gold 1.688,63 Eur
Silber 21,34 Eur
Platin 958,16 Eur
Palladium 1.797,00 Eur
(49) 2935 - 3 390 375
Europaweite Lieferung
Europaweite Lieferung
Gold 1.688,63 Eur
Silber 21,34 Eur
Platin 958,16 Eur
Palladium 1.797,00 Eur
SILBER 15,39 EUR
PLATIN 853,48 EUR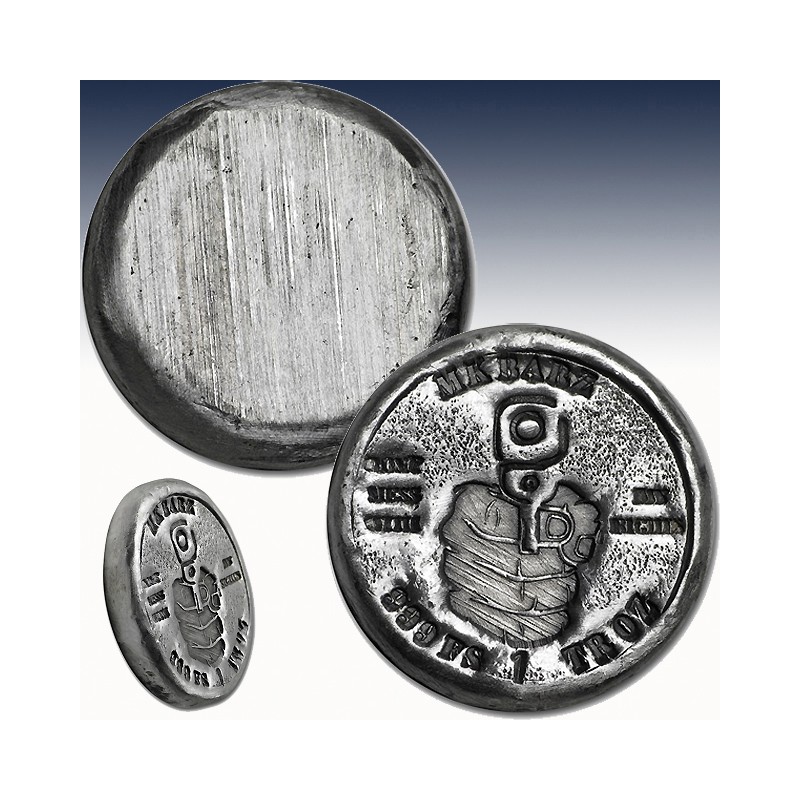  
1 x 1 oz Hand Poured Silver Bar MK BarZ "Right to Bear Arms" -BU-
| | | |
| --- | --- | --- |
| Hersteller: |   | MK Barz |
| Steuersatz: |   | 19% |
| Prägung: |   | Stempelglanz |
| Stückelung: |   | 1 x 1 oz |
| Material: |   | Silber |
| Feinheit: |   | 999/1000 |
| Gewicht: |   | 31,103 Gramm |
| Verpackung: |   | |
| Durchmesser: |   | -,- mm |
| Dicke: |   | -,- mm |
1 x 1 oz Hand Poured Silver Bar MK BarZ "Right to Bear Arms"

Viele der Silberbarren, die von der MK Barz&Bullion Mint hergestellt werden, sind mit Symbolen der Piraten
versehen -  dem Totenkopf oder der Piratenflagge oder aber im Look einer Schatztruhe.This unique Silver round has been carefully poured and stamped. Each round features an inverted image depicting a closed fist with a handgun, adding an appeal of collectibility to the .999 fine Silver content.

Product Highlights:
Contains 1 oz of .999 fine Silver.
Comes in protective packaging.
Obverse: Features a tightly gripped fist with a handgun along with the words "Don't Mess With My Right". Each round displays the manufacturers name along with the weight and purity below.
Reverse: Blank.

If you are looking to own something truly treasurable, look to this one-of-a-kind Silver bullion. Add 1 oz hand poured Silver round to your cart today!
Einzigartig in ihrer Art und bereits jetzt schon ein Kult in den Vereinigten Staaten.
Jede dieser wunderschönen Silverbar enthält 999/1000 Feinsilber und wurde in einem wunderschönem "Brilliant uncirculated" geprägt.
Technische Daten
Gewicht

31.103

Material

Silber

Preis-Addition

11.75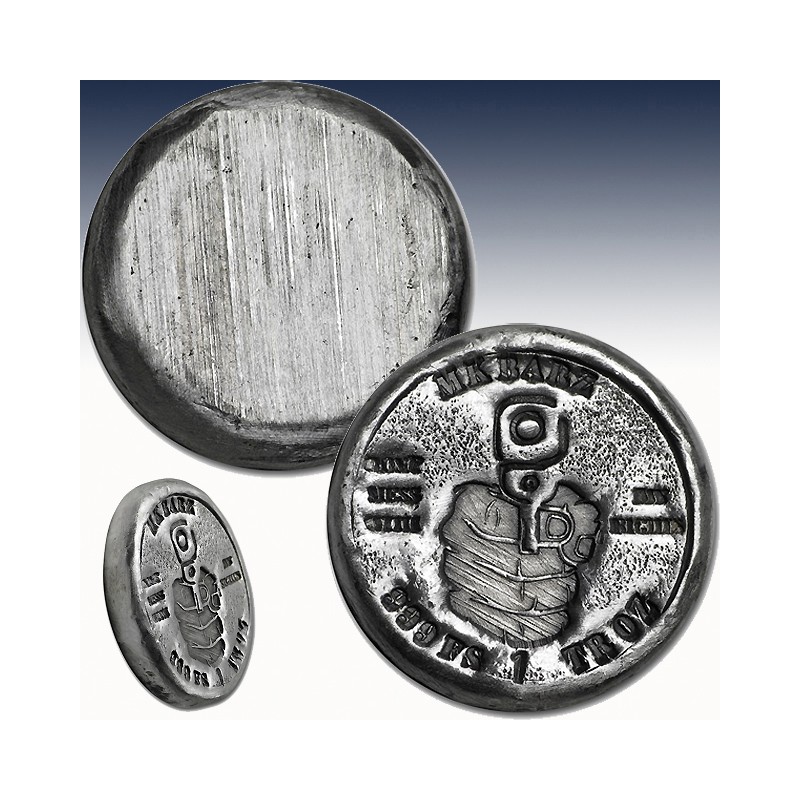 | | | |
| --- | --- | --- |
| Hersteller: |   | MK Barz |
| Steuersatz: |   | 19% |
| Prägung: |   | Stempelglanz |
| Stückelung: |   | 1 x 1 oz |
| Material: |   | Silber |
| Feinheit: |   | 999/1000 |
| Gewicht: |   | 31,103 Gramm |
| Verpackung: |   | |
| Durchmesser: |   | -,- mm |
| Dicke: |   | -,- mm |