Gold 1.863,05 Eur
Silber 21,38 Eur
Platin 855,59 Eur
Palladium 879,72 Eur
(49) 2935 - 3 390 375
Europaweite Lieferung
Europaweite Lieferung
Gold 1.863,05 Eur
Silber 21,38 Eur
Platin 855,59 Eur
Palladium 879,72 Eur
SILBER 15,39 EUR
PLATIN 853,48 EUR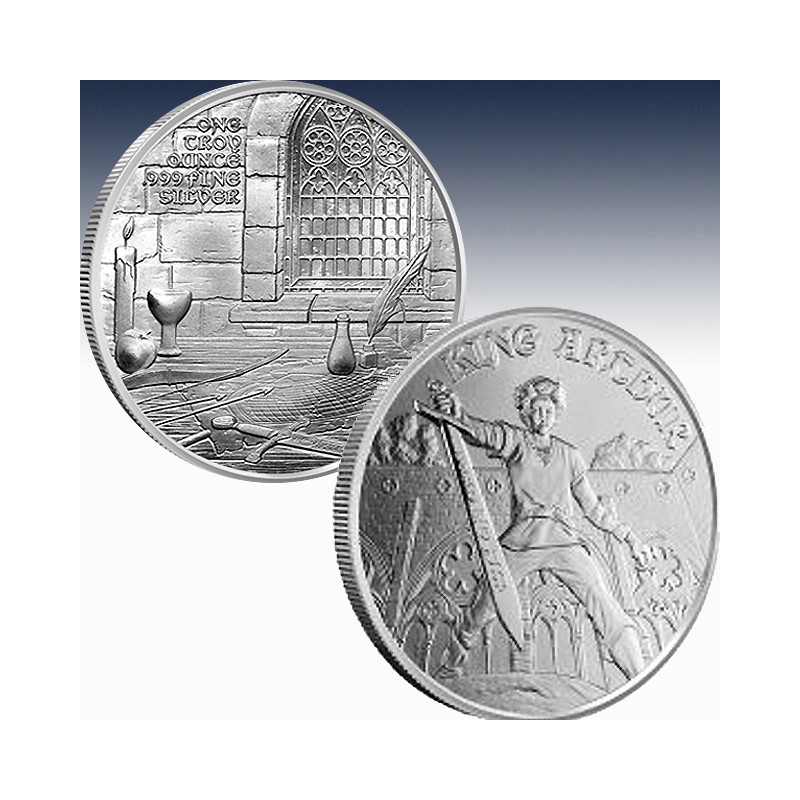  
1 x 1 oz Silverround SilverTowne "Medieval Legends - King Arthur 2023" -BU-
| | | |
| --- | --- | --- |
| Herskunft: |   | USA |
| Steuersatz: |   | 19% |
| Prägung: |   | Stempelglanz |
| Stückelung: |   | 1 x 1 Unze |
| Material: |   | Silber |
| Feinheit: |   | 999/1000 |
| Gewicht: |   | 31,103 Gramm |
| Durchmesser: |   | 38,6mm |
| Auflage: |   | -,- Stück |
1 x 1 Unze (oz) Silverround SilverTowne
"Medieval Legends  7# King Arthur 2023"
The final release of the Medieval Legends Series arrives with the depiction of King Arthur, a fitting conclusion after the penultimate release and its depiction of the Holy Grail. A significant part of the Arthurian legend is the quest for the Holy Grail, a sacred and mystical chalice said to have been used by Jesus at the Last Supper. King Arthur's knights undertook various adventures to find the Holy Grail, a symbol of purity and divine favor. Right now, 1 oz Medieval Legends King Arthur Silver Rounds are available to purchase online from JM Bullion.
Round Highlights:
Arrives inside individual flips, plastic tubes of 20 rounds, or boxes of 500 rounds!
7th and final issue of the Medieval Legends Series!
Inspiring image of a young King Arthur!
Contains 1 Troy oz of .999 pure silver.
Obverse features Arthur withdrawing Excalibur from the stone.
Reverse design elements include the Medieval Legends table setting with relics representing the figures from the collection.
Each of the 1 oz Medieval Legends King Arthur Silver Rounds offered here comes with an individual flip. The rounds are offered in multiples of 20 or 500 as well, with 20 in plastic tubes and 500 in a box. Each box holds 25 individual 20-round tubes.
King Arthur's quest for the Holy Grail focused heavily on the role of his Knights of the Round Table. King Arthur's knights, including famous figures like Sir Lancelot, Sir Gawain, and Sir Galahad, are central characters in the Arthurian legends. They embarked on quests, fought against mythical creatures, and sought to uphold the code of chivalry in service to their king.
Obverse design elements on the Medieval Legends King Arthur Silver Round feature a depiction of a young Arthur before he became king. He is depicted withdrawing the mythical sword known as Excalibur from the stone. The inscription of TAKE ME UP on the blade is said to reflect his call to be the rightful king. Many versions of King Arthur's tale suggest that the first time he drew Excalibur in battle, the blade shone so bright that it blinded his enemies.
Reverse visuals on 1 oz King Arthur Silver Rounds include a vision of a table setting in a Medieval stone castle. There are several relics strewn about the tabletop, each one reflecting a different figure featured in the Medieval Legends round series.
Die Silverrounds bestechen durch eine hervorragende "Brilliant uncirculated" Prägequalität und einem außergewöhnlich schönem Design. Jede dieser wunderschönen Silver Round enthält 999/1000 Feinsilber.
Technische Daten
Gewicht

31.103

Material

Silber

Jahreszahl

2023

Preis-Addition

7.8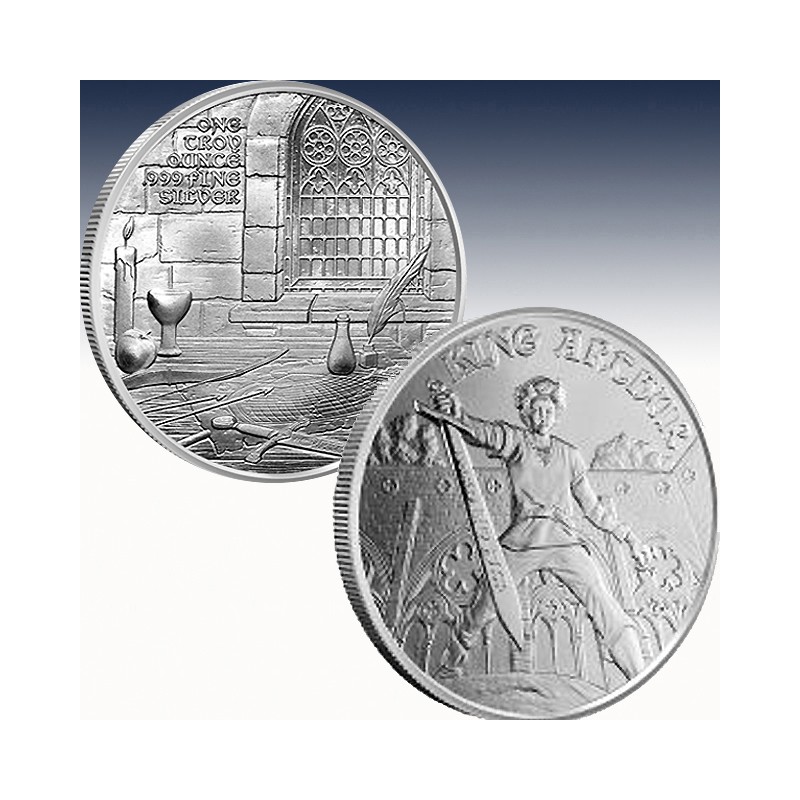 | | | |
| --- | --- | --- |
| Herskunft: |   | USA |
| Steuersatz: |   | 19% |
| Prägung: |   | Stempelglanz |
| Stückelung: |   | 1 x 1 Unze |
| Material: |   | Silber |
| Feinheit: |   | 999/1000 |
| Gewicht: |   | 31,103 Gramm |
| Durchmesser: |   | 38,6mm |
| Auflage: |   | -,- Stück |