Gold 1.817,41 Eur
Silber 22,05 Eur
Platin 958,79 Eur
Palladium 1.302,75 Eur
(49) 2935 - 3 390 375
Europaweite Lieferung
Europaweite Lieferung
Gold 1.817,41 Eur
Silber 22,05 Eur
Platin 958,79 Eur
Palladium 1.302,75 Eur
SILBER 15,39 EUR
PLATIN 853,48 EUR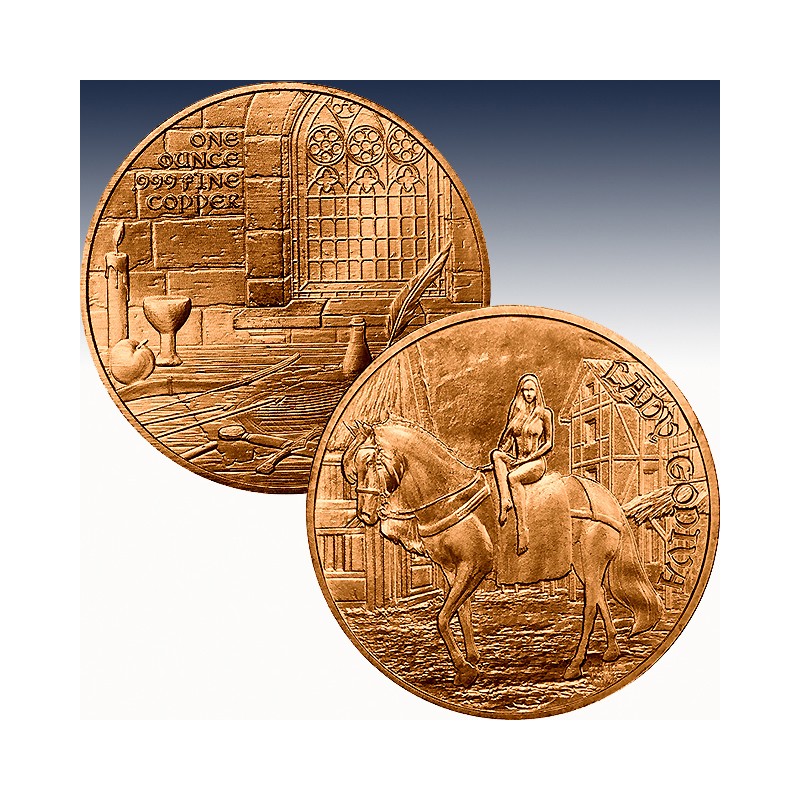  
1 x 1 oz Copper Round Silver Towne "Medieval Legends Lady Godiva 2022" -BU-
| | | |
| --- | --- | --- |
| Hersteller: |   | Silver Towne |
| Steuersatz: |   | 19% |
| Prägung: |   | Stempelglanz |
| Stückelung: |   | 1 x 1 Unze |
| Material: |   | Kupfer |
| Feinheit: |   | 999/1000 |
| Gewicht: |   | 28.349 Gramm |
| Verpackung: |   | zip-Tüte |
| Durchmesser: |   | 39 mm |
1 x 1 Unze (oz) Copper Round Silver Towne
"Medieval Legends 3# Lady Godiva 2022"

Lady Godiva is one of the first women in recorded history to showcase her own power to alter the political conversation, and she did so in stunning fashion for her day. The wife of Leofric, Earl of Mercia, Lady Godiva is said to have famously protested her own husbands taxation on the people in an eye-catching manner. Today, you have the chance to get 1 oz Copper Medieval Legends Lady Godiva Rounds online at Provident Metals.
Highlights:
Arrives with individual protective flips, plastic tubes of 20, or boxes of 500 copper rounds!
3rd design featured in the Medieval Legends Series!
Brand-new Lady Godiva design!

Contains 1 AVDP oz of .999 pure copper.

Obverse depicts Lady Godiva in the nude riding through Coventry on horseback.

Reverse features the common design of the series with relics on the table representing each of the figures in the Medieval Legends Series.
While the likes of Robin Hood and the Pied Piper cannot be directly verified in the written record of England or Germany as having existed, Lady Godiva was very much a real person. She lived in 11th-century Anglo-Saxon England. She was a noblewoman and wife of Leofric, Earl of Mercia. Lady Godiva and her husband were active patrons to various churches and monasteries in England at this time, but she is famously remembered for the legend surrounding her protest of taxes imposed on the people by her own husband.
Obverse
In the obverse design of 1 oz Copper Medieval Legends Lady Godiva Round, the namesake figure is shown in a replica of her daring protest. As her husband raised taxes on his tenants to an oppressive level, Lady Godiva decided to showcase her displeasure for the tax by riding through the center of Coventry in the nude on horseback. Her long hair was the only thing to offer her cover, which strategically covered her body as she made her way through the city.
Reverse
For the reverse design of the Copper Medieval Legends Lady Godiva Round, you will find the common design element of the series. This visual shows a table in the room of a Medieval castle. On the table, there are several relics scattered, each one providing a hint of the figures that have featured and will feature in the Medieval Legends Series.
History
Lady Godivas infamous nude ride through Coventry isnt the only legend to arise from this tale. It is alleged that the term Peeping Tom resulted from her ride. Later versions of her legend tell of a man named Thomas who was so mesmerized by her beauty that he stopped and watched her ride through Coventry. Legends state that he was struck blind or even dead as a result of his peeping.
Jede dieser wunderschönen Copperround enthält 999/1000 Feinkupfer und wurde im feinsten "Brilliant uncirculated" geprägt.
Pro Einheit mit 20 Münzen erfolgt die
Lieferung im Original - Münztube!
Technische Daten
Gewicht

KFIXRSZBQ

Material

Kupfer

Jahreszahl

2022

Preis-Addition

4.5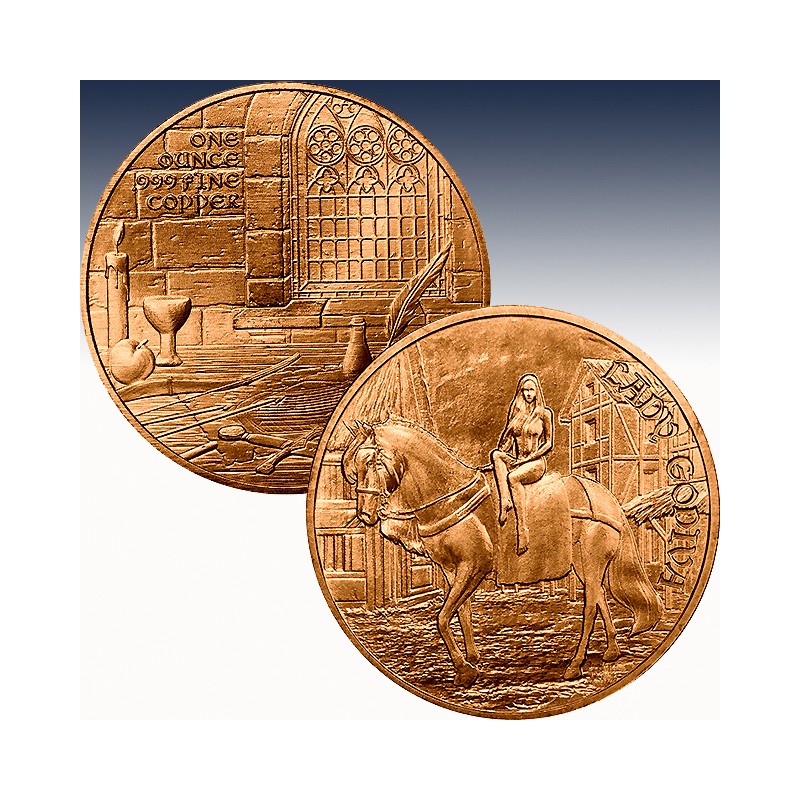 | | | |
| --- | --- | --- |
| Hersteller: |   | Silver Towne |
| Steuersatz: |   | 19% |
| Prägung: |   | Stempelglanz |
| Stückelung: |   | 1 x 1 Unze |
| Material: |   | Kupfer |
| Feinheit: |   | 999/1000 |
| Gewicht: |   | 28.349 Gramm |
| Verpackung: |   | zip-Tüte |
| Durchmesser: |   | 39 mm |