Gold 1.817,69 Eur
Silber 22,01 Eur
Platin 955,78 Eur
Palladium 1.301,89 Eur
(49) 2935 - 3 390 375
Europaweite Lieferung
Europaweite Lieferung
Gold 1.817,69 Eur
Silber 22,01 Eur
Platin 955,78 Eur
Palladium 1.301,89 Eur
SILBER 15,39 EUR
PLATIN 853,48 EUR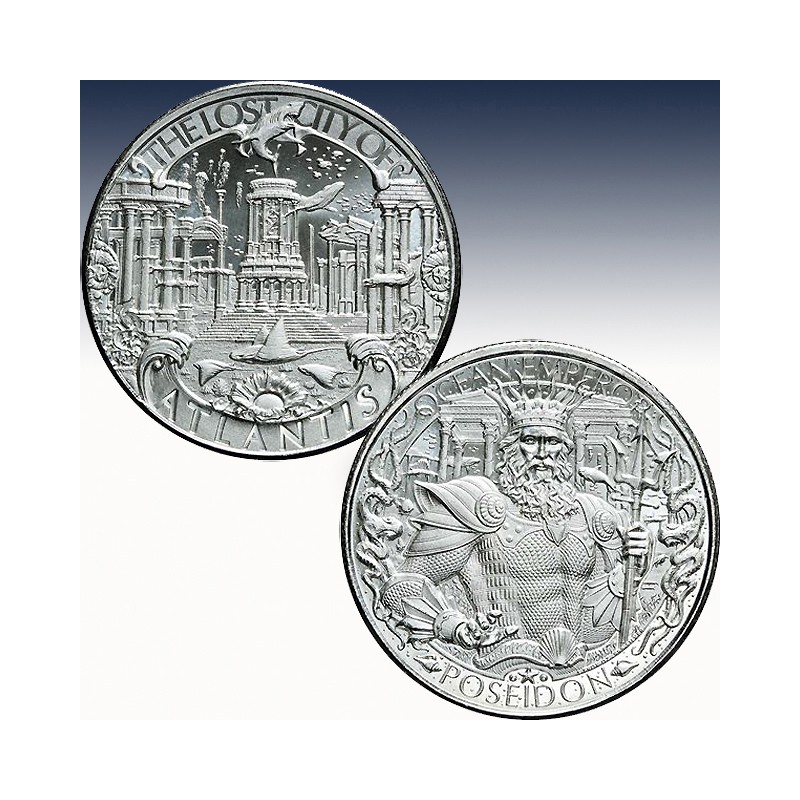  
1 x 1 oz Silverround Mason Mint "Atlantis - Mythical Cities Series" -BU-
| | | |
| --- | --- | --- |
| Hersteller: |   |  Mason Mint |
| Steuersatz: |   | 19% |
| Prägung: |   | Stempelglanz |
| Stückelung: |   | 1 x 1 Unze |
| Material: |   | Silber |
| Feinheit: |   | 999/1000 |
| Gewicht: |   | 31,103 Gramm |
| Verpackung: |   | zip-Tüte |
| Durchmesser: |   | 39 mm |
1 x 1 Unze (oz) Silverround Mason Mint "Atlantis - Mythical Cities Series"

There are a handful of classic images and designs in numismatics that tend to reappear on privately minted silver bullion, especially silver rounds.
The front side displays the Greek god Poseidon, known as the ruler of the seas. Poseidon is shown in full regalia and in exquisite detail. In addition to donning his undersea armor, he wears a crown and holds his traditional trident (three-pronged spear). Fish and an ionic-style temple can be seen in the background. Seashells and squids fill the outer rim design, separating the inscriptions "POSEIDON" at the bottom and "OCEAN EMPEROR" at the top.
The specifications "1 TROY OZ .999 SILVER" are inscribed in very small lettering near the bottom rim. These rounds were struck with a special laser-engraved die that allows the weight and purity to be micro printed. This way, nothing detracts from the full beauty of the incredible design!
On the back side, a view of the mythological ruins of Atlantis, the undersea city, is shown. Sharks, stingrays, and other aquatic life can be seen swimming among the city's ancient buildings and ionic columns. A school of jellyfish are visible in the background while a whale passes by the city's central rotunda. The inscriptions "THE LOST CITY OF" and "ATLANTIS" are divided between the top and bottom rim.
Jede dieser wunderschönen Silverround

enthält

999/1000

Feinsilber und wurde im wunderschönem Brilliant uncirculated geprägt.
Technische Daten
Gewicht

31.103

Material

Silber

Preis-Addition

7.5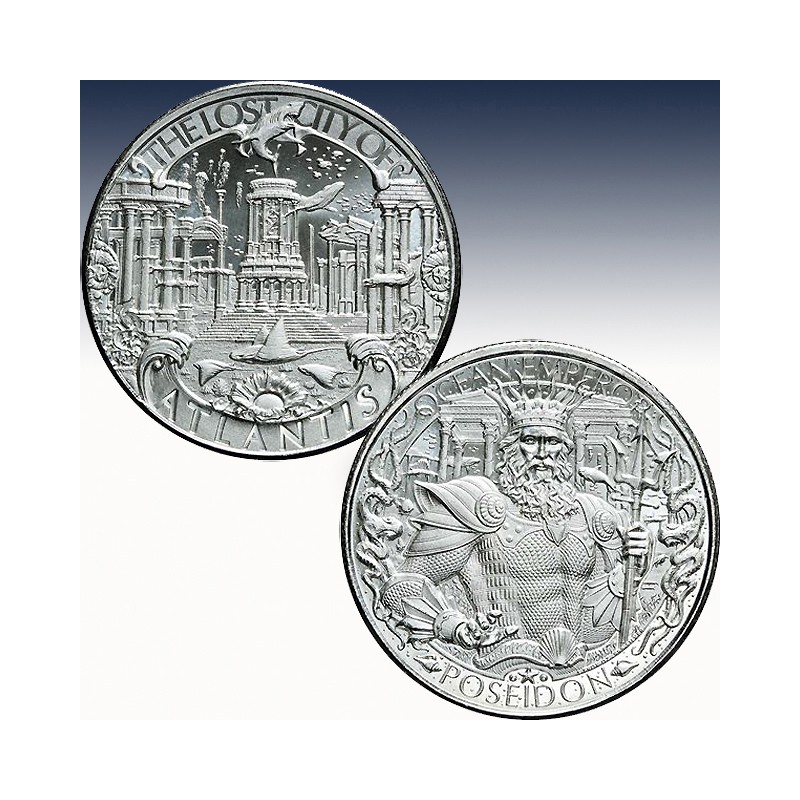 | | | |
| --- | --- | --- |
| Hersteller: |   |  Mason Mint |
| Steuersatz: |   | 19% |
| Prägung: |   | Stempelglanz |
| Stückelung: |   | 1 x 1 Unze |
| Material: |   | Silber |
| Feinheit: |   | 999/1000 |
| Gewicht: |   | 31,103 Gramm |
| Verpackung: |   | zip-Tüte |
| Durchmesser: |   | 39 mm |