Gold 1.818,27 Eur
Silber 22,02 Eur
Platin 955,51 Eur
Palladium 1.299,32 Eur
(49) 2935 - 3 390 375
Europaweite Lieferung
Europaweite Lieferung
Gold 1.818,27 Eur
Silber 22,02 Eur
Platin 955,51 Eur
Palladium 1.299,32 Eur
SILBER 15,39 EUR
PLATIN 853,48 EUR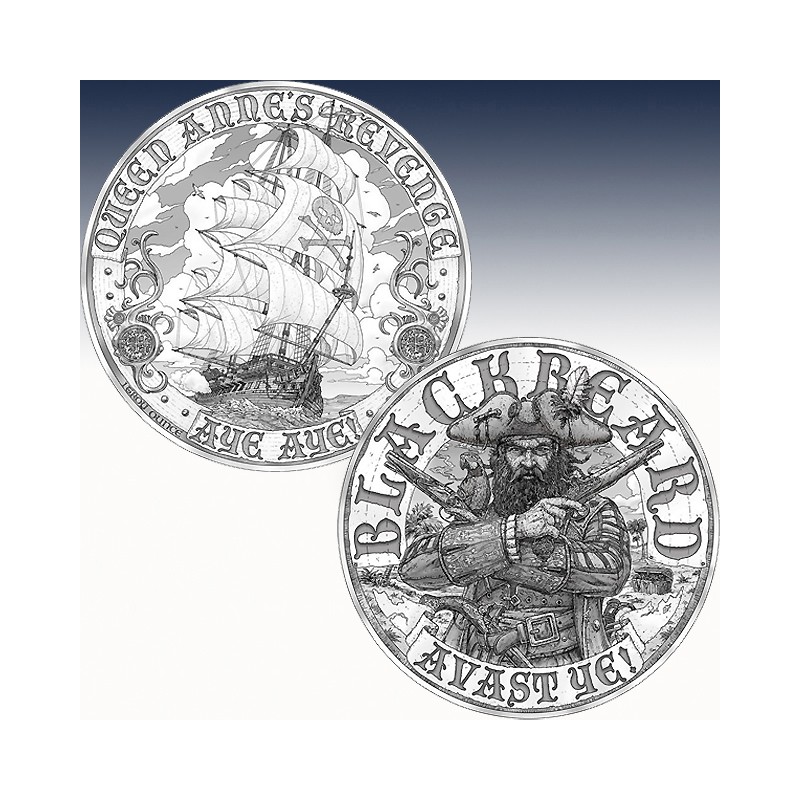  
1 x 1 oz Silverround Mason Mint "Blackbeard - Pirate Series" -BU-
| | | |
| --- | --- | --- |
| Hersteller: |   |  Mason Mint |
| Steuersatz: |   | 19% |
| Prägung: |   | Stempelglanz |
| Stückelung: |   | 1 x 1 Unze |
| Material: |   | Silber |
| Feinheit: |   | 999/1000 |
| Gewicht: |   | 31,103 Gramm |
| Verpackung: |   | zip-Tüte |
| Durchmesser: |   | 39 mm |
1 x 1 Unze (oz) Silverround Mason Mint "Blackbeard - Pirate Series"

There are a handful of classic images and designs in numismatics that tend to reappear on privately minted silver bullion, especially silver rounds.
The front side of the round depicts the infamous British pirate, Blackbeard (real name Edward Teach). He holds a pair of pistols in his crossed arms, and a parrot sits on his shoulder. Blackbeard's exceptionally detailed wardrobe matches the classic depiction of an 18th-century seafaring pirate. A beach with palm trees and a treasure chest can be seen in the background. The rim inscriptions include the name "BLACKBEARD" and "AVAST YE!" in an Old English typeface on a period-appropriate scroll.
On the back side of the round, we see Blackbeard's most famous ship, Queen Anne's Revenge. The vessel is shown in full sail as it crosses the high seas. It sports the typical skull and crossbones logo on its main sail. The ship is firing cannons while several seagulls can be seen flying around. An ornamental depiction of a mariner's astrolabe, an astronomical device that helped sailors navigate the oceans, is found on either side of the scene. In addition to the text "QUEEN ANNE'S REVENGE" along the top rim, the bottom rim reads "AYE AYE!" This inscription is also flanked by the weight and purity specifications for the round, reading "1 TROY OUNCE" and ".999 FINE SILVER."
Jede dieser wunderschönen Silverround

enthält

999/1000

Feinsilber und wurde im wunderschönem Brilliant uncirculated geprägt.
Technische Daten
Gewicht

31.103

Material

Silber

Preis-Addition

8.5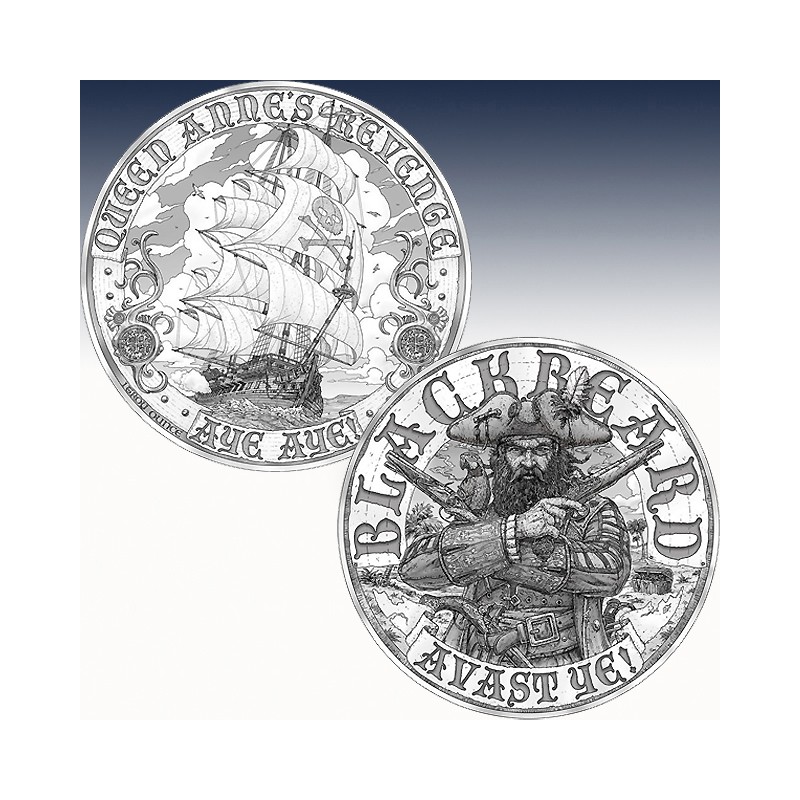 | | | |
| --- | --- | --- |
| Hersteller: |   |  Mason Mint |
| Steuersatz: |   | 19% |
| Prägung: |   | Stempelglanz |
| Stückelung: |   | 1 x 1 Unze |
| Material: |   | Silber |
| Feinheit: |   | 999/1000 |
| Gewicht: |   | 31,103 Gramm |
| Verpackung: |   | zip-Tüte |
| Durchmesser: |   | 39 mm |