(49) 2935 - 3 390 375
Europaweite Lieferung
Europaweite Lieferung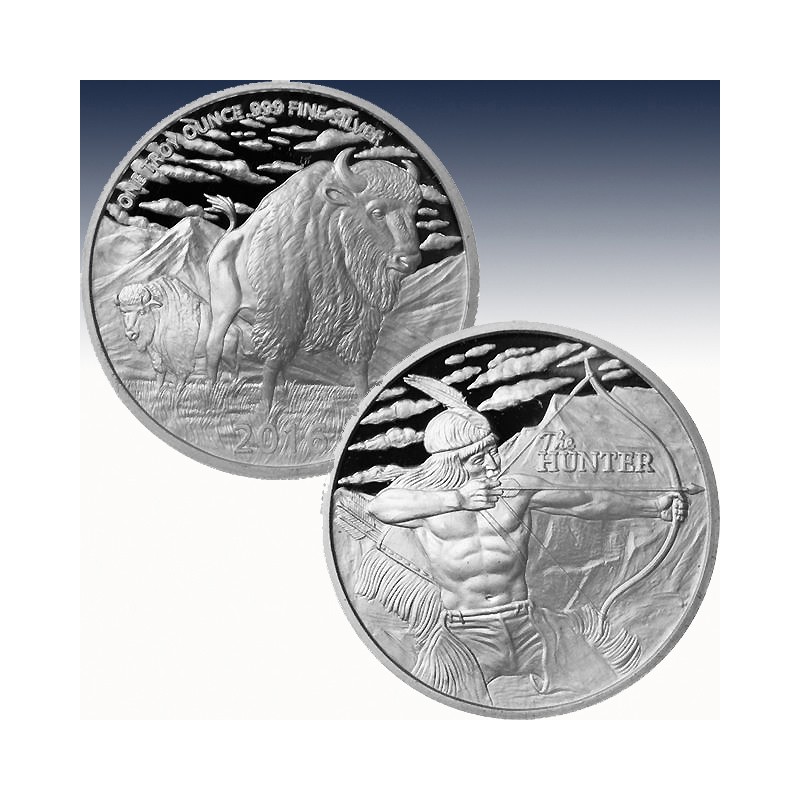  
1 x 1 oz Silverround Mason Mint "The Hunter 2016" -BU-
| | | |
| --- | --- | --- |
| Hersteller: |   |  Mason Mint |
| Steuersatz: |   | 19% |
| Prägung: |   | Stempelglanz |
| Stückelung: |   | 1 x 1 Unze |
| Material: |   | Silber |
| Feinheit: |   | 999/1000 |
| Gewicht: |   | 31,103 Gramm |
| Verpackung: |   | zip-Tüte |
| Durchmesser: |   | 39 mm |
1 x 1 Unze (oz) Silverround Mason Mint "The Hunter 2016

There are a handful of classic images and designs in numismatics that tend to reappear on privately minted silver bullion, especially silver rounds.
Silver rounds have always shared a close connection to silver coins due to their circular shape and similar appearance. This makes it not altogether surprising that certain coin designs (in slightly modified forms) crop up on popular private silver bullion products.
Noteworthy among these classic designs are the Walking Liberty half dollar design, the Morgan dollar design, and the Buffalo nickel (or Indian Head) design. By using these well-known and highly regarded designs, silver bullion products from private mints can quickly attract buyers who are familiar with these images. It can also lend greater visibility and credibility to the refiner or mint that strikes these rounds.
Above anything else, recognizable silver bullion designs are what many customers are interested in. Demand from the public drives private mints to continue producing these popular bullion items.
The Impact of the Collectible Coin Protection Act
However, amendments to 1973 Hobby Protection Act passed in 2014 under the name Collectible Coin Protection Act changed how "imitation numismatic items" (like rounds or other coin-like forms of silver bullion) that use designs similar to obsolete coins are regulated under the law.
These kinds of rules already applied to current American coin designs, and were simply extended to any past designs that may be considered collectible.
Thus the new law requires the word "COPY" in substantially-sized lettering to be stamped on all classic disign silver rounds. The measure is intended to make absolutely clear the difference between a privately-minted silver round and a legal tender silver coin issued by the United States Mint. In this sense, it's a measure taken against potential counterfeiting or misleading of consumers.
This means that any silver rounds that resemble Saint-Gaudens, Walking Liberty, Mercury dime, or any other retired U.S. coin designs fell under the purview of the regulation.
It was also effective retroactively, requiring that all existing silver bullion rounds with such designs must be stamped (either incuse or raised above the coin) with "COPY" or they would have to be melted down.
The Hunter Silver Round: Modern Twist on the Buffalo Nickel
For some dealers and sellers on the secondary market, the amendments to numismatic law caught them unprepared. They (literally) liquidated their Silver Buffalo rounds rather than bothering to bring them into compliance with the new laws. Nevermind that stamping such rounds with "COPY" was already a common practice among major dealers for years before the legislation was enacted.
As a result, less silver bullion pieces bearing classic designs are now available on the market, and fewer new ones with "COPY" are being produced. Dealers and the private mints that are often among their main suppliers of bullion have both been reluctant to put new classic rounds into production.
That's why The Hunter design silver round is an original take on this well-received concept. The artwork was created in-house by Gainesville Coins and shows how creativity and the latest minting technology can transform a beloved classic like the Buffalo design into something entirely new.
Because it only uses the theme of this historic design, and offers its own unique interpretation that makes it a truly original work, The Hunter Silver Round is not restricted by the aforementioned Collectible Coin Protection Act. It's therefore unnecessary for it to be stamped with "COPY," which would partly obscure the impressive beauty of the design.
Silver Hunter Round Front Design
In addition to avoiding the use of this stamp, The Hunter design offers a fresh, up-to-date, and artistically pleasing revitalization of the otherwise popular Silver Buffalo round. There is no need for any extra marker to distinguish The Hunter from the original Buffalo nickel or any other U.S. coin bearing a familiar Native American design. It is already an original work of medallic art!
Rather than using a static image of a bust or stationary figure, "The Hunter" design captures a much more dynamic scene of a Native American warrior pulling into place a nocked arrow, preparing to fire his bow across the plains. Presumably, he is hunting a buffalo (also known as the American bison).
The detail of the design is incredibly realistic. This is especially true of how these details are rendered in relief on the surface of the round in three dimensions.
An inscription across the center of the design reads, "The HUNTER" between the top of the bow and the arrow. A scene of sloping mountains fills the background.
This same design has been offered on GC-exclusive 10 oz silver bars before as well, so make sure you check back when this item is back in stock if you are interested!
Hunter Silver Round Back Design
Again, the design on the back of the round is more dynamic than its predecessors that inspired the buffalo theme. It presents an alternative vision of this common motif.
A pair of buffaloes appears on the reverse side of the round. Great attention to detail is given to their fur and the surrounding Great Plains environment. The year-date of either "2016" or "2017" appears at the bottom rim, surrounded by detailed blades of grass gently swaying in the wind.
The proof-like finish of the round, which imparts a mirrored effect to the field, dramatically brings out the relief details of the cloud-filled sky against this reflective backdrop.
Inscriptions indicating the weight and purity are placed along the top rim, reading, "ONE TROY OUNCE .999 FINE SILVER."
Jede dieser wunderschönen Silverround enthält 999/1000 Feinsilber und wurde im wunderschönem Brilliant uncirculated geprägt.
Technische Daten
Gewicht

31.103

Material

Silber

Jahreszahl

2016

Preis-Addition

7.5