Gold 1.762,99 Eur
Silber 21,38 Eur
Platin 926,65 Eur
Palladium 1.500,51 Eur
(49) 2935 - 3 390 375
Europaweite Lieferung
Europaweite Lieferung
Gold 1.762,99 Eur
Silber 21,38 Eur
Platin 926,65 Eur
Palladium 1.500,51 Eur
SILBER 15,39 EUR
PLATIN 853,48 EUR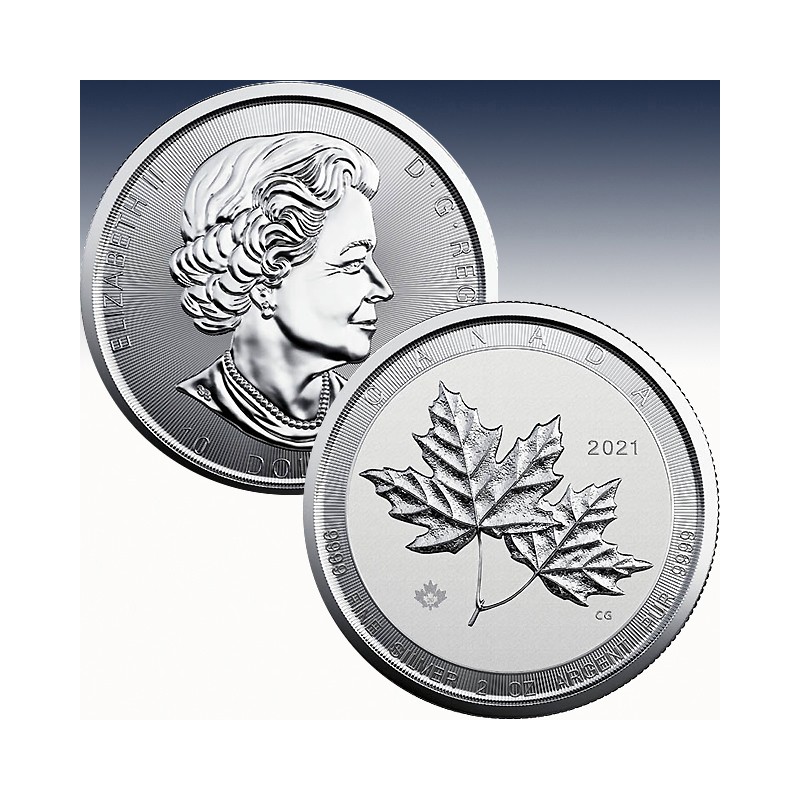  
1 x 2 Oz Silbermünze 10$ Canada Maple Leaf "Twin Maples Coin 2021" -BU-*
| | | |
| --- | --- | --- |
| Hersteller: |   | Royal Canadian Mint |
| Nennwert: |   | 10 Kanadische Dollar |
| Prägung: |   | Stempelglanz |
| Stückelung: |   | 1 x 2 Unze |
| Material: |   | Silber |
| Feinheit: |   | 999,9/1000 |
| Gewicht: |   | 62,206 Gramm |
| Verpackung: |   | zip Tüte |
| Durchmesser: |   | 38,0x6,0 mm |
1 x 2 Unze (oz) 10$ Canada Maple Leaf "Twin Maples Coin 2021"

While the Canadian Silver Maple Leaf is a popular series at the Royal Canadian Mint, it is not the only silver bullion coin the mint offers with a sugar maple leaf design. Alongside the Silver Maple Leaf, the RCM offers the Magnificent Maple and the Twin Maple. These silver bullion coins offer a different version of the sugar maple design and come in various sizes. Today, 2021 2 oz Canadian Silver Twin Maples Coins are available to you online from JM Bullion.
Coin Highlights:
Available to you in individual plastic flips, tubes of 14 coins, or boxes of 280 coins!
5th issue of the Canadian Silver Twin Maples Series!

Contains 2 Troy oz of .9999 pure silver.

The face value of $10 (CAD) is fully backed by the Canadian government.

On the obverse is a depiction of Queen Elizabeth II.

The reverse side features two sugar maples on a single stem.

Reverse-proof specimens.
Alongside the Magnificent Maple Leaf, a 10 oz silver coin, the Twin Maple offers investors the opportunity to purchase a 2 oz silver coin with a sugar maple leaf design. With the 2021 release of the Twin Maples, the Royal Canadian Mint continues a program that has been running since 2017.
All of the 2021 2 oz Canadian Silver Twin Maples Coins available in this listing come to you with bulk or individual packaging. For individual coins, specimens arrive in plastic flips. Multiples of the coins arrive in tubes of 14 or boxes of 280, with a total of 20 tubes in the box. As reverse-proof coins, these specimens have mirrored design elements with frosted background fields.
On the obverse of 2021 Canadian Silver Twin Maples is a depiction of Queen Elizabeth II. This portrait of Queen Elizabeth II was created in 2003 by Susanna Blunt and is the fourth-generation effigy of the Queen to grace Canadian coins. Notably, this is the first effigy of the Queen on Canadian coins to lack a crown on her head.
The reverse side of the 2021 2 oz Silver Twin Maples comes with a depiction of the sugar maple leaf. In this design, you will find not one, but two sugar maple leaves. These two leaves are connected to one another at the stem and offer a more realistic and life-like depiction of the national emblem than the one featured on the standard Canadian Silver Maple Leaf.
Technische Daten
Gewicht

62.206

Material

Silber

Jahreszahl

2021

Preis-Addition

33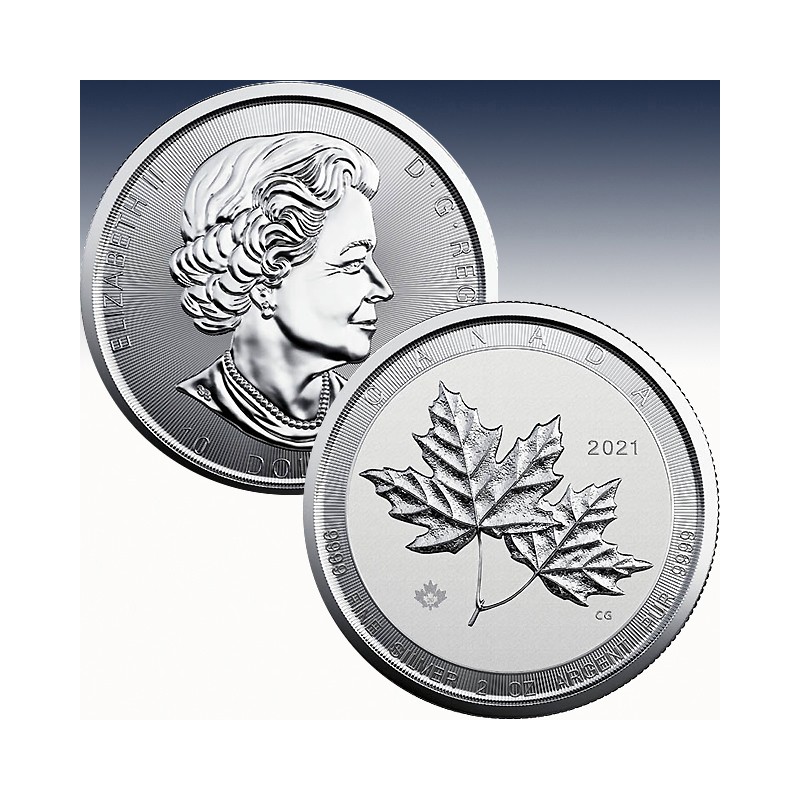 | | | |
| --- | --- | --- |
| Hersteller: |   | Royal Canadian Mint |
| Nennwert: |   | 10 Kanadische Dollar |
| Prägung: |   | Stempelglanz |
| Stückelung: |   | 1 x 2 Unze |
| Material: |   | Silber |
| Feinheit: |   | 999,9/1000 |
| Gewicht: |   | 62,206 Gramm |
| Verpackung: |   | zip Tüte |
| Durchmesser: |   | 38,0x6,0 mm |