Gold 1.824,35 Eur
Silber 22,59 Eur
Platin 942,83 Eur
Palladium 1.234,75 Eur
(49) 2935 - 3 390 375
Europaweite Lieferung
Europaweite Lieferung
Gold 1.824,35 Eur
Silber 22,59 Eur
Platin 942,83 Eur
Palladium 1.234,75 Eur
SILBER 15,39 EUR
PLATIN 853,48 EUR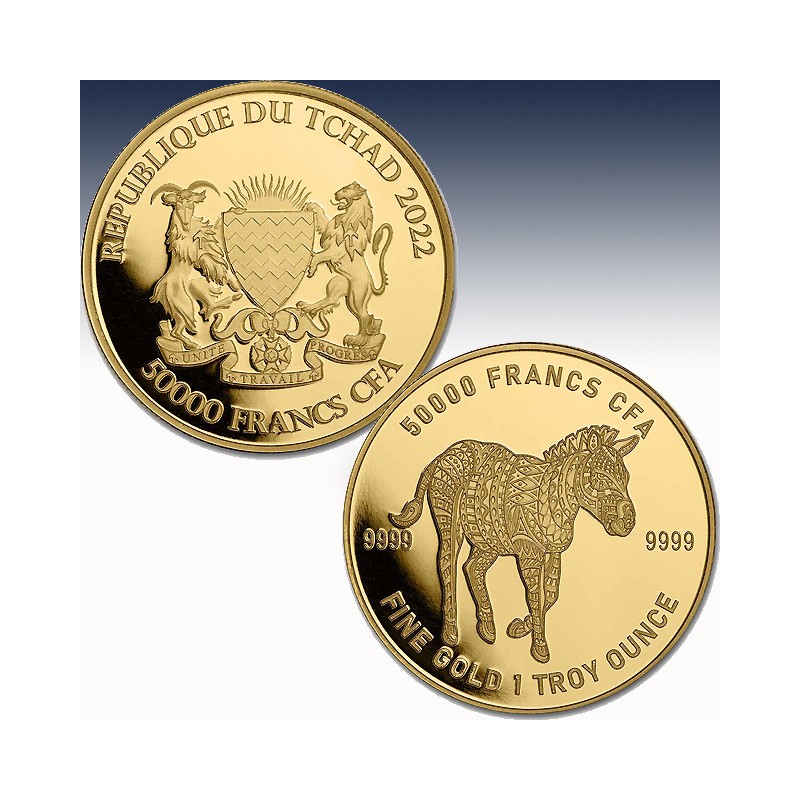  
1 x 1 oz Goldmünze 50.000 Franca CFA Republic of Chad "Mandala Zebra 2022" -BU-
| | | |
| --- | --- | --- |
| Herkunft: |   | Rep. of Chad |
| Nennwert: |   | 50.000 CFA |
| Prägung: |   | Stempelglanz |
| Stückelung: |   | 1 x 1 Unze |
| Material: |   | Gold |
| Feinheit: |   | 999/1000 |
| Gewicht: |   | 31,1 Gramm |
| Verpackung: |   | Box+Zertifikat |
| Durchmesser: |   | 30 mm |
1 x 1 Unze (oz) Goldmünze 50.000 Franca CFA
Republic of Chad "Mandala Zebra 2022"

This eighth release of the APMEXclusive® Republic of Chad Mandala Wildlife series features a detailed image of the zebra in .9999 fine Gold. The 1 troy oz coin has an extremely limited mintage of only 100 coins worldwide.
Coin Highlights:

Contains 1 oz of .9999 fine Gold.
APMEXclusive® worldwide.
Limited to 100 coins worldwide.
Individual coins come in capsules.
Obverse: Features a beautiful full-body image of a zebra filled with a mandala print. Also included is the metal content, purity and denomination.
Reverse: Features the coat of arms of the Republic of Chad, a shield that is supported by a goat and lion on either side. Below the shield is a medal and scroll with the national motto in French, "Unite, Travail, Progres," meaning Unity, Work, Progress in English.

Continue your collection of the anticipated Republic of Chad Mandala Wildlife series with the eighth release featuring the beautiful zebra in .9999 fine Gold. Add this 2022 Republic of Chad 1 oz Gold Mandala Zebra to your cart today!

Republic of Chad Mandala Wildlife Series
The Mandala Wildlife Series features 1 oz Gold and 1 oz Silver coins with unique designs of different animals, each with a beautiful mandala print. These coins have limited mintages, along with a changing design per release, adding to their collectibility. The Mandala Zebra is the eighth release of the series, offered in both a 1 oz Silver and 1 oz Gold finish. Featured on the reverse of each coin in the Mandala series is the coat of arms of the Republic of Chad.

Zebras are easily recognized by their beautiful black and white stripes. They have barrel-chested bodies with tufted tails and thin legs. Zebras are herbivores who primarily graze on grass, but they may also eat bark, leaves, buds, fruit and roots. There are three common species of zebras, the Grévy's zebra, mountain zebra and plains zebra. Zebras tend to live in sociable family groups and produce a number of vocalizations and noises to communicate with each other. These fascinating animals roam the continent of Africa, making them a perfect addition to the Republic of Chad Mandala Wildlife series.
Technische Daten
Gewicht

31.103

Material

Gold

Jahreszahl

2022

Preis-Addition

520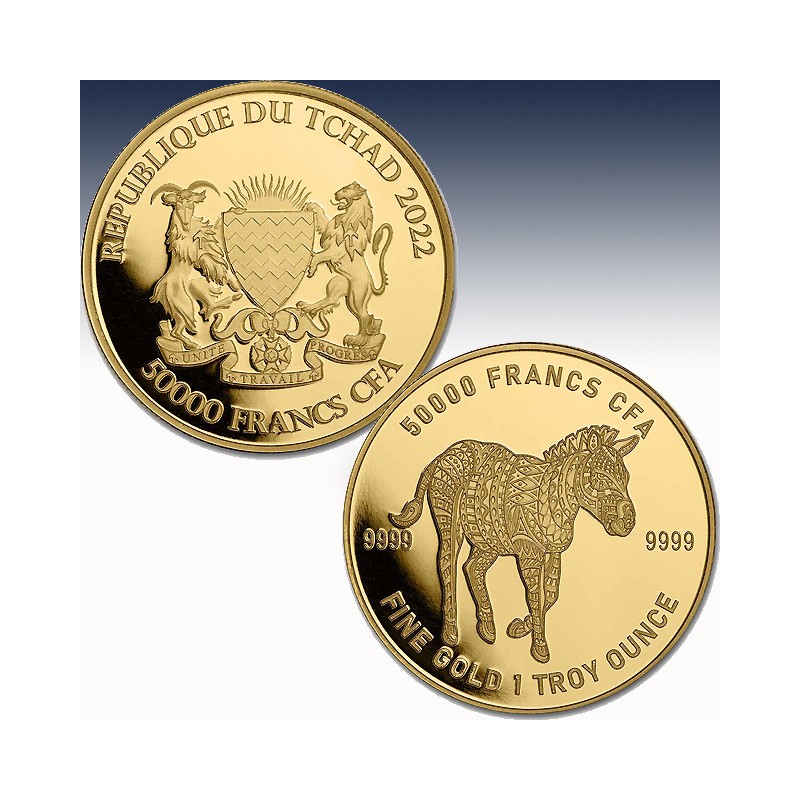 | | | |
| --- | --- | --- |
| Herkunft: |   | Rep. of Chad |
| Nennwert: |   | 50.000 CFA |
| Prägung: |   | Stempelglanz |
| Stückelung: |   | 1 x 1 Unze |
| Material: |   | Gold |
| Feinheit: |   | 999/1000 |
| Gewicht: |   | 31,1 Gramm |
| Verpackung: |   | Box+Zertifikat |
| Durchmesser: |   | 30 mm |