Gold 1.759,82 Eur
Silber 21,41 Eur
Platin 923,67 Eur
Palladium 1.491,98 Eur
(49) 2935 - 3 390 375
Europaweite Lieferung
Europaweite Lieferung
Gold 1.759,82 Eur
Silber 21,41 Eur
Platin 923,67 Eur
Palladium 1.491,98 Eur
SILBER 15,39 EUR
PLATIN 853,48 EUR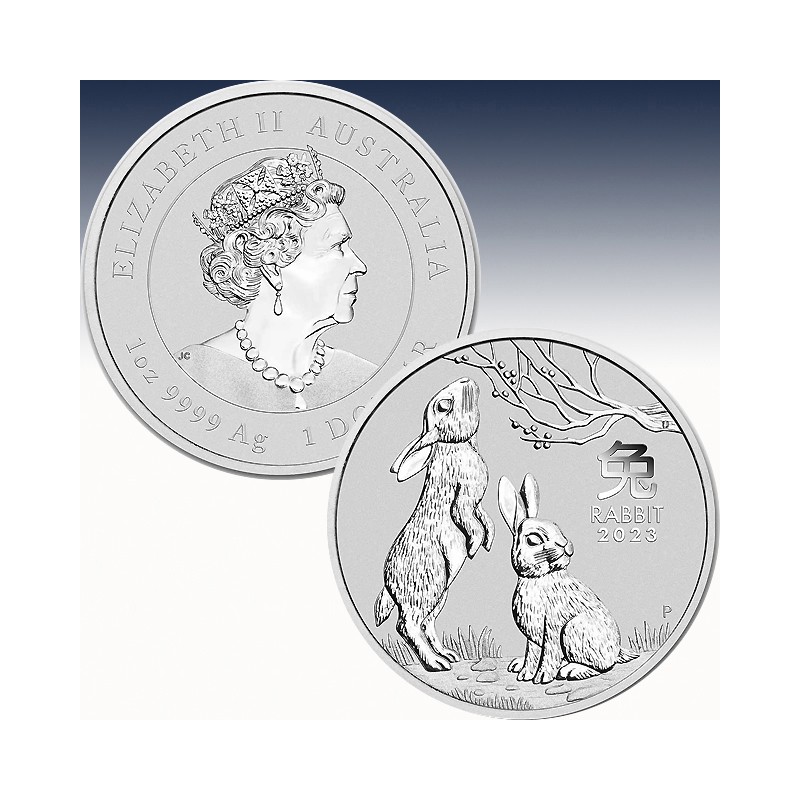  
1 x 1 Oz Silber 1$ Australien "Lunar III Jahr des Hasen 2023" -BU-*
| | | |
| --- | --- | --- |
| Hersteller: |   | Perth Mint |
| Nennwert: |   | 1 AUD |
| Jahrgang: |   | 2023 |
| Stückelung: |   | 1 x 1 Unze |
| Material: |   | Silber |
| Feinheit: |   | 999/1000 |
| Gewicht: |   | 31,103 g |
| Verpackung: |   | gekapselt |
| Durchmesser: |   | 40,6 mm |
1 x 1 Unze Silbermünze 1$ Australien "Lunar III Jahr des Hahnes 2023"
These magnificent Silver coins celebrate the year 2023 as the Year of the Rabbit and are the fourth release in Perth's Lunar Series III.
A landmark coin series of the highest regard, the Perth Lunars package beautiful designs, limited mintages and universal appeal all in one program.

Coin Highlights:
Contains 1 oz of .9999 fine Silver.
Comes in a protective plastic capsule. Multiples of 20 typically come in sealed rolls.
Limited mintage cap of 300,000 coins.
Obverse: Portrays the Jody Clark likeness of Her Majesty Queen Elizabeth II, surrounded by the date, face value, Silver weight and purity.
Reverse: Portrays an alert rabbit, with another rabbit stretching toward a budding branch. Also included in the design is the Chinese character for "rabbit," the inscription "RABBIT 2023" and The Perth Mint's "P" mint mark.
Sovereign coin backed by the Australian government.


APMEX is an authorized distributor of Perth Mint products, allowing APMEX to get coins directly from The Perth Mint and pass them along to you. This Year of the Rabbit coin would make a great addition to any lunar collection. Add this spectacular 2023 1 oz Silver Year of the Rabbit coin to your cart today!

Struck by the historic Perth Mint from .9999 fine Silver, each coin's Australian legal tender status guarantees its weight and purity.

Perth Mint's Australian Lunar Series III collection continues the rich tradition of minting spectacular bullion coins by portraying animal themes from the Chinese lunar calendar. The reverse design changes each year based on the Chinese lunar calendar, and the 2023 reverse celebrates the Year of the Rabbit. Those born under the sign of the Chinese lunar rabbit in 2023, 2011, 1999, 1987, 1975 and every 12th preceding year are said to be intelligent, creative, vigilant and compassionate.
Technische Daten
Gewicht

31.103

Material

Silber

Jahreszahl

2023

Preis-Addition

13.3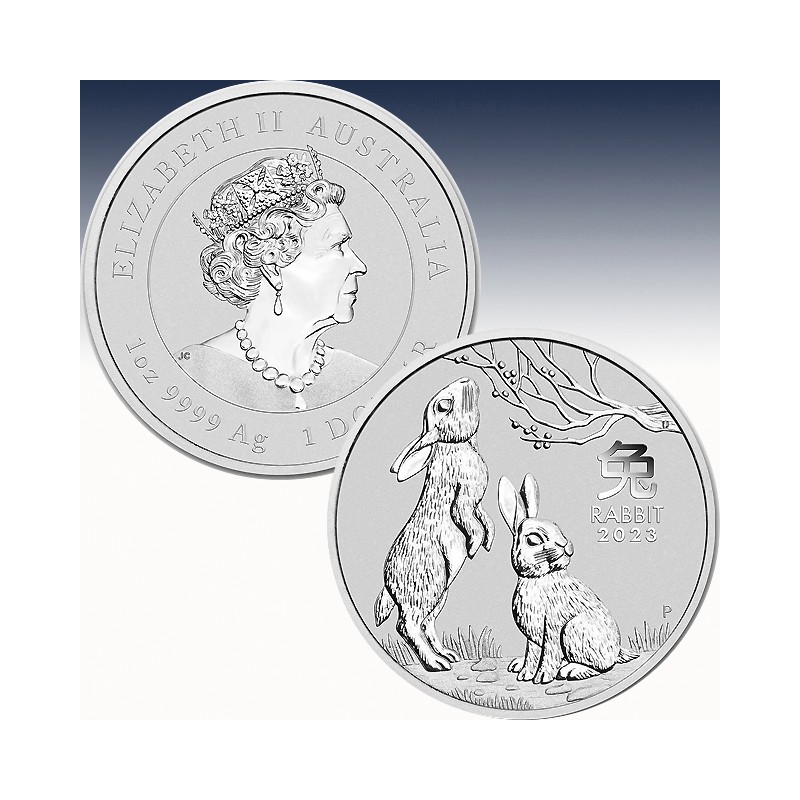 | | | |
| --- | --- | --- |
| Hersteller: |   | Perth Mint |
| Nennwert: |   | 1 AUD |
| Jahrgang: |   | 2023 |
| Stückelung: |   | 1 x 1 Unze |
| Material: |   | Silber |
| Feinheit: |   | 999/1000 |
| Gewicht: |   | 31,103 g |
| Verpackung: |   | gekapselt |
| Durchmesser: |   | 40,6 mm |