Gold 1.863,05 Eur
Silber 21,38 Eur
Platin 855,59 Eur
Palladium 879,72 Eur
(49) 2935 - 3 390 375
Europaweite Lieferung
Europaweite Lieferung
Gold 1.863,05 Eur
Silber 21,38 Eur
Platin 855,59 Eur
Palladium 879,72 Eur
SILBER 15,39 EUR
PLATIN 853,48 EUR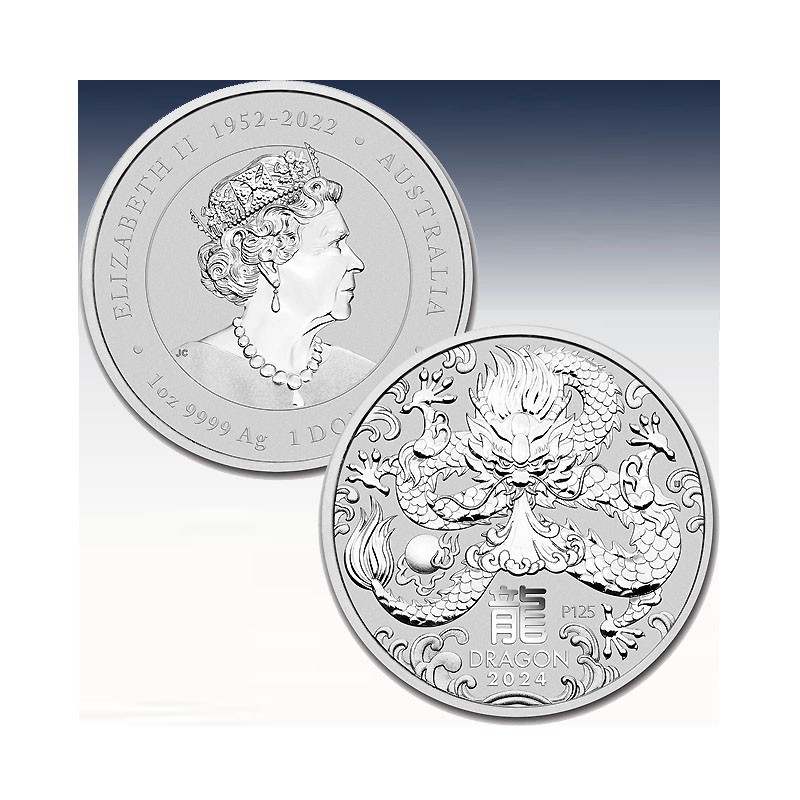  
1 x 1 Oz Silber 1$ Australien "Lunar III Jahr des Drachen 2024" -BU-*
| | | |
| --- | --- | --- |
| Hersteller: |   | Perth Mint |
| Nennwert: |   | 1 AUD |
| Jahrgang: |   | 2024 |
| Stückelung: |   | 1 x 1 Unze |
| Material: |   | Silber |
| Feinheit: |   | 999/1000 |
| Gewicht: |   | 31,103 g |
| Verpackung: |   | gekapselt |
| Durchmesser: |   | 40,6 mm |
1 x 1 Unze Silbermünze 1$ Australien
"Lunar III Jahr des Drachen 2024"
(diff.besteuert nach §25a UStG)
These magnificent silver coins celebrate the year 2024 as the Year of the Dragon and are the fifth release in Perth's Lunar Series III.
A landmark coin series of the highest regard, the Perth Lunars package beautiful designs, limited mintages and universal appeal all in one program.

Coin Highlights:
Contains 1 oz of .9999 fine silver.
Comes in a protective plastic capsule. Multiples of 20 typically come in sealed rolls.
Limited mintage cap of 300,000 coins.
Obverse: The Jody Clark effigy of Her Late Majesty Queen Elizabeth II, her years of reign: 1952-2022, the weight and fineness, and the monetary denomination.
Reverse: Portrays a Chinese dragon gliding through the air. Also included in the design is the Chinese character for "dragon," the inscription "DRAGON 2024" and The Perth Mint's "P125" mint mark, celebrating their 125th anniversary.
Sovereign coin backed by the Australian government.


Perth Mint's Australian Lunar Series III collection continues the rich tradition of minting spectacular bullion coins by portraying animal themes from the Chinese lunar calendar. The reverse design changes each year based on the Chinese lunar calendar, and the 2024 reverse celebrates the Year of the Dragon. Those born under the sign of the Chinese lunar dragon in 2024, 2012, 2000, 1988, 1976 and every 12th preceding year are said to be ambitious, successful and charismatic.

The Perth Mint Lunar Series
Known for their quality and collectibility, The Perth Mint Lunar Series is a cornerstone of many precious metals portfolios, and is produced in silver, ggold and platinum. The original lunar bullion series, these coins (beginning with the Series I launch in 1996) have become some of the most widely collected around the globe, as demand originated in Asia but spread to Europe and America as investors became exposed to the design and quality. In addition to the annual design change, many investors love that the coins' select mintage limits create the potential for even greater investment return in the form of a numismatic premium appreciation. This series is so popular, the 1 oz Gold and Silver Lunars are now instant sell-outs every year!

The Perth Lunar Series I concluded in 2010, and Series II concluded in 2019. These releases have been tremendously popular worldwide, with each year selling out quickly as investors and collectors claim the coins of all sizes. As each 1 oz silver bullion coin in Series III has been limited to 300,000 coins worldwide, the prolonged popularity is ensured by the high level of collectibility as well as the stellar designs from the reputable Perth Mint.
Technische Daten
Gewicht

31.103

Material

Silber

Jahreszahl

2024

Preis-Addition

11.5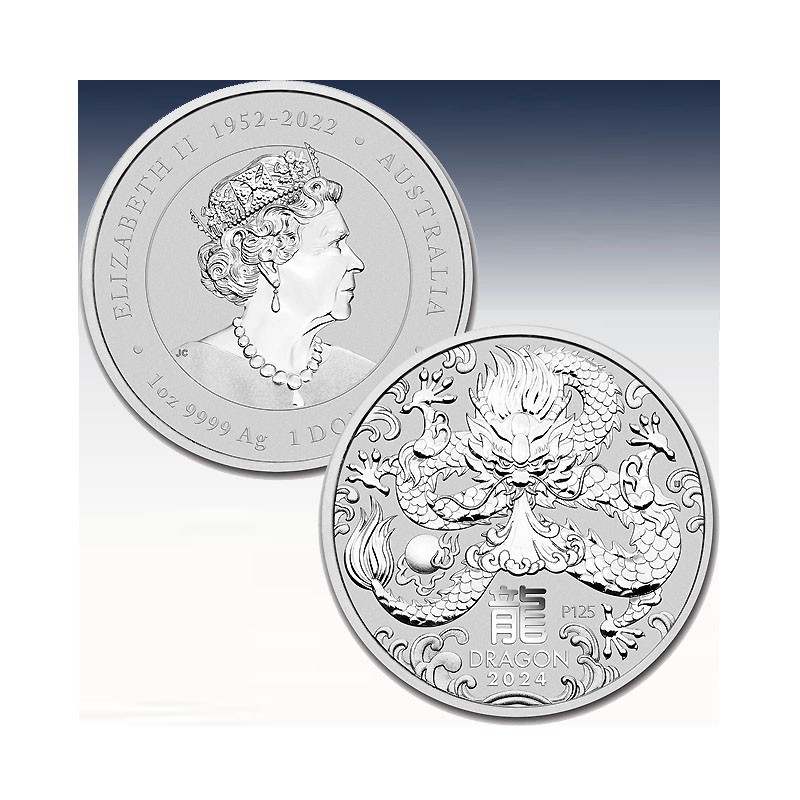 | | | |
| --- | --- | --- |
| Hersteller: |   | Perth Mint |
| Nennwert: |   | 1 AUD |
| Jahrgang: |   | 2024 |
| Stückelung: |   | 1 x 1 Unze |
| Material: |   | Silber |
| Feinheit: |   | 999/1000 |
| Gewicht: |   | 31,103 g |
| Verpackung: |   | gekapselt |
| Durchmesser: |   | 40,6 mm |