Gold 1.815,01 Eur
Silber 22,05 Eur
Platin 958,49 Eur
Palladium 1.299,56 Eur
(49) 2935 - 3 390 375
Europaweite Lieferung
Europaweite Lieferung
Gold 1.815,01 Eur
Silber 22,05 Eur
Platin 958,49 Eur
Palladium 1.299,56 Eur
SILBER 15,39 EUR
PLATIN 853,48 EUR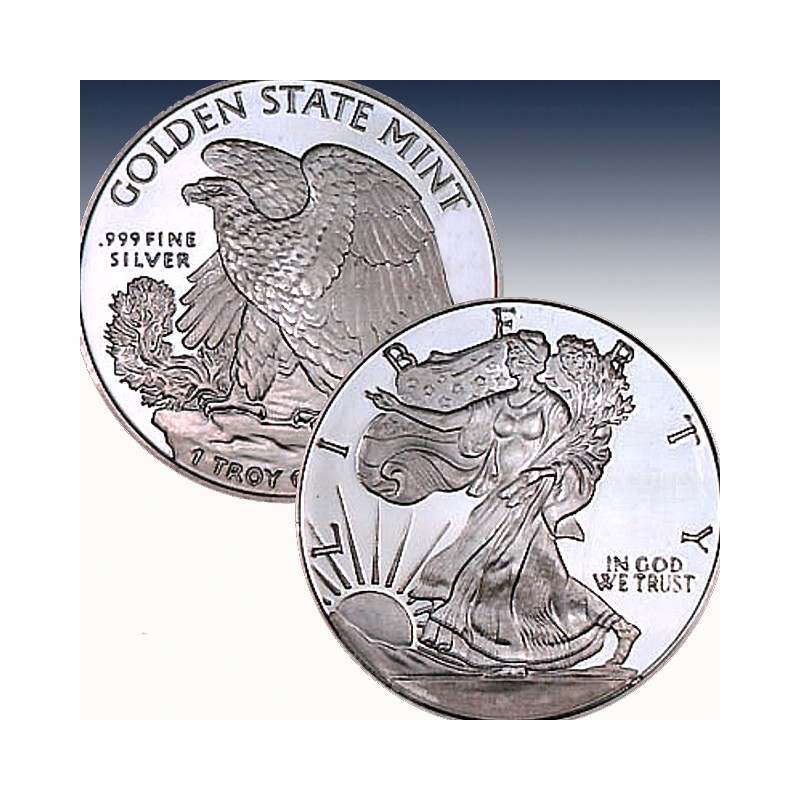  
1 x 1 oz Silver Round Golden State Mint"Walking Liberty" -BU-
| | | |
| --- | --- | --- |
| Hersteller: |   | Golden State Mint |
| Steuersatz: |   | 19% |
| Prägung: |   | Stempelglanz |
| Stückelung: |   | 1 x 1 Unze |
| Material: |   | Silber |
| Feinheit: |   | 999/1000 |
| Gewicht: |   | 31,103 Gramm |
| Verpackung: |   | zip-Tüte |
| Durchmesser: |   | 39,3x3,2 mm |
1 x 1 Unze (oz) Silver Round Golden State Mint "Walking Liberty "
The 1 troy ounce Walking Liberty Rounds by Golden State Mint are popular choice among first-time buyers or those just adding to their stack. These medallions are made in the USA, are IRA approved and struck in .999 fine silver.
The design of these rounds features a full-length figure of Liberty, the folds of her dress flying to the breeze as a background, progressing in full stride toward the dawn of a new day carrying branches of laurel and oak, symbolical of civil and military glory. The hand of the figure is outstretched in bestowal of the spirit of liberty. The reverse of the half dollar replica shows an eagle perched high upon a mountain crag.
These privately minted rounds or medallions were made in the USA by Golden State Mint. Investors are able to purchase directly from GSM, rather than buying sovereign minted coins which carry a much higher premium as they are sold between middle-men before they're available for retail purchase. Get more for your investment dollar, and purchase rounds or medallions directly from Golden State Mint!
Jede dieser wunderschönen Copperround enthält 999/1000 Feinkupfer und wurde im feinsten "Brilliant uncirculated" geprägt.
Technische Daten
Gewicht

31.103

Material

Silber

Preis-Addition

8.2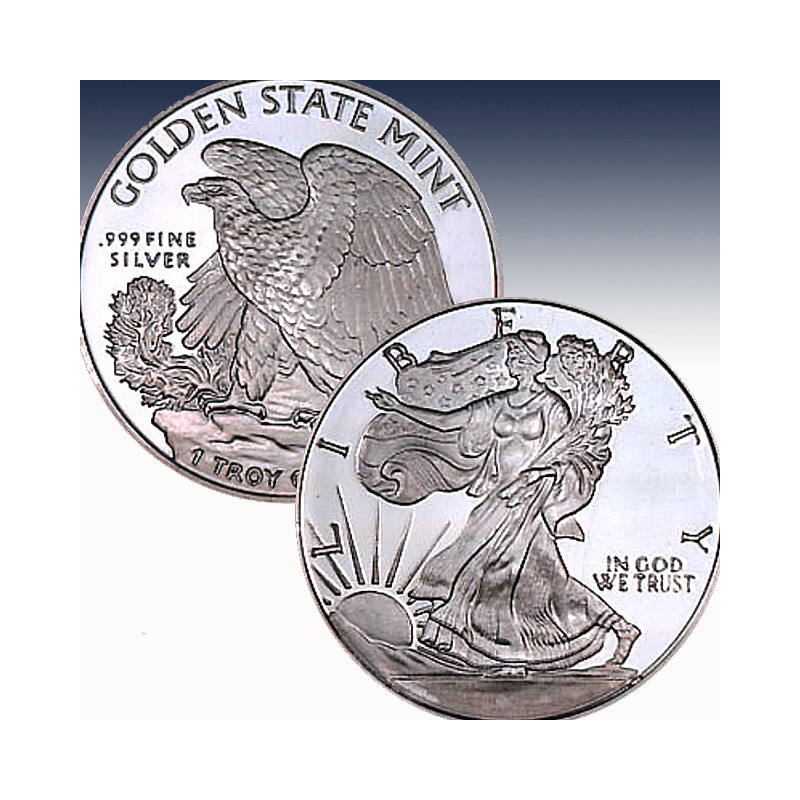 | | | |
| --- | --- | --- |
| Hersteller: |   | Golden State Mint |
| Steuersatz: |   | 19% |
| Prägung: |   | Stempelglanz |
| Stückelung: |   | 1 x 1 Unze |
| Material: |   | Silber |
| Feinheit: |   | 999/1000 |
| Gewicht: |   | 31,103 Gramm |
| Verpackung: |   | zip-Tüte |
| Durchmesser: |   | 39,3x3,2 mm |