Gold 1.599,65 Eur
Silber 19,60 Eur
Platin 730,62 Eur
Palladium 1.907,89 Eur
(49) 2935 - 3 390 375
Europaweite Lieferung
Europaweite Lieferung
Gold 1.599,65 Eur
Silber 19,60 Eur
Platin 730,62 Eur
Palladium 1.907,89 Eur
SILBER 15,39 EUR
PLATIN 853,48 EUR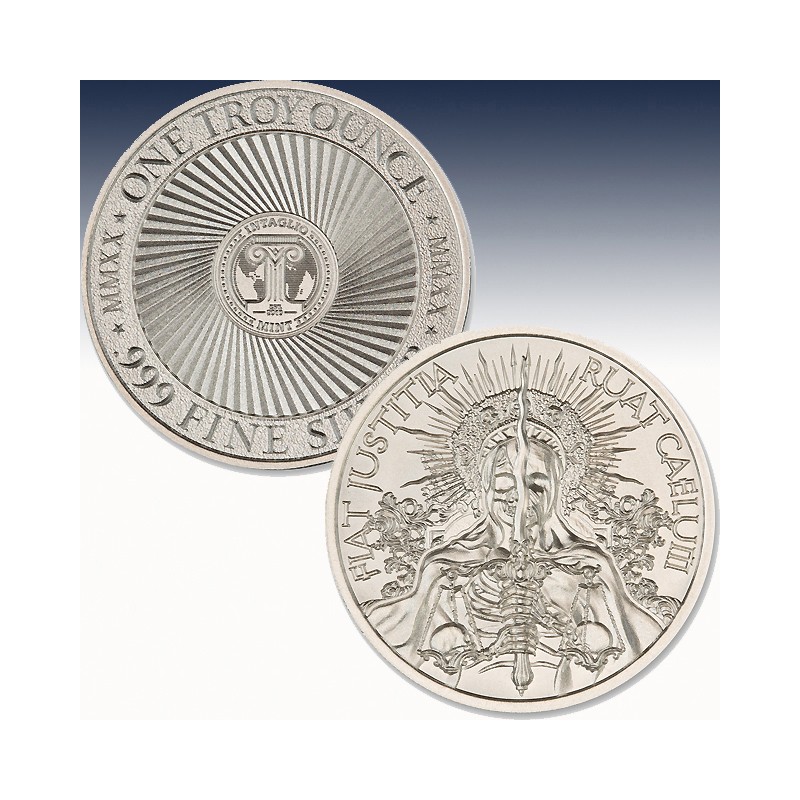  
1 x 1 Oz Silverround Inaglio Mint "Latin Allure Series - FIAT JUSTITIA RUAT CAELUM" -BU-
| | | |
| --- | --- | --- |
| Hersteller: |   | Intaglio Mint |
| Steuersatz: |   | 19% |
| Prägung: |   | Stempelglanz |
| Stückelung: |   | 1 x 1 Unze |
| Material: |   | Silber |
| Feinheit: |   | 999/1000 |
| Gewicht: |   | 31,103 Gramm |
| Durchmesser: |   | 39x3.6 mm |

Lieferbedingungen (bearbeiten im Modul "Kundenvorteile")

Rücksendebedingungen (bearbeiten im Modul "Kundenvorteile")
1 x 1 Unze (oz) Silverround Inaglio Mint
"Latin Allure Series -FIAT JUSTITIA RUAT CAELUM"

"Fīat Justitia Ruat Cælum" is a Latin legal phrase, meaning "Let justice be done though the heavens fall." The maxim signifies the belief that justice must be realized regardless of consequences.
Contains 1 oz. Troy of .999 Fine Silver
Obverse: The crowned skeleton of Lady Liberty, her face half shrouded and half exposed, seated in the throne of justice holding a sword balancing the Scales of Justice
Reverse: Intaglio Mint logo set on radial burst surrounded by stippled border reading "ONE TROY OUNCE" above and ".999 FINE SILVER" below on textured background, flanked by mintage year in roman numerals "MMXX".
Die Silverrounds der Anonymous Mint bestechen durch eine hervorragende Brilliant Unzirkuliert - Finish Prägequalität und einem außergewöhnlich schönem Design. Jede dieser wunderschönen Silverround enthält 999/1000 Feinsilber.
Technische Daten
Gewicht

31.103

Material

Silber

Preis-Addition

6.3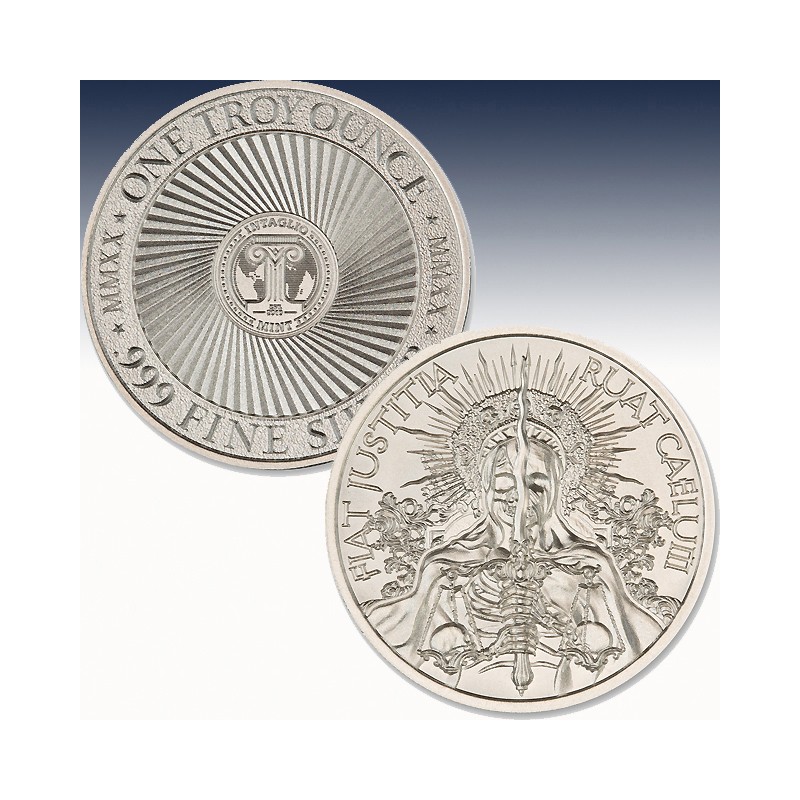 | | | |
| --- | --- | --- |
| Hersteller: |   | Intaglio Mint |
| Steuersatz: |   | 19% |
| Prägung: |   | Stempelglanz |
| Stückelung: |   | 1 x 1 Unze |
| Material: |   | Silber |
| Feinheit: |   | 999/1000 |
| Gewicht: |   | 31,103 Gramm |
| Durchmesser: |   | 39x3.6 mm |