Gold 1.861,02 Eur
Silber 21,77 Eur
Platin 913,00 Eur
Palladium 1.338,83 Eur
(49) 2935 - 3 390 375
Europaweite Lieferung
Europaweite Lieferung
Gold 1.861,02 Eur
Silber 21,77 Eur
Platin 913,00 Eur
Palladium 1.338,83 Eur
SILBER 15,39 EUR
PLATIN 853,48 EUR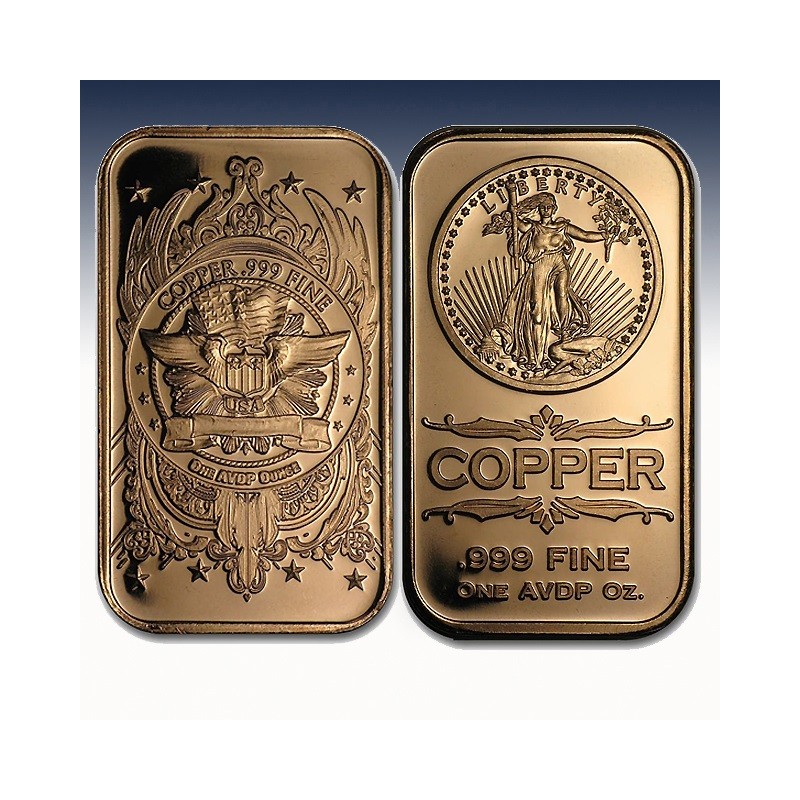  
1 x 1 Oz Copper Bar "Saint Gaudens" -St-
| | | |
| --- | --- | --- |
| Hersteller: |   |  Private Mint |
| Steuersatz: |   | 19% |
| Prägung: |   | Stempelglanz |
| Stückelung: |   | 1 x 1 Unze |
| Material: |   | Kupfer |
| Feinheit: |   | 999/1000 |
| Gewicht: |   | 28.349 Gramm |
| Verpackung: |   | Zip-Tüte |
| Durchmesser: |   | 46x27x3,3 mm |
1 x 1 Unze (oz) Copper Bar "Saint Gaudens"
Einzigartig in ihrer Art und bereits jetzt schon ein Kult in den Vereinigten Staaten.

The Saint-Gaudens Gold coin, minted from 1907 to 1933, featured one of the most beloved designs in all of American coinage. This design has been reimagined on these 1 AVDP oz Copper bars, offering the classic design at an affordable price.

Bar Highlights:
Contains 1 AVDP oz of .999 fine Copper.
Multiples of 500 are packaged in boxes. All other bars come in protective packaging.
Obverse: A rendition of the iconic $20 Saint-Gaudens Gold coin design, minted from 1907 to 1933, above the words "Copper," ".999 fine" and "One AVDP oz."
Reverse: Depicts an intricate shield design consisting of the eagle's wings behind a 3 star American shield, surrounded by a ring of rope and the words "Copper," ".999 fine" and "One AVDP oz."
Jede dieser wunderschönen Copperround enthält 999/1000 Feinkupfer und wurde im feinsten "Brilliant uncirculated" geprägt.
Pro Einheit mit 20 Münzen erfolgt
die Lieferung im Original - Münztube!
Technische Daten
Gewicht

KFIXRSZBQ

Material

Kupfer

Preis-Addition

4.5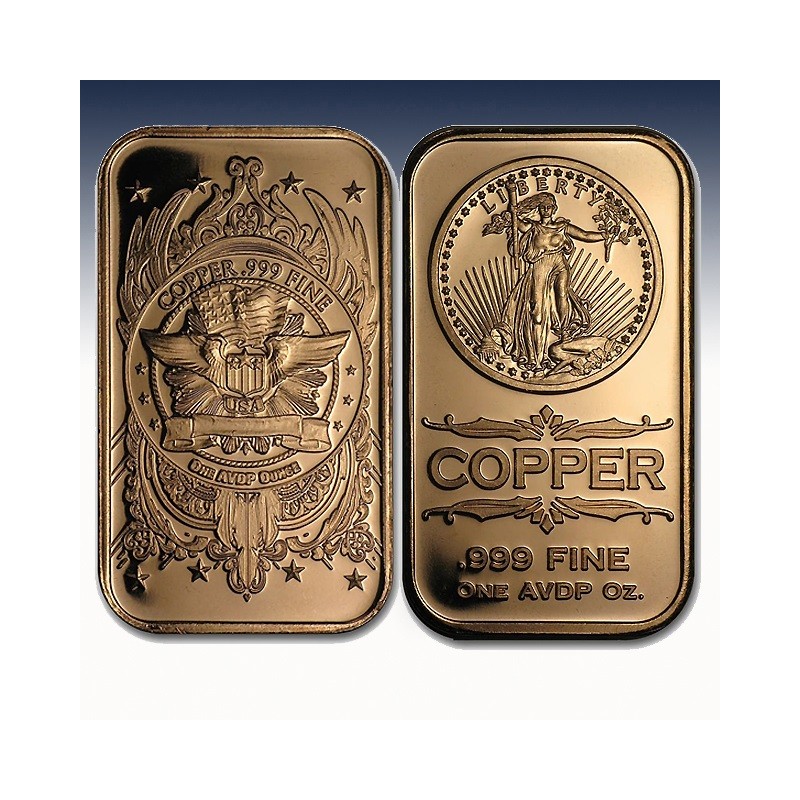 | | | |
| --- | --- | --- |
| Hersteller: |   |  Private Mint |
| Steuersatz: |   | 19% |
| Prägung: |   | Stempelglanz |
| Stückelung: |   | 1 x 1 Unze |
| Material: |   | Kupfer |
| Feinheit: |   | 999/1000 |
| Gewicht: |   | 28.349 Gramm |
| Verpackung: |   | Zip-Tüte |
| Durchmesser: |   | 46x27x3,3 mm |