Gold 1.474,62 Eur
Silber 21,77 Eur
Platin 1.023,93 Eur
Palladium 2.377,86 Eur
(49) 2935 - 3 390 375
Europaweite Lieferung
Europaweite Lieferung
Gold 1.474,62 Eur
Silber 21,77 Eur
Platin 1.023,93 Eur
Palladium 2.377,86 Eur
SILBER 15,39 EUR
PLATIN 853,48 EUR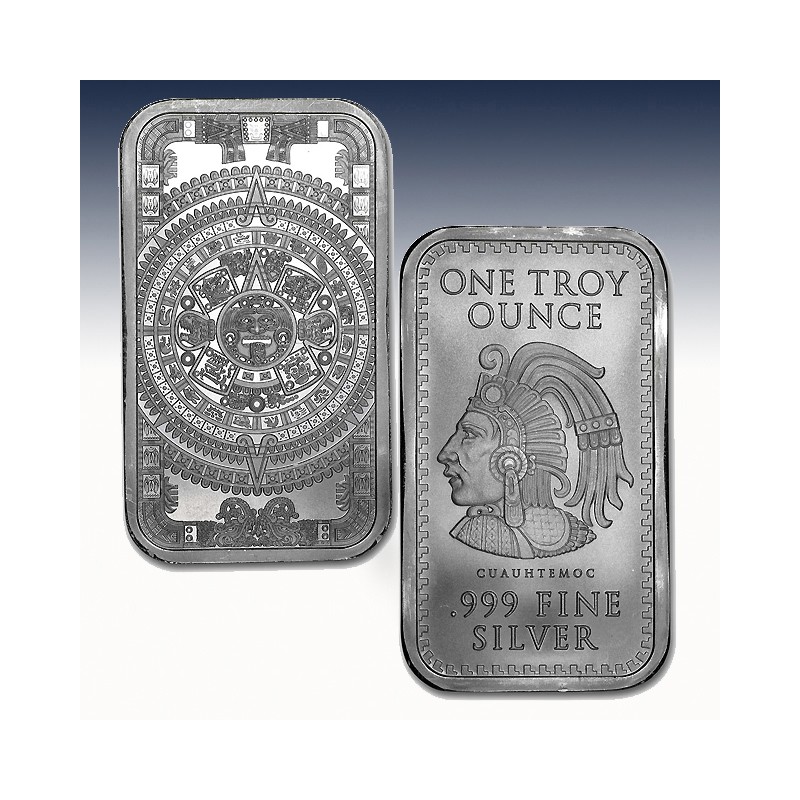  
1 x 1 oz Silverbar Golden State Mint "Aztec Calendar " -BU-
| | | |
| --- | --- | --- |
| Hersteller: |   | Golden State Mint |
| Steuersatz: |   | 19% |
| Prägung: |   | Stempelglanz |
| Stückelung: |   | 1 x 1 Unze |
| Material: |   | Silber |
| Feinheit: |   | 999/1000 |
| Gewicht: |   | 31,103 Gramm |
| Verpackung: |   | zip-Tüte |
| Durchmesser: |   | 39mm |
1 x 1 Unze (oz) Silverbar Golden State Mint "Aztec Calendar"
The Aztec Calendar is an amazing system of tracking days and time as well as the significance of that day and how it would be impactful in a positive or negative spiritually, religiously and personally as well as for an event or occasion.
A 52 year 365-day cycle system of 18 20 day cycles that aligned with another 260-day rotation with a 13-day cycle gave every year and day a unique name and number identification. Years, Days and periods have a name and number identification like 7 rabbit 1 wind 7 reed as well as a governing diety. To our current calendar system, this all seems very complex with a lot to remember.

Bar Highlights:
Contains 1 oz of .999 fine Silver.
Individual bars come in protective packaging. Multiples of 20 come in plastic tubes and boxes contain multiples of 500.
Obverse: Depicts the famous Aztec Calendar stone. The design is in a circular shape resembling a sun, with rays emanating outward. In the center is the face of the Aztec solar deity, Tonatiuh, which gives the monolith its alternate name: the Sun Stone.
Reverse: depicts the striking left portrait of Cuauhtemoc, the last Aztec Emperor of Tenochtitlan. The name Cuauhtemoc means "Descending Eagle," as in the moment when an eagle folds its wings and plummets down to strike its prey. He wears the traditional headdress and ear ornaments of the Aztec elite, and is surrounded by an Aztec border as well as the inscriptions of his name and the metal content, weight and purity.
Made in the U.S.A.


Aztec Sun Stone Silver Bar Design
The Aztec sun Stone, also known as the Aztec calendar stone, is one of the most famous works of art from the Aztec people. It was carved in the 1500s, and discovered in the late 1700s. The design itself was meant to measure time with a sophisticated and interconnected calendar system that adhered to the celestial bodies, which provided a list of religious festivals and sacred dates.
 Jede dieser wunderschönen Silverround enthält 999/1000 Feinsilber und wurde im wunderschönem Brilliant uncirculated geprägt.
Technische Daten
Gewicht

31.103

Material

Silber

Preis-Addition

9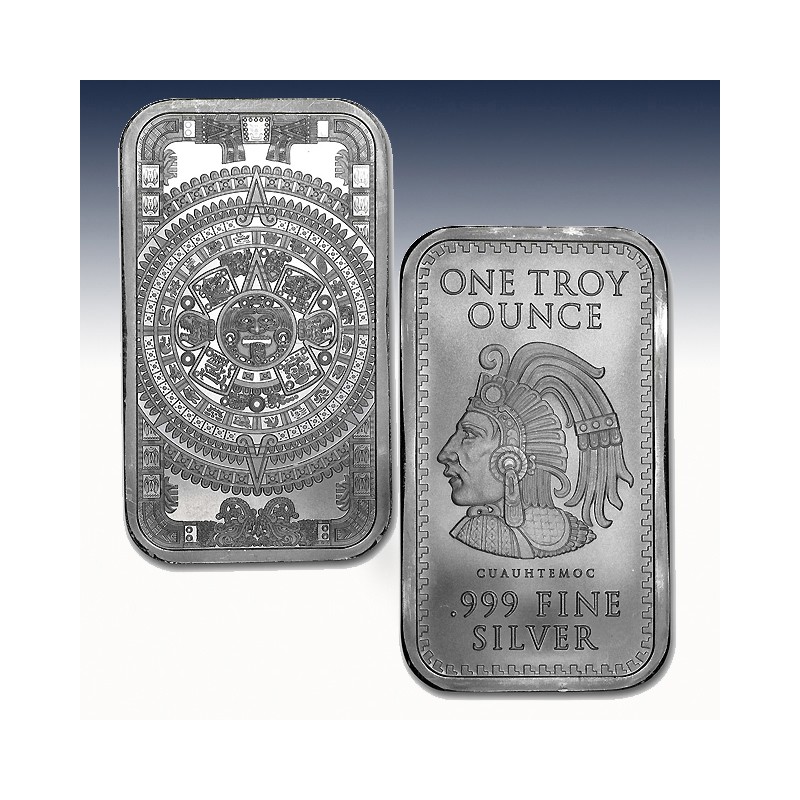 | | | |
| --- | --- | --- |
| Hersteller: |   | Golden State Mint |
| Steuersatz: |   | 19% |
| Prägung: |   | Stempelglanz |
| Stückelung: |   | 1 x 1 Unze |
| Material: |   | Silber |
| Feinheit: |   | 999/1000 |
| Gewicht: |   | 31,103 Gramm |
| Verpackung: |   | zip-Tüte |
| Durchmesser: |   | 39mm |