Gold 1.863,05 Eur
Silber 21,38 Eur
Platin 855,59 Eur
Palladium 879,72 Eur
(49) 2935 - 3 390 375
Europaweite Lieferung
Europaweite Lieferung
Gold 1.863,05 Eur
Silber 21,38 Eur
Platin 855,59 Eur
Palladium 879,72 Eur
SILBER 15,39 EUR
PLATIN 853,48 EUR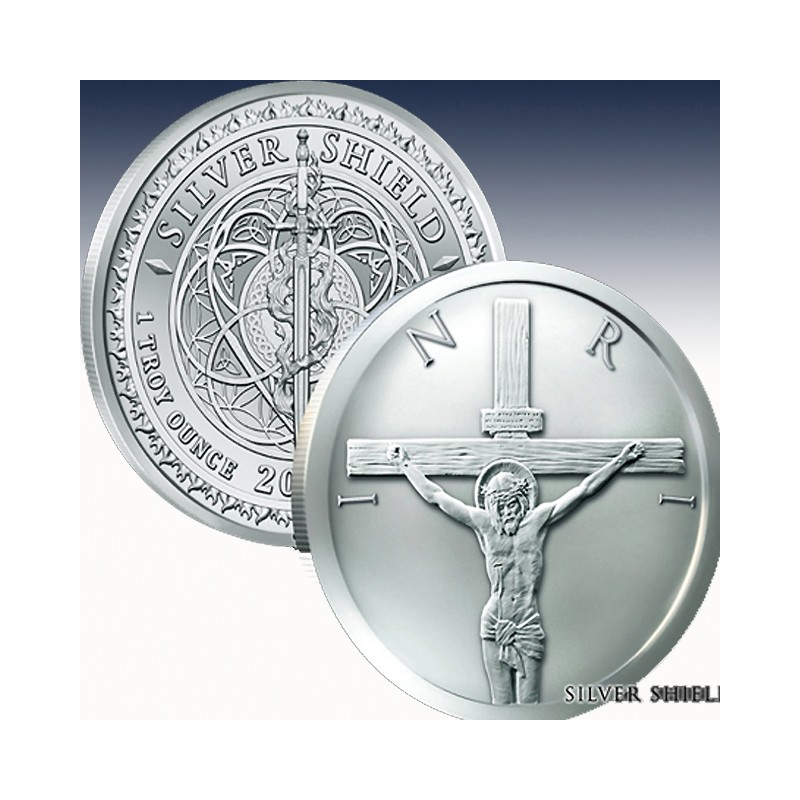  
1 x 1 oz Silverround Silver Shield Group LLC. "Crucifixion 2023" -BU-
| | | |
| --- | --- | --- |
| Hersteller: |   | Silver Shield |
| Steuersatz: |   | 19% |
| Prägung: |   | Stempelglanz |
| Stückelung: |   | 1 x 1 Unze |
| Material: |   | Silber |
| Feinheit: |   | 999/1000 |
| Gewicht: |   | 31,103g |
| Verpackung: |   | zip-Tüte |
| Durchmesser: |   | 39 mm |
| Auflage: |   | -.- Stück |
1 x 1 Unze (oz) Silverround Silver Shield Group LLC.
"Crucifixion 2023"

Diese Silverround ist mit einer der außergewöhnlichen von "Silver Shield Group LLC." und dem Design von Chris Duane.
Crucifixion is a classic design showing the ultimate sacrifice of the Jesus Christ. The crucifixion happened because Judas Iscariot was bribed 30 Shekels of silver or 15 ounces of silver. Would you betray your savior, friend or even a stranger to death for the current dollar cost of 15 ounces of silver? This expertly sculpted silver strike serves as the perfect meaningful stacking coin, pocket piece or gift to your loved ones.
Think about it, 15 ounces of silver is worth about $300 today. Would you betray your Messiah, friend, stranger or even your worst enemy for $300?! You can't even buy an iPad for $300 today, much less a man's life. If silver was valued at say $1,000 an ounce then you are near the prices you hear in those murder for hire plots on TV. This Crucifixion round is the perfect reminder of that sacrifice and the utter contempt by the rest of the world for His utter selflessness."
This round makes a perfect gift for the Easter season or for collectors of the Silver Shield series.
Einzigartig in ihrer Art und bereits jetzt schon Kult in den Vereinigten Staaten.
Jede dieser wunderschönen Silverround enthält 999/1000 Feinsilber und wurde in einem feinsten "Brilliant uncirculated" geprägt.

Technische Daten
Gewicht

31.103

Material

Silber

Jahreszahl

2023

Preis-Addition

8.5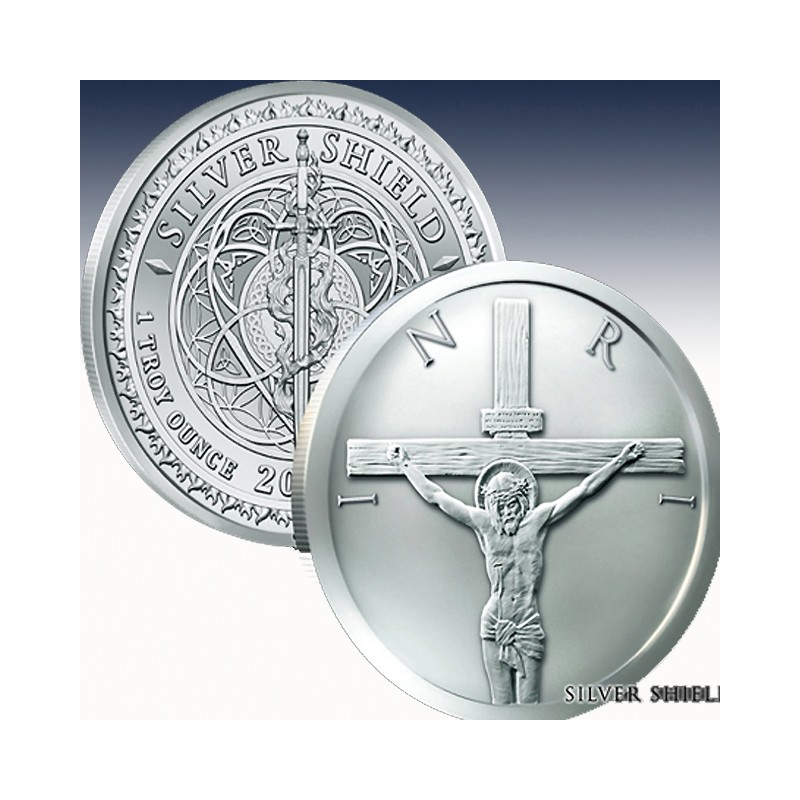 | | | |
| --- | --- | --- |
| Hersteller: |   | Silver Shield |
| Steuersatz: |   | 19% |
| Prägung: |   | Stempelglanz |
| Stückelung: |   | 1 x 1 Unze |
| Material: |   | Silber |
| Feinheit: |   | 999/1000 |
| Gewicht: |   | 31,103g |
| Verpackung: |   | zip-Tüte |
| Durchmesser: |   | 39 mm |
| Auflage: |   | -.- Stück |