Gold 1.491,41 Eur
Silber 21,77 Eur
Platin 878,36 Eur
Palladium 2.100,42 Eur
(49) 2935 - 3 390 375
Europaweite Lieferung
Europaweite Lieferung
Gold 1.491,41 Eur
Silber 21,77 Eur
Platin 878,36 Eur
Palladium 2.100,42 Eur
SILBER 15,39 EUR
PLATIN 853,48 EUR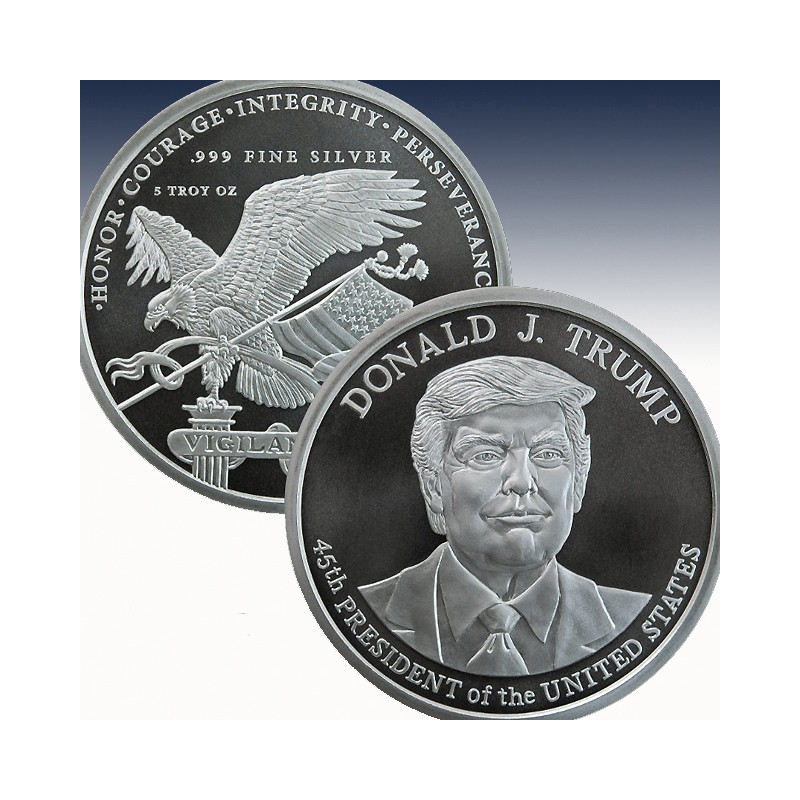  
1 x 5 Oz Silverround Golden State Mint "President Donald J. Trump" -BU- (Kapsel)
| | | |
| --- | --- | --- |
| Hersteller: |   | Golden State Mint |
| Steuersatz: |   | 19% |
| Prägung: |   | Stempelglanz |
| Stückelung: |   | 1 x 5 Unze |
| Material: |   | Silber |
| Feinheit: |   | 999/1000 |
| Gewicht: |   | 155,51 Gramm |
| Verpackung: |   | Kapsel+box |
| Durchmesser: |   | 64x2.5 mm |
| Auflage: |   |  -,- Stück |
1 x 5 Unze (oz) Silverround Golden State Mint "President Donald J. Trump"

In honoring our 45th President of the United States, Golden State Mint is excited to offer this salute to Donald John Trump. This 5 oz Silver BU round is a historic token to commemorate his time in office.
Diese Sammlermünze wird als ganze 5 Unze herausgegeben und besteht aus 99,9 Prozent Feinsilber in der Prägung "Brilliant uncirculated"!
Sie haben einen Durchmesser von je 64,00 mm. 
Geliefert wird dieses besondere Sammlerstück in einer Kapsel

Technische Daten
Gewicht

155.51

Material

Silber

Jahreszahl

2020

Preis-Addition

35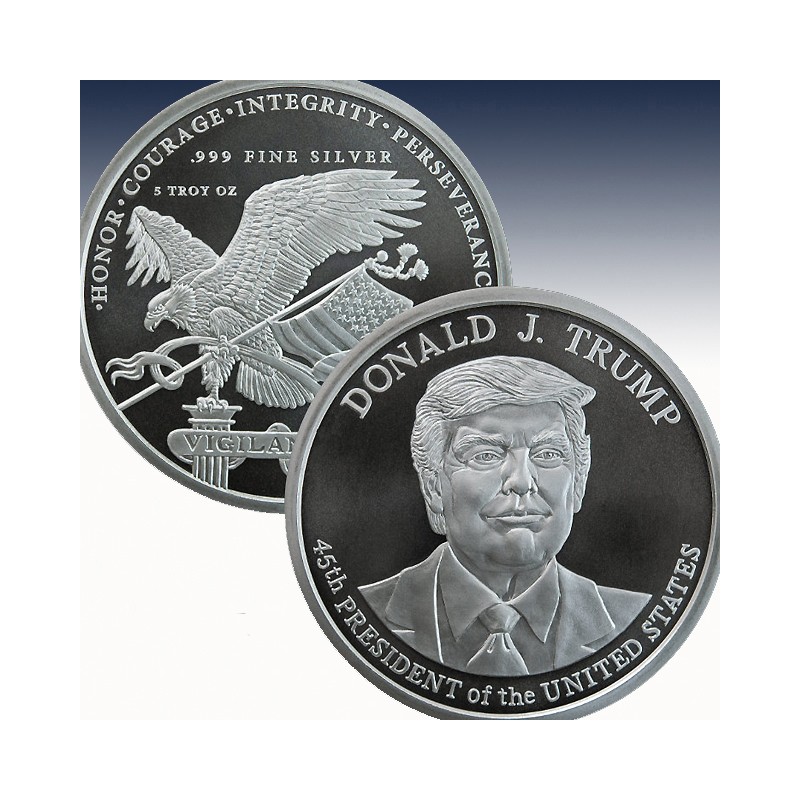 | | | |
| --- | --- | --- |
| Hersteller: |   | Golden State Mint |
| Steuersatz: |   | 19% |
| Prägung: |   | Stempelglanz |
| Stückelung: |   | 1 x 5 Unze |
| Material: |   | Silber |
| Feinheit: |   | 999/1000 |
| Gewicht: |   | 155,51 Gramm |
| Verpackung: |   | Kapsel+box |
| Durchmesser: |   | 64x2.5 mm |
| Auflage: |   |  -,- Stück |