Gold 1.863,05 Eur
Silber 21,38 Eur
Platin 855,59 Eur
Palladium 879,72 Eur
(49) 2935 - 3 390 375
Europaweite Lieferung
Europaweite Lieferung
Gold 1.863,05 Eur
Silber 21,38 Eur
Platin 855,59 Eur
Palladium 879,72 Eur
SILBER 15,39 EUR
PLATIN 853,48 EUR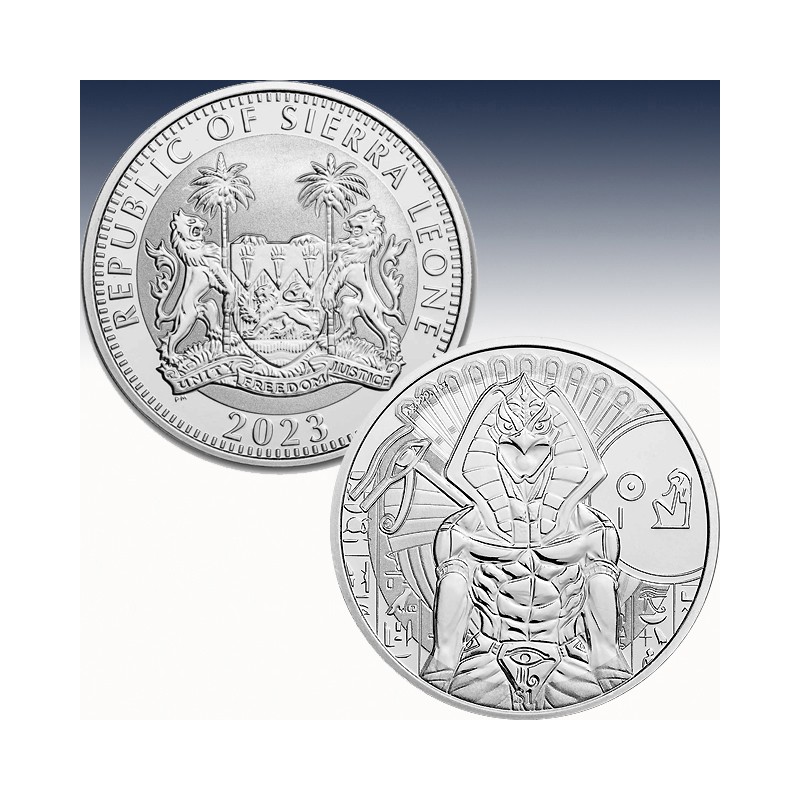  
1 x 1 Oz Silbermünze 1$ Rep. of Sierra Leone "Egyptian Gods RA - Reverse Frosted 2023" -BU-
| | | |
| --- | --- | --- |
| Hersteller: |   | PopJoy Mint |
| Steuersatz: |   | 19% |
| Prägung: |   | Stempelglanz |
| Stückelung: |   | 1 x 1 Unze |
| Material: |   | Silber |
| Feinheit: |   | 999/1000 |
| Gewicht: |   | 31,103 Gramm |
| Durchmesser: |   | 38,60 |
| Auflage: |   | 5.000 Stück |
1 x 1 Unze (oz) Silbermünze 1$ Rep. of Sierra Leon
"Egyptian Gods 4# Ra - Reverse Frosted 2023"
                                                   
Pobjoy Mint continues the Egyptian Gods series with Ra, king of all Egyptian gods, father of all creation and god of the sun.
Thought to be the very first pharaoh of Egypt, Ra is identifiable as having a man's body and the head of a falcon.

Coin Highlights:
Each coin contains 1 oz of .999 fine Silver.
Mintage limited to 5,000 coins.
Obverse: Depicts the Egyptian god, Ra, surrounded by hieroglyphs.
Reverse: Displays the Republic of Sierra Leone coat of arms.
Sovereign coin backed by the Sierra Leone government.

Egyptian God Ra
Ra is an ancient Egyptian sun god who was considered the supreme deity and creator. He symbolized the sun's life-giving and illuminating power. Often depicted with a falcon head and a solar disk on top, Ra was believed to traverse the sky during the day and journey through the underworld at night. He governed the cycle of life and death, and his worship played a significant role in Egyptian mythology and religious practices.
Jede dieser wunderschönen Silvercoin enthält 999/1000 Feinsilber und wurde im wunderschönem "Brilliant uncirculated" geprägt.
Technische Daten
Gewicht

31.103

Material

Silber

Jahreszahl

2023

Preis-Addition

10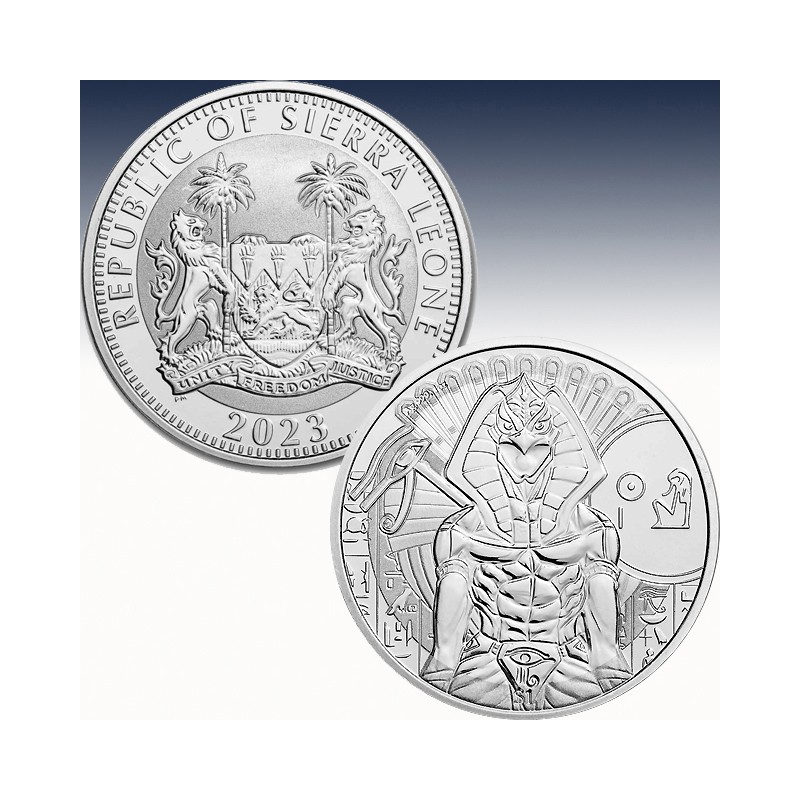 | | | |
| --- | --- | --- |
| Hersteller: |   | PopJoy Mint |
| Steuersatz: |   | 19% |
| Prägung: |   | Stempelglanz |
| Stückelung: |   | 1 x 1 Unze |
| Material: |   | Silber |
| Feinheit: |   | 999/1000 |
| Gewicht: |   | 31,103 Gramm |
| Durchmesser: |   | 38,60 |
| Auflage: |   | 5.000 Stück |