(49) 2935 - 3 390 375
Europaweite Lieferung
Europaweite Lieferung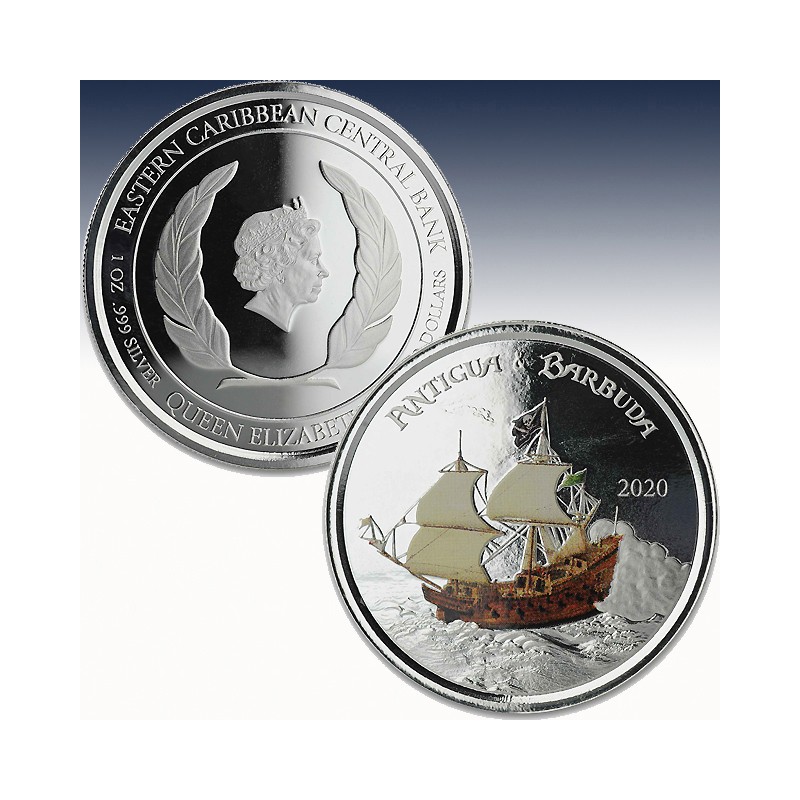  
1 x 1 oz Silber 2$ Antigua & Barbuda "Rum Runner 2020" -Colorized-*
| | | |
| --- | --- | --- |
| Herkunftsland: |   | Antigua & Barbuda |
| Nennwert: |   | 2$ |
| Prägung: |   | Spiegelglanz |
| Stückelung: |   | 1 x 1 Unze |
| Material: |   | Silber/fabrig |
| Feinheit: |   | 999/1000 |
| Gewicht: |   | 31,103 gramm |
| Durchmesser: |   |  40,60 mm |
| Auflage: |   | 2.500 Stück |

Lieferbedingungen (bearbeiten im Modul "Kundenvorteile")

Rücksendebedingungen (bearbeiten im Modul "Kundenvorteile")
1 x 1 Unze (oz) 2$ Antigua & Barbuda "1# Rum Runner 2020"
 (diff.besteuert nach §25a UStG)
First Coin from "Eastern Caribbean Coin Program"
Scottsdale Mint, in partnership with the Eastern Caribbean Central Bank ("ECCB"), is pleased to announce an historic, first-of-its-kind gold and silver bullion and commemorative coin program - the EC8. The EC8 program will consist of four coins minted in 2020 on behalf of each of the eight Caribbean island members that comprise the ECCB - Anguilla, Antigua and Barbuda, Commonwealth of Dominica, Grenada, Montserrat, Saint Kitts and Nevis, Saint Lucia, and Saint Vincent and the Grenadines.  The ECCB is the official issuer of the Eastern Caribbean Dollar - the Currency of the EC8 2018 Coin Program. These coins are legal tender in the territories of all eight members that comprise the Eastern Caribbean Central Bank.
The 1 oz ECCB Antigua & Barbuda "Rum Runner" gold, silver, and gold color commemorative and silver color commemorative coins are the first issues in this new annual program. The coin's image depicts an 18th century pirate ship heading out to sea after a pickup of some of the finest rum in the world from Antigua & Barbuda. Manufactured and distributed by Scottsdale Mint, each coin is struck in .999+ silver and .9999+ gold and weigh 1 troy ounce.
The Silver "Rum Runner" BU coins will ship in capsules on customized Scottsdale Mint branded skin boards of five (5) coins allowing for ease of sale by cutting the skin board into individual pieces for your customers while keeping them sealed.  The Gold "Rum Runner" BU coins will ship in Scottsdale Mint's Certi-Lock® packaging.  The Silver Color Commemorative and Gold Color Commemorative "Rum Runner" coins will ship in capsules and custom box packaging.
Hergestellt wurde diese wunderschöne Münze von der Prägeanstalt Scottsdale Mint"

Diese Sammlermünze wird als ganze Unze herausgegeben und besteht aus 99,9 Prozent Feinsilber in der Prägung "PROOF-Like"!
Auch diese Silbermünze gilt als gesetzliches Zahlungsmittel in ihren Herausgeberland Antigua & Barbuda.
Geliefert wird dieses besondere "Sammlermünze" .
Die COLORIZED Prägung sorgt für ein detailreiches und schön anmutendes Motiv.
Technische Daten
Gewicht

31.103

Material

Silber

Jahreszahl

2020

Preis-Addition

39.5