Gold 1.748,00 Eur
Silber 20,61 Eur
Platin 907,24 Eur
Palladium 1.864,50 Eur
(49) 2935 - 3 390 375
Europaweite Lieferung
Europaweite Lieferung
Gold 1.748,00 Eur
Silber 20,61 Eur
Platin 907,24 Eur
Palladium 1.864,50 Eur
SILBER 15,39 EUR
PLATIN 853,48 EUR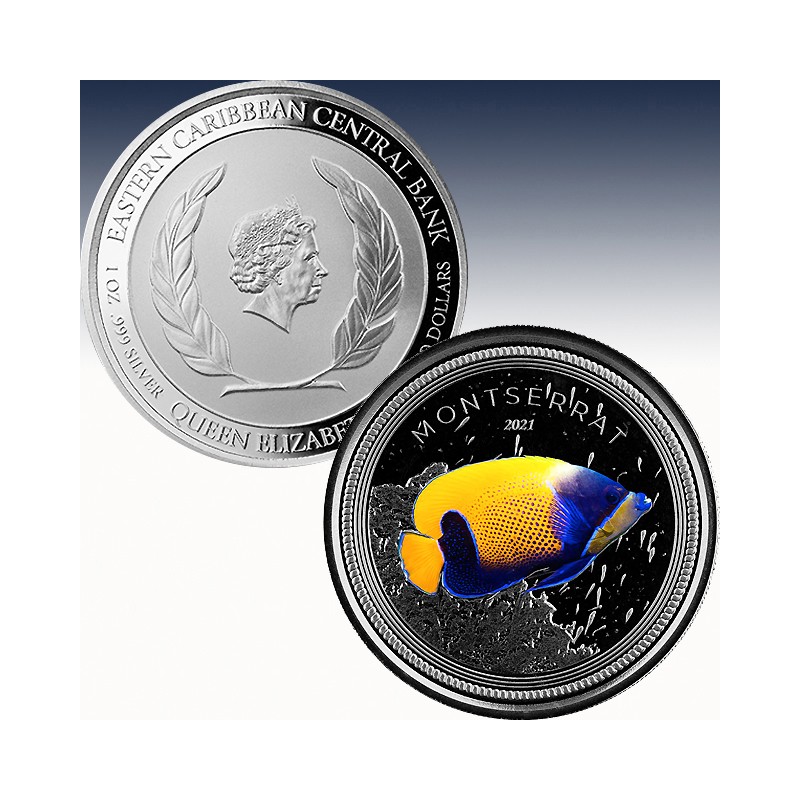  
1 x 1 oz Silber 2$ Montserrat "Blue Girdled Angelfish 2021" -Colorized-*
| | | |
| --- | --- | --- |
| Herkunftsland: |   | Emerald isle |
| Nennwert: |   | 2$ |
| Prägung: |   | Spiegelglanz |
| Stückelung: |   | 1 x 1 Unze |
| Material: |   | Silber/farbig |
| Feinheit: |   | 999/1000 |
| Gewicht: |   | 31,103 gramm |
| Durchmesser: |   |  40,60 mm |
| Auflage: |   | 500 Stück |
1 x 1 Unze (oz) 2$ Montserrat "Blue Girdled Angelfish 2020"
 (diff.besteuert nach §25a UStG)
Scottsdale Mint, in partnership with the Eastern Caribbean Central Bank (ECCB),
is pleased to continue the EC8 program with the release of the 3rd issue from Montserrat, the Oriole Silver and Gold Coin.  Manufactured and distributed by Scottsdale Mint, each coin is struck in .999+ silver and .9999+ gold and weighs one troy ounce. The silver "Oriole" BU coins will ship in capsules on Scottsdale Mint skin boards of five (5) coins. The gold "Oriole" BU coins will ship in Scottsdale Mint's Certi-Lock® packaging.  The silver color commemorative and gold color commemorative coins will ship in capsules inside custom boxes.

The 2021 ECCB Montserrat coin depicts the Montserrat Oriole, a vulnerable species of oriole endemic to this eastern Caribbean island. In stunning detail, the national bird of Montserrat is shown perched on a branch against a backdrop of the famous Soufriére Hills volcano. As of 1995, Soufriére Hills is an active volcano. Frequent eruptions have left half of the island uninhabitable and have also contributed to the Montserrat Oriole's status as a vulnerable endangered species. Between 1995 and 2000, two-thirds of the island's population was forced to flee, primarily to the United Kingdom, leaving fewer than 1200 people on the island in 1997. The volcano exists within an exclusion zone which is not accessible to the public, yet the rest of the island remains one of the Eastern Caribbean's highly sought tourist destinations.
Coin Highlights:
Limited mintage of 500 coins.
Contains 1 oz of .999 fine Silver.
The coins, manufactured and distributed by Scottsdale Mint are legal tender in the territories of the eight members that comprise the Eastern Caribbean Central Bank.
Hergestellt wurde diese wunderschöne Münze von der Prägeanstalt Scottsdale Mint"

Diese Sammlermünze wird als ganze Unze herausgegeben und besteht aus 99,9 Prozent Feinsilber in der Prägung "PROOF-Like"!
Diese Silbermünze gilt als gesetzliches Zahlungsmittel in ihren Herausgeberland Grenada.
Geliefert wird dieses besondere "Sammlermünze" in der Originalkapsel.
Die Colorized-Proof-LIKE Prägung sorgt für ein detailreiches und schön anmutendes Motiv.
Technische Daten
Gewicht

31.103

Material

Silber

Jahreszahl

2021

Preis-Addition

42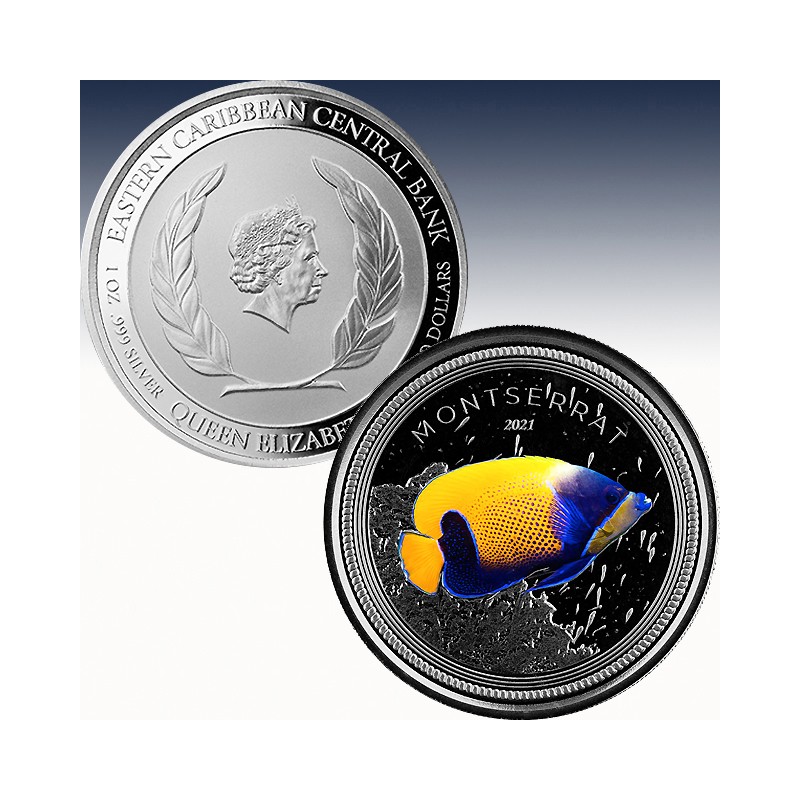 | | | |
| --- | --- | --- |
| Herkunftsland: |   | Emerald isle |
| Nennwert: |   | 2$ |
| Prägung: |   | Spiegelglanz |
| Stückelung: |   | 1 x 1 Unze |
| Material: |   | Silber/farbig |
| Feinheit: |   | 999/1000 |
| Gewicht: |   | 31,103 gramm |
| Durchmesser: |   |  40,60 mm |
| Auflage: |   | 500 Stück |