Gold 1.758,99 Eur
Silber 21,34 Eur
Platin 923,29 Eur
Palladium 1.482,17 Eur
(49) 2935 - 3 390 375
Europaweite Lieferung
Europaweite Lieferung
Gold 1.758,99 Eur
Silber 21,34 Eur
Platin 923,29 Eur
Palladium 1.482,17 Eur
SILBER 15,39 EUR
PLATIN 853,48 EUR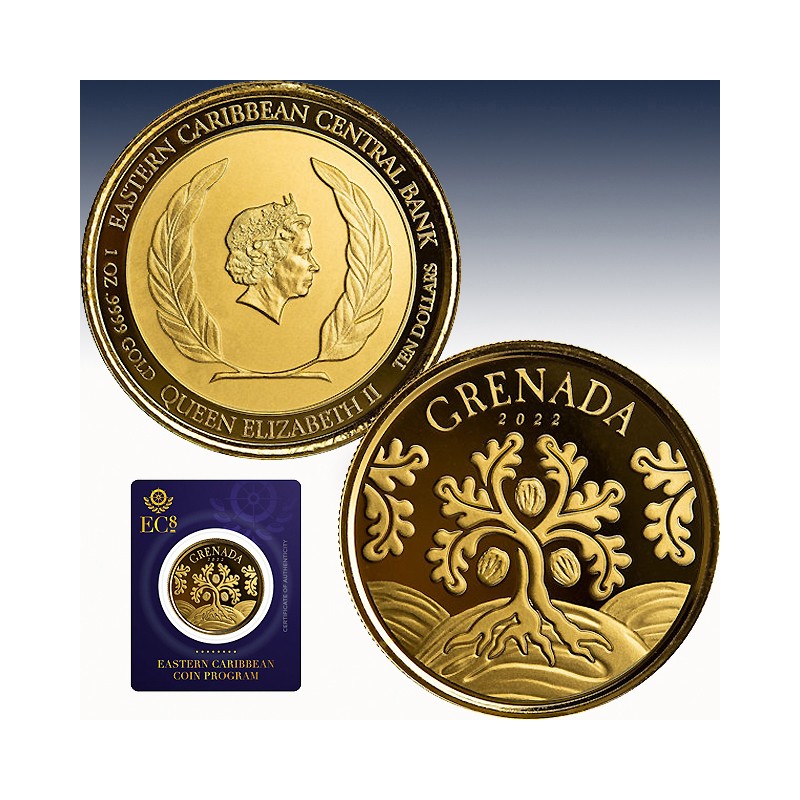  
1 x 1 oz Goldmünze 10$ Grenada "Walnut Tree 2022" -PL-in Certi-Lock®
| | | |
| --- | --- | --- |
| Herkunft: |   | Grenada |
| Nennwert: |   | 10 $ |
| Prägung: |   | Proof-Like |
| Stückelung: |   | 1 x 1 Unze |
| Material: |   | Gold |
| Feinheit: |   | 999/1000 |
| Gewicht: |   | 31,103 Gramm |
| Durchmesser: |   |  -,- mm |
| Echtheit: |   | Certi-Lock® |
| Auflage: |   | 5.000 Stück |
1 x 1 Unze (oz) Goldmünze 10$ Grenada
"2# Walnussbaum 2022" Proof-Like in Certi-Lock®
Our Eastern Caribbean 8 collectors coin series starts off 2022 with two fantastic and beautiful entries, the Grenada Nutmeg Tree!

New to this year's offerings, you can now buy our 1 oz Silver coins in the series in either Capsule or Tubes. All other listings remain the same. 

While Grenada is known for it's tourism and beauty, it's largest export is spice and nutmeg, having a long history of amazing and tasty nutmeg trees that inhabit the island.
Coin Highlights:
Contains 1 oz of .9999 fine Gold.
Each coin comes in a protective plastic capsule inside unique Certi-Lock packaging for security and authentication.
Limited mintage of 2,500 coins.
Both obverse and reverse rims feature wavy radial lines making the coins harder to duplicate and provide a measure of security.
The coins, manufactured and distributed by Scottsdale Mint are legal tender in the territories of the eight members that comprise the Eastern Caribbean Central Bank.
Die wechselnde Motive stellen in wunderschönen Motiven, sind ein absolutes MUSS für alle Münzsammler.
Diese Sammlermünze wird als ganze Unze herausgegeben und besteht aus 999,9 Prozent Feingold in der wundervollen Prägung "PROOF-LIKE"!
Diese Goldmünze gilt als gesetzliches Zahlungsmittel in ihren Herausgeberland Grenada.
Geliefert wird im Certi-Lock®.
Certi-Lock ist ein revolutionärer Ansatz für die Authentifizierung von Edelmetallen. Durch den Einsatz von Technologie und kostenlosen Smartphone-Anwendungen durch Certi-Lock können Verbraucher nun die Authentizität von Certi-Locked Edelmetallen an den Fingerspitzen überall in der Welt überprüfen. Um mehr über Certi-Lock zu erfahren, wenden Sie sich bitte an Scottsdale Mint oder besuchen Sie http://www.certi-lock.com.
Jede dieser wunderschönen Gold Coin enthält 999/1000 Feingold und wurde im wunderschönem "Brilliant uncirculated" geprägt.
Technische Daten
Gewicht

31.103

Material

Gold

Jahreszahl

2022

Preis-Addition

110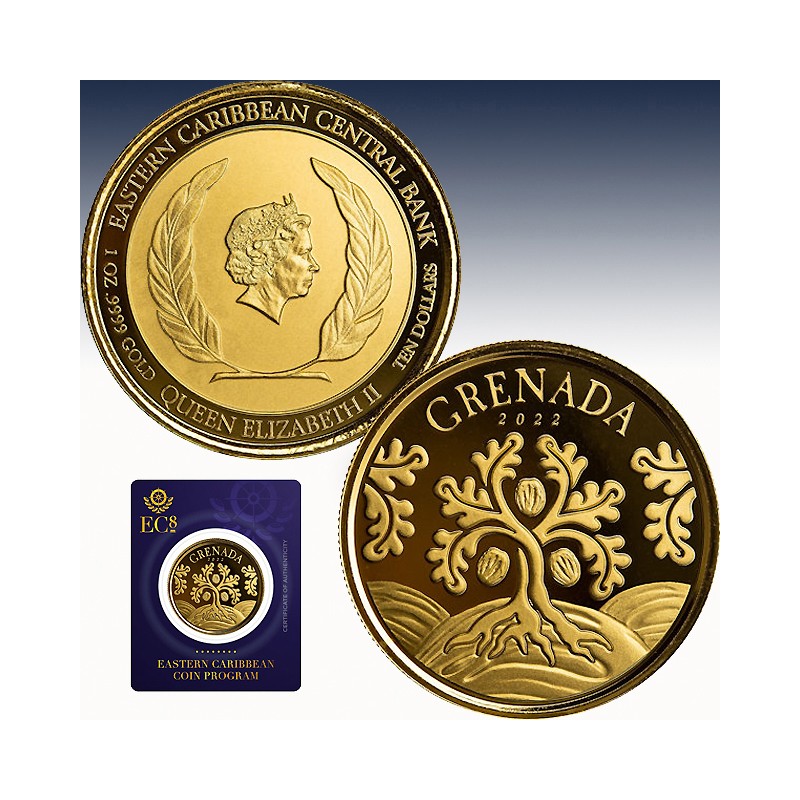 | | | |
| --- | --- | --- |
| Herkunft: |   | Grenada |
| Nennwert: |   | 10 $ |
| Prägung: |   | Proof-Like |
| Stückelung: |   | 1 x 1 Unze |
| Material: |   | Gold |
| Feinheit: |   | 999/1000 |
| Gewicht: |   | 31,103 Gramm |
| Durchmesser: |   |  -,- mm |
| Echtheit: |   | Certi-Lock® |
| Auflage: |   | 5.000 Stück |