Gold 1.759,87 Eur
Silber 21,38 Eur
Platin 922,72 Eur
Palladium 1.496,02 Eur
(49) 2935 - 3 390 375
Europaweite Lieferung
Europaweite Lieferung
Gold 1.759,87 Eur
Silber 21,38 Eur
Platin 922,72 Eur
Palladium 1.496,02 Eur
SILBER 15,39 EUR
PLATIN 853,48 EUR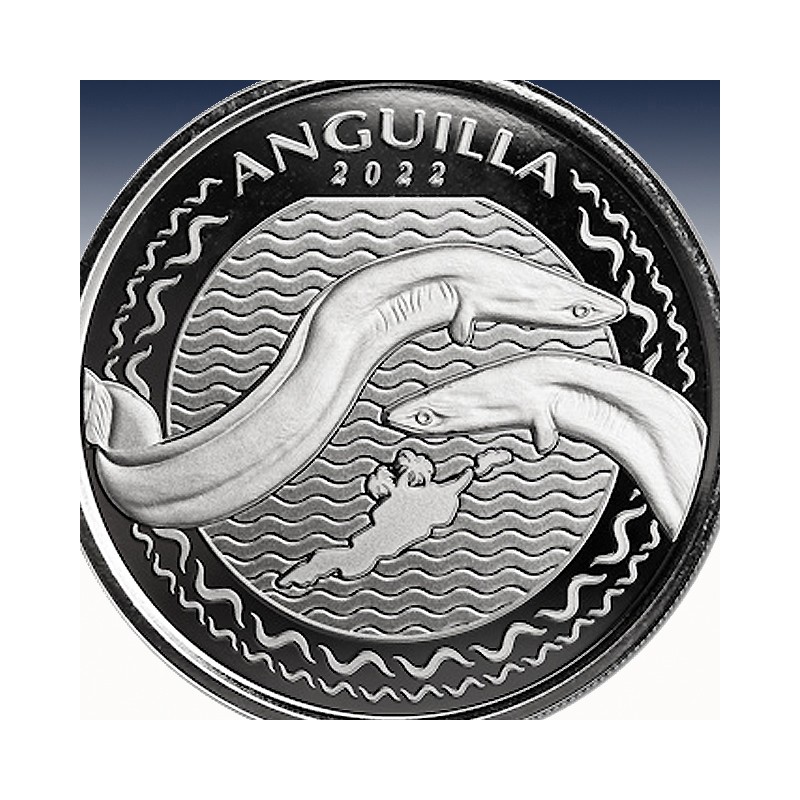  
1 x 1 oz Silbermünzen 2$ Eastern Caribbean "Anguilla - Eel 2022" -PL-*
| | | |
| --- | --- | --- |
| Herkunftsland: |   | Anguilla |
| Nennwert: |   | 2$ |
| Prägung: |   | Spiegelglanz |
| Stückelung: |   | 1 x 1 Unze |
| Material: |   | Silber |
| Feinheit: |   | 999/1000 |
| Gewicht: |   | 31,103 gramm |
| Durchmesser: |   |  40,60 mm |
| Auflage: |   | 25.000 Stück |
1 x 1 Unze (oz) Silbermünzen 2$ Eastern Caribbean
"Anguilla - 1# Aal 2022"
 (diff.besteuert nach §25a UStG)
Our Eastern Caribbean 8 collectors coin series starts off 2022 with two fantastic and beautiful entries, the Anguilla EelThe
Anguilla Eel celebrates the countries name, as Anguilla means "Eel", having been named after the island's serpentine shape.
Hergestellt wurde diese wunderschöne Münze von der Prägeanstalt Scottsdale Mint"

Diese Sammlermünze wird als ganze Unze herausgegeben und besteht aus 99,9 Prozent Feinsilber in der Prägung "PROOF-Like"!
Diese Silbermünze gilt als gesetzliches Zahlungsmittel in ihren Herausgeberland Grenada.
Geliefert wird dieses besondere "Sammlermünze" in der Originalkapsel.
Die Proof-LIKE Prägung sorgt für ein detailreiches und schön anmutendes Motiv.
Pro 5 Münzen wird in Original
 eingeschweißter Verpackung geliefert
Technische Daten
Gewicht

31.103

Material

Silber

Jahreszahl

2022

Preis-Addition

7.5
| | | |
| --- | --- | --- |
| Herkunftsland: |   | Anguilla |
| Nennwert: |   | 2$ |
| Prägung: |   | Spiegelglanz |
| Stückelung: |   | 1 x 1 Unze |
| Material: |   | Silber |
| Feinheit: |   | 999/1000 |
| Gewicht: |   | 31,103 gramm |
| Durchmesser: |   |  40,60 mm |
| Auflage: |   | 25.000 Stück |