Gold 1.817,25 Eur
Silber 22,05 Eur
Platin 958,78 Eur
Palladium 1.303,48 Eur
(49) 2935 - 3 390 375
Europaweite Lieferung
Europaweite Lieferung
Gold 1.817,25 Eur
Silber 22,05 Eur
Platin 958,78 Eur
Palladium 1.303,48 Eur
SILBER 15,39 EUR
PLATIN 853,48 EUR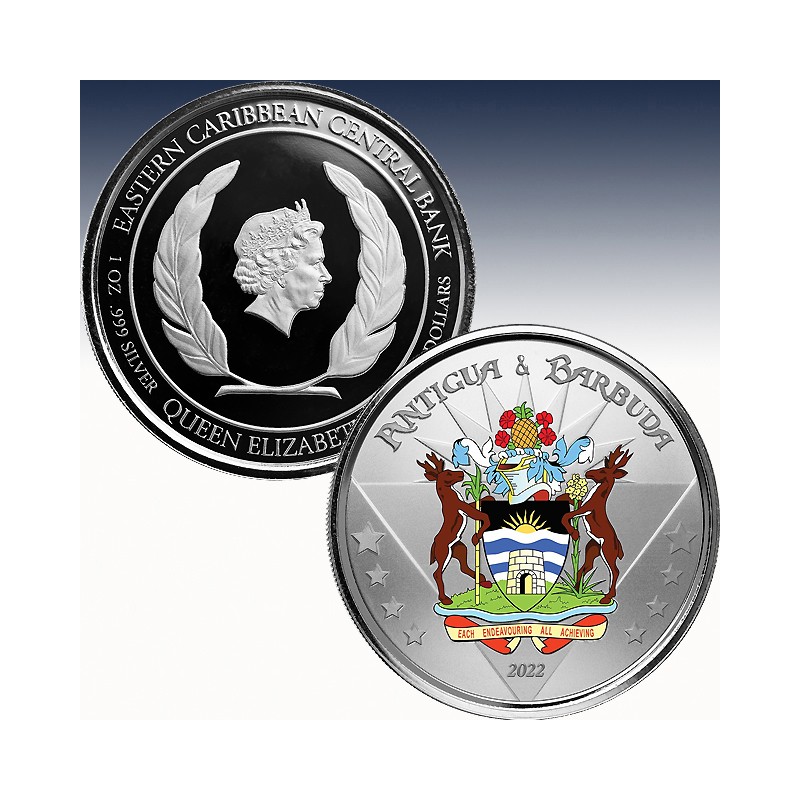  
1 x 1 oz Silbermünze 2$ Eastern Caribbean "Antigua & Barbuda - Coat of Arms 2022" -Colorized-*
| | | |
| --- | --- | --- |
| Herkunftsland: |   | Antigua & Barbuda |
| Nennwert: |   | 2$ |
| Prägung: |   | Spiegelglanz |
| Stückelung: |   | 1 x 1 Unze |
| Material: |   | Silber/farbig |
| Feinheit: |   | 999/1000 |
| Gewicht: |   | 31,103 gramm |
| Durchmesser: |   |  40,60 mm |
| Auflage: |   | 500 Stück |
1 x 1 Unze (oz) Silbermünze 2$ Eastern Caribbean
"Antigua & Barbuda - Coat of Arms 2022"
The 2020 EC8 Antigua & Barbuda coin proudly displays the island nation's Coat of Arms, which is also the emblem found on the flag of Anguilla, a traditional symbol of the territory. The coat of arms consists of three dolphins leaping over the sea. 

The orange dolphins represent endurance, unity, and strength, and they form a circle as a sign of continuity. The badge has a white background, for peace and tranquility, and a turquoise-blue base representing the surrounding Caribbean sea and also faith, youth, and hope.

Hergestellt wurde diese wunderschöne Münze von der Prägeanstalt Scottsdale Mint"

Diese Sammlermünze wird als ganze Unze herausgegeben und besteht aus 99,9 Prozent Feinsilber in der Prägung "Colorized"!
Diese Silbermünze gilt als gesetzliches Zahlungsmittel in ihren Herausgeberland Grenada.
Geliefert wird dieses besondere "Sammlermünze" in der Originalkapsel.
Die Proof-LIKE Prägung sorgt für ein detailreiches und schön anmutendes Motiv.
Pro Münze wird in Original Verpackung geliefert
Technische Daten
Gewicht

31.103

Material

Silber

Jahreszahl

2022

Preis-Addition

40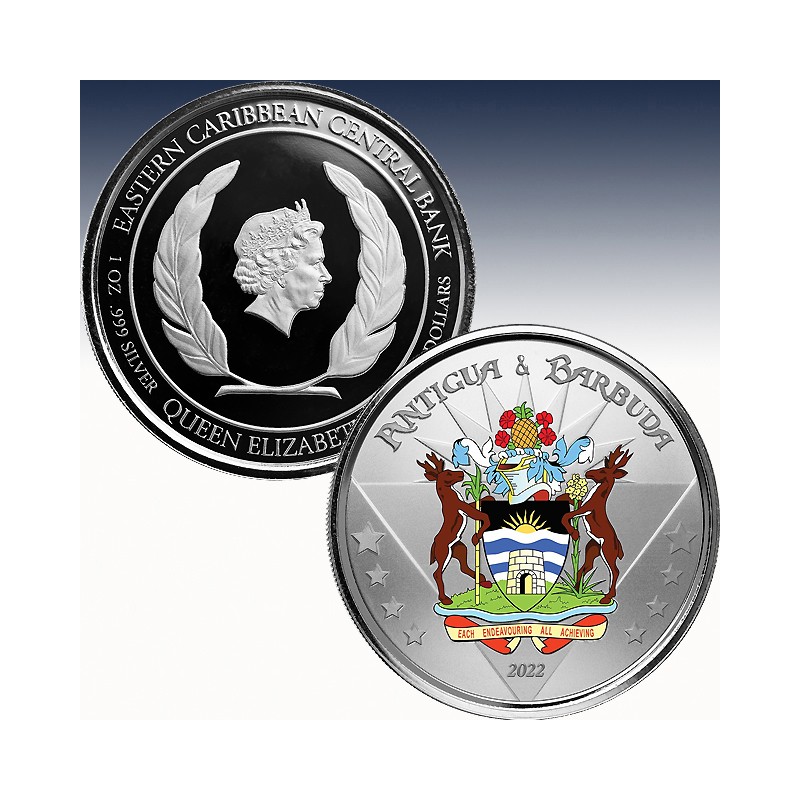 | | | |
| --- | --- | --- |
| Herkunftsland: |   | Antigua & Barbuda |
| Nennwert: |   | 2$ |
| Prägung: |   | Spiegelglanz |
| Stückelung: |   | 1 x 1 Unze |
| Material: |   | Silber/farbig |
| Feinheit: |   | 999/1000 |
| Gewicht: |   | 31,103 gramm |
| Durchmesser: |   |  40,60 mm |
| Auflage: |   | 500 Stück |