Gold 1.817,23 Eur
Silber 22,04 Eur
Platin 958,56 Eur
Palladium 1.301,95 Eur
(49) 2935 - 3 390 375
Europaweite Lieferung
Europaweite Lieferung
Gold 1.817,23 Eur
Silber 22,04 Eur
Platin 958,56 Eur
Palladium 1.301,95 Eur
SILBER 15,39 EUR
PLATIN 853,48 EUR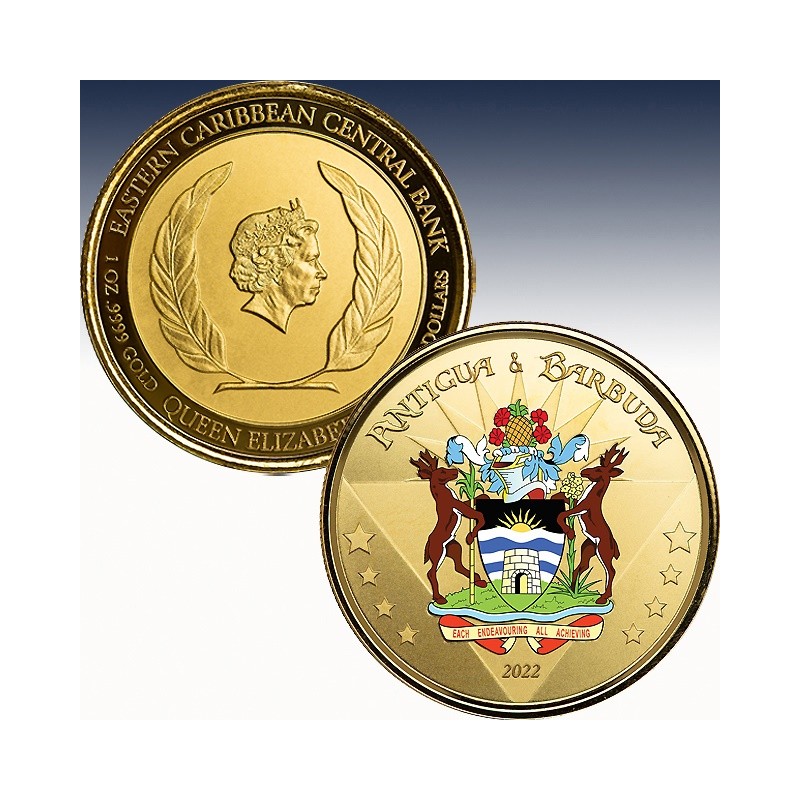  
1 x 1 oz Goldmünze 10$ Eastern Caribbean "Antigua & Barbuda - Coat of Arms 2022" -Colorized-
| | | |
| --- | --- | --- |
| Herkunft: |   | Antigua & Barbuda |
| Nennwert: |   | 10 $ |
| Prägung: |   | Proof-Like |
| Stückelung: |   | 1 x 1 Unze |
| Material: |   | Gold/farbig |
| Feinheit: |   | 999/1000 |
| Gewicht: |   | 31,103 Gramm |
| Durchmesser: |   |  -,- mm |
| Auflage: |   | 100 Stück |
1 x 1 Unze (oz) Goldmünze 10$ Eastern Caribbean
"Antigua & Barbuda - Coat of Arms 2022" Proof-Like in Colorized

The 2020 EC8 Antigua & Barbuda coin proudly displays the island nation's Coat of Arms, which is also the emblem found on the flag of Anguilla, a traditional symbol of the territory. The coat of arms consists of three dolphins leaping over the sea. 
Diese Sammlermünze wird als ganze Unze herausgegeben und besteht aus 999,9 Prozent Feingold in der wundervollen Prägung "COLORIZED"!
Diese Silbermünze gilt als gesetzliches Zahlungsmittel in ihren Herausgeberland Grenada.
Geliefert wird diese anmutende Anguilla - Coat of Arms 2022" in Original-Box inklusive Zertifikat
Technische Daten
Gewicht

31.103

Material

Gold

Jahreszahl

2022

Preis-Addition

300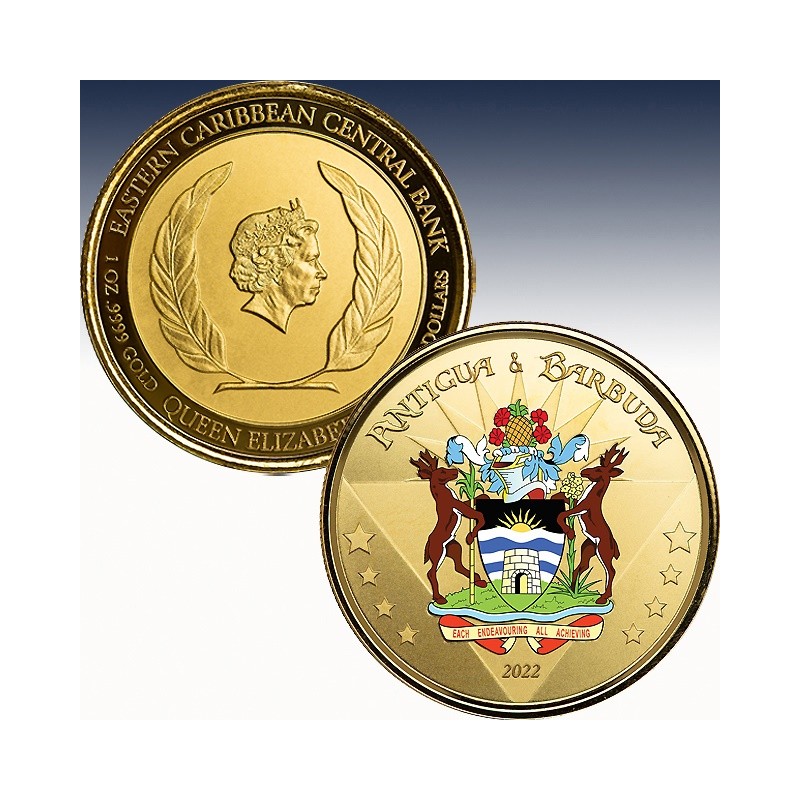 | | | |
| --- | --- | --- |
| Herkunft: |   | Antigua & Barbuda |
| Nennwert: |   | 10 $ |
| Prägung: |   | Proof-Like |
| Stückelung: |   | 1 x 1 Unze |
| Material: |   | Gold/farbig |
| Feinheit: |   | 999/1000 |
| Gewicht: |   | 31,103 Gramm |
| Durchmesser: |   |  -,- mm |
| Auflage: |   | 100 Stück |