Gold 1.757,97 Eur
Silber 21,32 Eur
Platin 921,80 Eur
Palladium 1.492,28 Eur
(49) 2935 - 3 390 375
Europaweite Lieferung
Europaweite Lieferung
Gold 1.757,97 Eur
Silber 21,32 Eur
Platin 921,80 Eur
Palladium 1.492,28 Eur
SILBER 15,39 EUR
PLATIN 853,48 EUR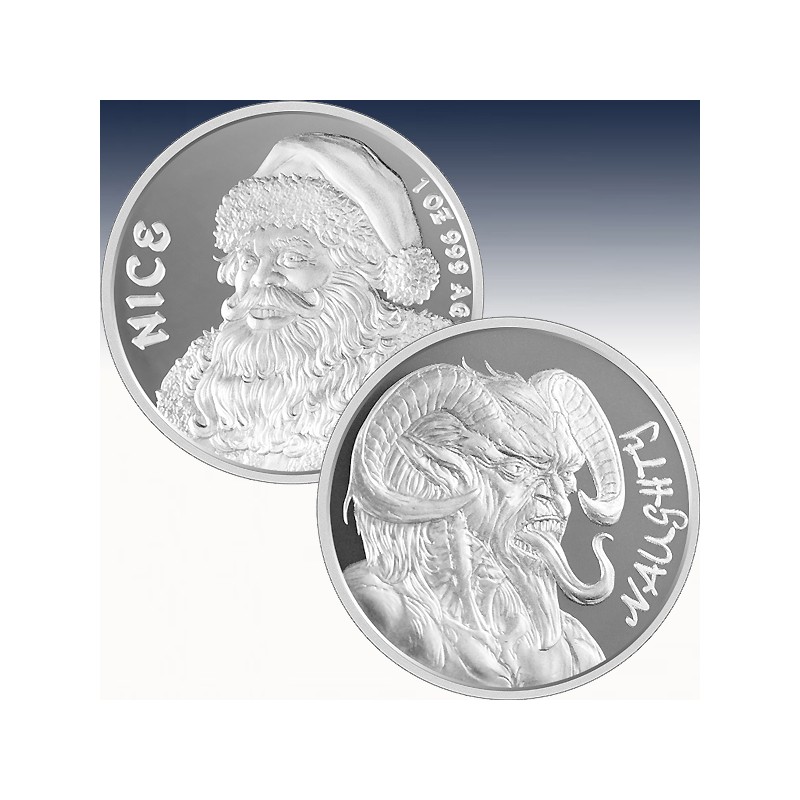  
1 x 1 Oz Silverround SilverTowne "Naughty or Nice" -BU-
| | | |
| --- | --- | --- |
| Hersteller: |   | SilverTowne |
| Steuersatz: |   | 19 % |
| Prägung: |   | Stempelglanz |
| Stückelung: |   | 1 x 1 Unze |
| Material: |   | Silber |
| Feinheit: |   | 999/1000 |
| Gewicht: |   | 31,103 Gramm |
| Durchmesser: |   | 39,0x2,90 mm |
| Auflage: |   | 10.000 Stück |
1 x 1 Unze (Oz) Silverround SilverTowne "Naughty or Nice"
Anyone who has celebrated the joy of gift-giving at Christmas is familiar with the concept of naughty and nice. For centuries, children have been warned to be good if they expect gifts, for the naughty will get something less than desirable. As Santa Claus became commonly associated with Christmas in the 18th and 19th centuries, some cultures developed an alternative figure that accompanied Santa: Krampus. Today, 1 oz Naughty or Nice Silver Rounds are available to you online at JM Bullion.
Round Highlights:
Available in protective flips or plastic tubes of 20
Contrasting Santa-Krampus design
Contains 1 Troy oz of .999 pure silver.
Obverse features Santa Claus in the nice design.
Reverse depicts Krampus as the naughty alternative.
For centuries, Santa Claus has been said to travel the world on December 24th delivering toys to the good girls and boys, while giving lumps of coal to the naughty kids. In some of the Alpine folklore of Central and Eastern Europe, Krampus was a counterpart to Santa who would even accompany Santa to scare the bad kids straight before Christmas arrived.
All of these 1 oz Naughty or Nice Silver Rounds are available to you individually or in bulk. Individual silver rounds are available in protective flips, while multiples of 20 rounds arrive in a plastic tube.
Obverse visuals on these Naughty or Nice Silver Rounds feature a left-profile depiction of Santa Claus. Here, Santa is shown with his classic long, thick, white beard and his winter cap. This side captures the nice side of Christmas, with the identifying hallmarks featured in the design as well.
Reverse design elements on the 1 oz Naughty or Nice Silver Round include the scary image of Krampus. In Central and Eastern European Alpine folklore, Krampus is a human-like figure with horns on its head that scares misbehaving children into straightening up and behaving.
Technische Daten
Gewicht

31.103

Material

Silber

Jahreszahl

2022

Preis-Addition

11.4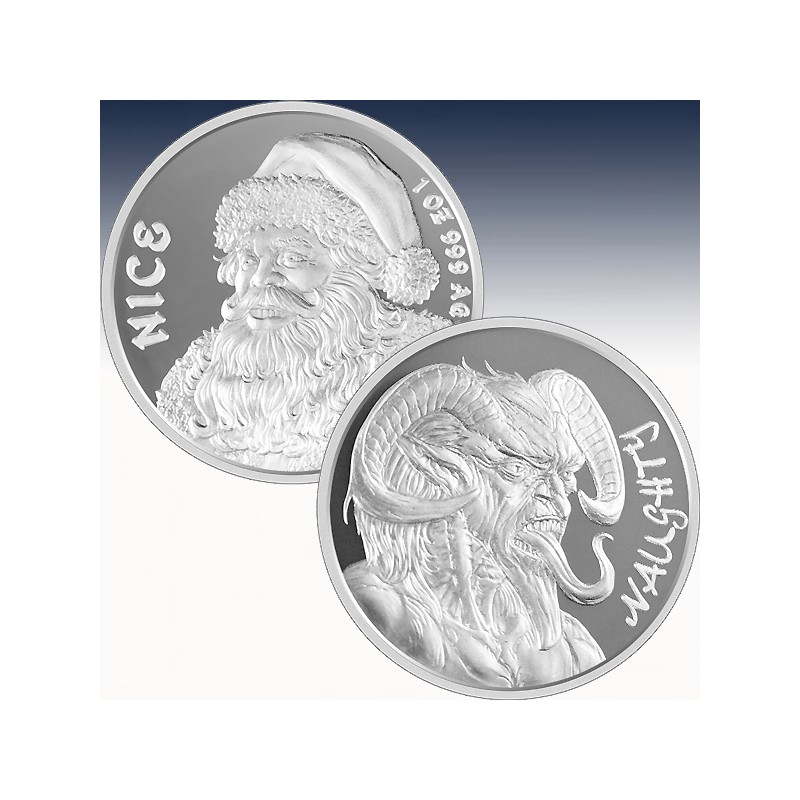 | | | |
| --- | --- | --- |
| Hersteller: |   | SilverTowne |
| Steuersatz: |   | 19 % |
| Prägung: |   | Stempelglanz |
| Stückelung: |   | 1 x 1 Unze |
| Material: |   | Silber |
| Feinheit: |   | 999/1000 |
| Gewicht: |   | 31,103 Gramm |
| Durchmesser: |   | 39,0x2,90 mm |
| Auflage: |   | 10.000 Stück |