Gold 1.757,97 Eur
Silber 21,33 Eur
Platin 922,99 Eur
Palladium 1.490,49 Eur
(49) 2935 - 3 390 375
Europaweite Lieferung
Europaweite Lieferung
Gold 1.757,97 Eur
Silber 21,33 Eur
Platin 922,99 Eur
Palladium 1.490,49 Eur
SILBER 15,39 EUR
PLATIN 853,48 EUR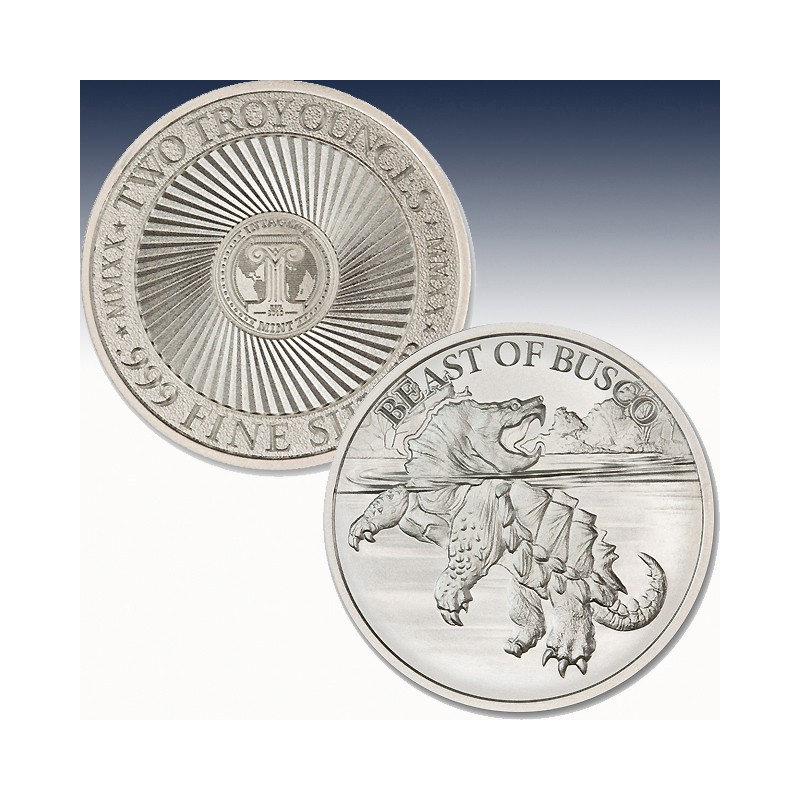  
1 x 2 Oz Silverround Intaglio Mint "Cryptozoology Series - BEAST OF BUSCO" -BU-
| | | |
| --- | --- | --- |
| Hersteller: |   | Intaglio Mint |
| Steuersatz: |   | 19% |
| Prägung: |   | Stempelglanz |
| Stückelung: |   | 1 x 2 Unze |
| Material: |   | Silber |
| Feinheit: |   | 999/1000 |
| Gewicht: |   | 62,206 Gramm |
| Verpackung: |   | Tasche |
| Durchmesser: |   | 39x6mm |
1 x 2 Unze (oz) Silverround Intaglio Mint
"Cryptozoology Series - 11# BEAST OF BUSCO"
The Beast of 'Busco, affectionately nicknamed Oscar, was an alleged giant alligator snapping turtle reported from Fulk Lake, near Churubusco, northern Indiana in the United States, during the late 1940s. The story briefly gained national attention as a result of the increasingly-dramatic attempts by the lake's owner Gale Harris, and other locals, to capture the animal. Another giant turtle was reported from the state in 1950.
Contains 2 oz. Troy of .999 Fine Silver
Obverse: A depiction of the Beast of Busco, floating ominously in the middle of Fulk Lake.
Reverse: High-Relief Intaglio Mint logo set on radial burst surrounded by stippled border reading "TWO TROY OUNCES" above and ".999 FINE SILVER" below on textured background, flanked by mintage year in roman numerals "MMXXII".
Einzigartig in ihrer Art und bereits jetzt schon Kult in den Vereinigten Staaten.
Jede dieser wunderschönen Silverround enthält 999/1000 Feinsilber und wurde im wunderschönem "Brilliant uncirculated" geprägt.
Technische Daten
Gewicht

62.206

Material

Silber

Preis-Addition

21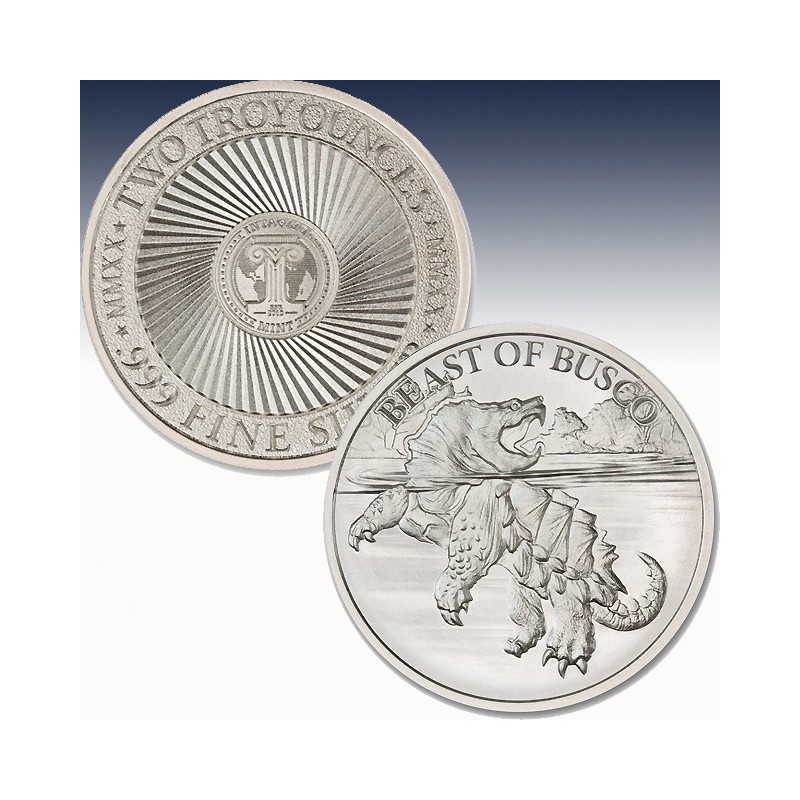 | | | |
| --- | --- | --- |
| Hersteller: |   | Intaglio Mint |
| Steuersatz: |   | 19% |
| Prägung: |   | Stempelglanz |
| Stückelung: |   | 1 x 2 Unze |
| Material: |   | Silber |
| Feinheit: |   | 999/1000 |
| Gewicht: |   | 62,206 Gramm |
| Verpackung: |   | Tasche |
| Durchmesser: |   | 39x6mm |