Gold 1.863,05 Eur
Silber 21,38 Eur
Platin 855,59 Eur
Palladium 879,72 Eur
(49) 2935 - 3 390 375
Europaweite Lieferung
Europaweite Lieferung
Gold 1.863,05 Eur
Silber 21,38 Eur
Platin 855,59 Eur
Palladium 879,72 Eur
SILBER 15,39 EUR
PLATIN 853,48 EUR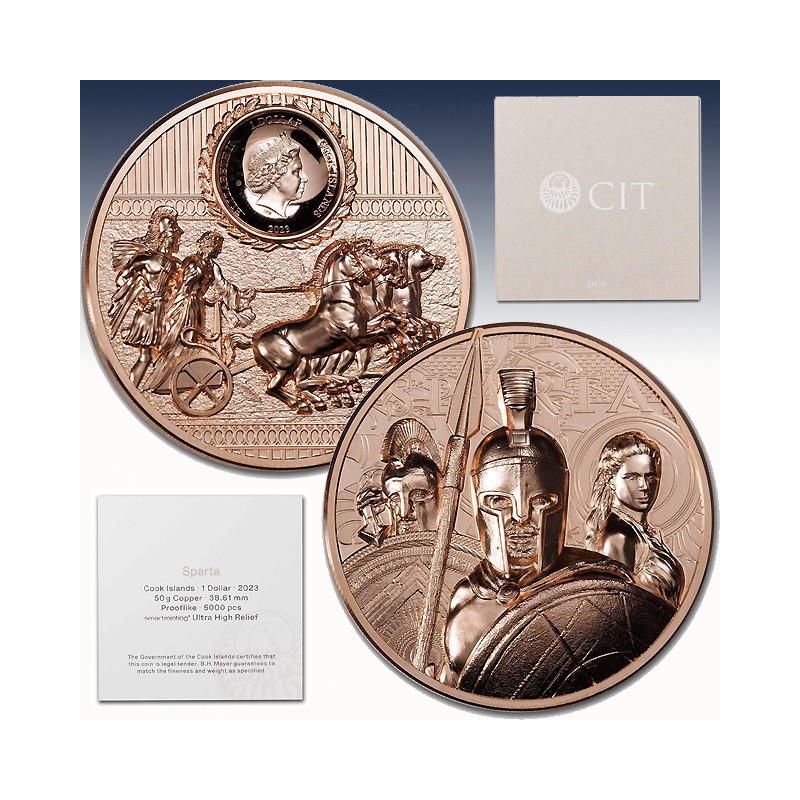  
1 x 1,608 ADVP Oz Copper Round 1$ Cook Islands "Sparta - Ultra High Relief 2023" -PROOF-*
| | | |
| --- | --- | --- |
| Hersteller: |   | Mayer Mint GMBH |
| Steuersatz: |   | 19% |
| Präung: |   | Polierte Platte |
| Stückelung: |   | 1 x 1,608 AVDP |
| Material: |   | Silber |
| Feinheit: |   | 999/1000 |
| Gewicht: |   | 31,103 Gramm |
| Verpackung: |   | gekapselt |
| Durchmesser: |   | 38,61mm |
1 x 1,608 ADVP Unze (oz) Copper Round 1$ Cook Islands
"Sparta - Ultra High Relief 2023"

This Ultra High Relief Proof coin has a spectacular design on both the obverse and reverse. The mintage is only 5,000.

Coin Highlights:

Contains 1.76 oz of .999 fine Copper.
Mintage of only

5,000

coins.
Comes in the original capsule and with a certificate of authenticity.
Obverse: Depicts the scene of "The Return of Helen on a Quadriga," a tale from author Homer. Also featured is the portrait of Queen Elizabeth II by Ian Rank-Broadley surrounded by the name of the ruler, the issuing nation, the denomination, and the 2023 year-date.
Reverse: Features some Spartan warriors in all the warrior gear and Helen.
Sovereign coin backed by the Cook Islands government.


CIT
Coin Invest Trust (CIT), located in the small European country of Liechtenstein, produces coins for countries around the world. Since its founding in 1970, this company has gained an outstanding worldwide reputation for its innovative and revolutionary coins of premium quality. Smartminting© technology, developed by CIT in 2016, pushes the boundaries of the standards in the commemorative coin industry. This technology enables CIT to strike coins in higher relief without the need for additional metal and can increase the surface area of a coin by as much as 183%.
Geliefert wird diese Sammlermünze mit einem
 Echtheitszertifikat, inklusive Kapsel
Technische Daten
Gewicht

31.103

Material

Silber

Jahreszahl

2016

Preisaktualisierer

Inaktiv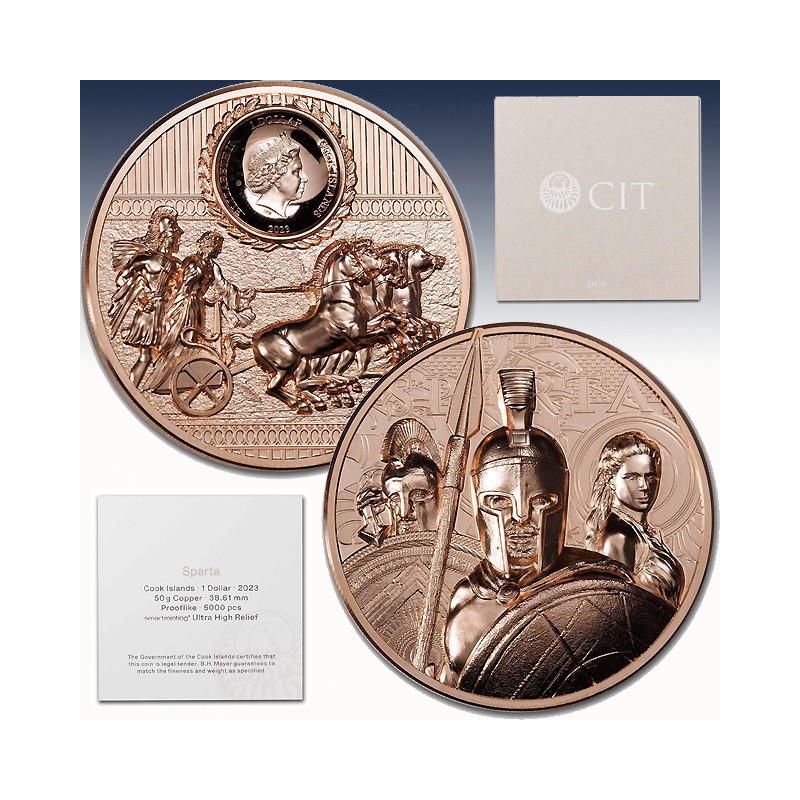 | | | |
| --- | --- | --- |
| Hersteller: |   | Mayer Mint GMBH |
| Steuersatz: |   | 19% |
| Präung: |   | Polierte Platte |
| Stückelung: |   | 1 x 1,608 AVDP |
| Material: |   | Silber |
| Feinheit: |   | 999/1000 |
| Gewicht: |   | 31,103 Gramm |
| Verpackung: |   | gekapselt |
| Durchmesser: |   | 38,61mm |