Gold 1.520,81 Eur
Silber 20,32 Eur
Platin 895,51 Eur
Palladium 1.803,00 Eur
(49) 2935 - 3 390 375
Europaweite Lieferung
Europaweite Lieferung
Gold 1.520,81 Eur
Silber 20,32 Eur
Platin 895,51 Eur
Palladium 1.803,00 Eur
SILBER 15,39 EUR
PLATIN 853,48 EUR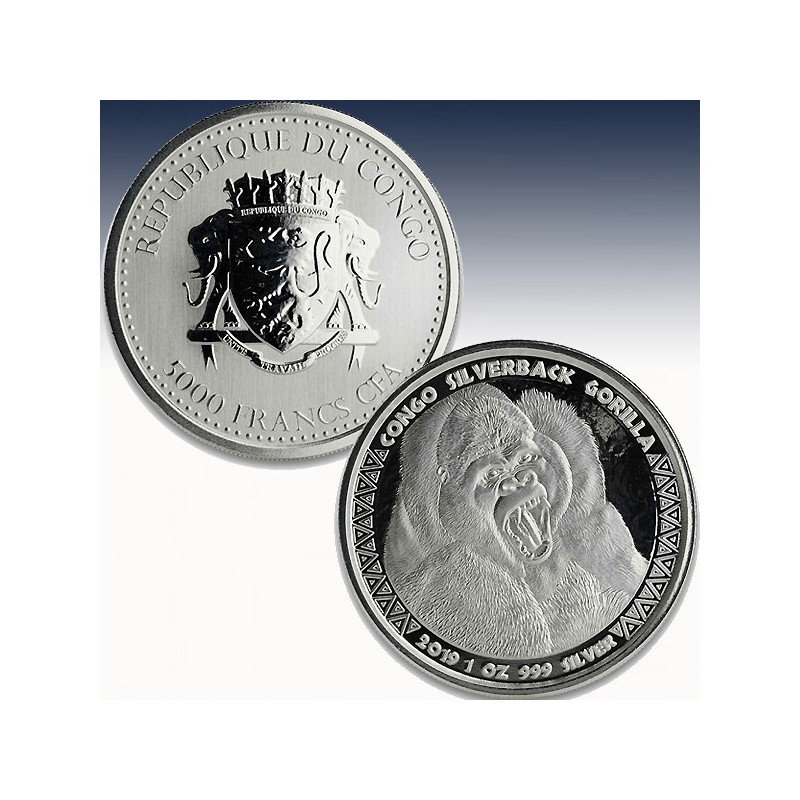  
1 x 5000 CFA Silbermünze Republik Congo "Silverback Gorilla 2019" -PL-*
| | | |
| --- | --- | --- |
| Herkunftsland: |   | Republik Congo |
| Nennwert: |   | 5.000Francs CFA |
| Prägung: |   | Spiegelglanz |
| Stückelung: |   | 1 x 1 Unze |
| Material: |   | Silber |
| Feinheit: |   | 999/1000 |
| Gewicht: |   | 31,103 gramm |
| Durchmesser: |   |  40,60 mm |
| Auflage: |   | 75.000 Stück |
1 x 5000 CFA Silbermünze Republik Congo
"5# Silverback Gorilla 2019"-PL-
 (diff.besteuert nach §25a UStG)
Diese Sammlermünze wird als 31,103 gramm herausgegeben und besteht aus 999/1000 Feinsilber!
Sie hat einen Durchmesser von 40,60 mm.
Auch diese Silbermünze gilt als gesetzliches Zahlungsmittel in ihren Herausgeberland Republik Congo.
Die Spiegelglanz Prägung sorgt für ein besonders detailreiches und schön anmutendes Motiv.
The African Silverback Gorilla frome the Republic of Congo. This inaugural year of an annual program is limited to just 75,000 units.
Technische Daten
Gewicht

31.103

Material

Silber

Jahreszahl

2019

Preis-Addition

12.5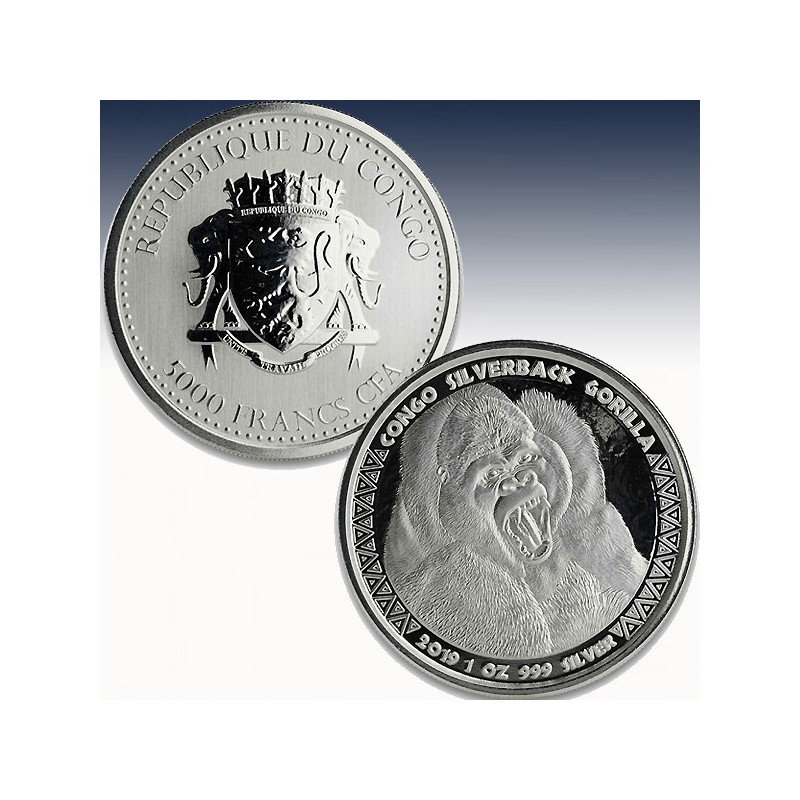 | | | |
| --- | --- | --- |
| Herkunftsland: |   | Republik Congo |
| Nennwert: |   | 5.000Francs CFA |
| Prägung: |   | Spiegelglanz |
| Stückelung: |   | 1 x 1 Unze |
| Material: |   | Silber |
| Feinheit: |   | 999/1000 |
| Gewicht: |   | 31,103 gramm |
| Durchmesser: |   |  40,60 mm |
| Auflage: |   | 75.000 Stück |