Gold 1.758,43 Eur
Silber 21,34 Eur
Platin 921,65 Eur
Palladium 1.491,78 Eur
(49) 2935 - 3 390 375
Europaweite Lieferung
Europaweite Lieferung
Gold 1.758,43 Eur
Silber 21,34 Eur
Platin 921,65 Eur
Palladium 1.491,78 Eur
SILBER 15,39 EUR
PLATIN 853,48 EUR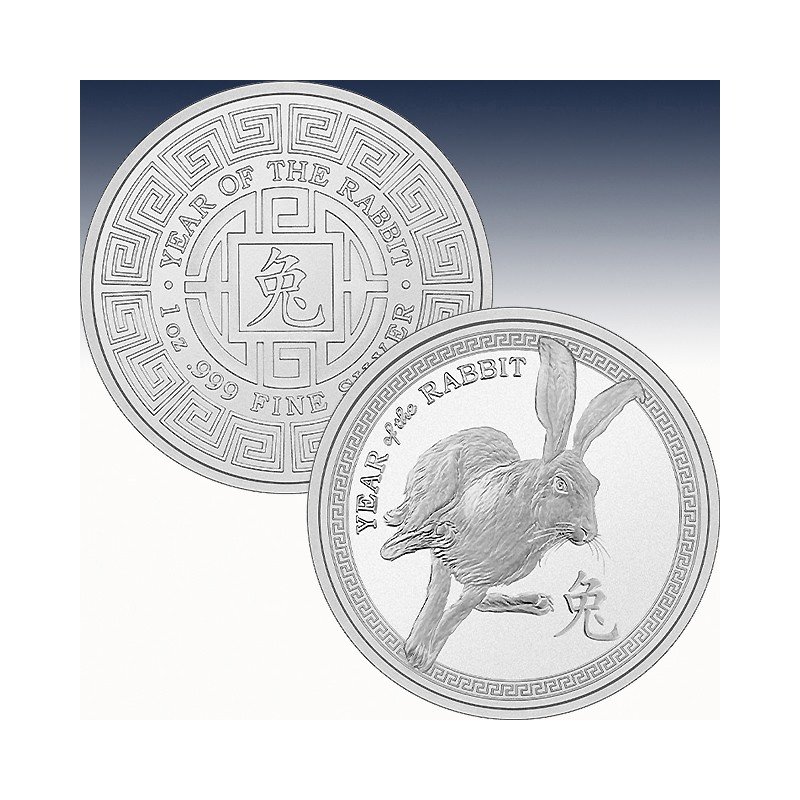  
1 x 1 oz Silverround Provident Metals Lunar "Year of the Rabbit 2023" -BU-
| | | |
| --- | --- | --- |
| Hersteller: |   | Golden State Mint |
| Steuersatz: |   | 19% |
| Prägung: |   | Stempelglanz |
| Stückelung: |   | 1 x 1 Unze |
| Material: |   | Silber |
| Feinheit: |   | 999/1000 |
| Gewicht: |   | 31,103 Gramm |
| Verpackung: |   | zip-Tüte |
| Durchmesser: |   | 39 mm |
1 x 1 Unze (oz) Silver Round Provident Metals Lunar
"Year of the Rabbit 2023"


Lunar-themed design elements are incredibly popular with collectors and you will find options from mints both sovereign and private alike. JM Bullion is proud to carry a unique series of 1 oz silver rounds and 10 oz silver bars with distinctive lunar animal imagery. Now, 1 oz Year of the Rabbit Silver Rounds are available to you for purchase online from JM Bullion.
Round Highlights:
Rounds arrive in plastic flips, protective tubes of 20, or boxes of 500 rounds!
Issued in the popular Lunar Series!
Beautiful new Year of the Rabbit design!
Contains 1 Troy oz of .999 pure silver.
A rabbit is depicted in the obverse design element.
The Chinese symbol representing the rabbit is found on the reverse.
The Year of the Rabbit is the fourth in the 12-year cycle of the Chinese Lunar Calendar, also known as the Zodiac. The last appearance of the Year of the Rabbit came in 2011 and marks the return of the Water Rabbit.
Each of the 12 animals in the Zodiac comes with five variations that are said to represent the major elements of Chinese theory. These include metal, wood, water, fire, and Earth, with metal often represented by gold. The last appearance of the Water Rabbit came in 1963.
A rabbit is depicted in the obverse design of the 1 oz Year of the Rabbit Silver Round. This design captures the elegance and calm of the rabbit. Those born under the general Year of the Rabbit are said to be gentle, quiet, and elegant.
For the reverse design of Year of the Rabbit Silver Rounds, the mint features an ongoing design element. This simple design offers a border design element with the identifying features of the round set in a ring around the center. At the very center of the round's design, you will find the Chinese symbol for the rabbit.
Jede dieser wunderschönen Silverround enthält 999/1000 Feinsilber und wurde im feinsten "Brilliant uncirculated" geprägt.
Pro Einheit mit 20 Münzen erfolgt die
Lieferung im Original - Münztube!
Technische Daten
Gewicht

31.103

Material

Silber

Jahreszahl

2023

Preis-Addition

8.9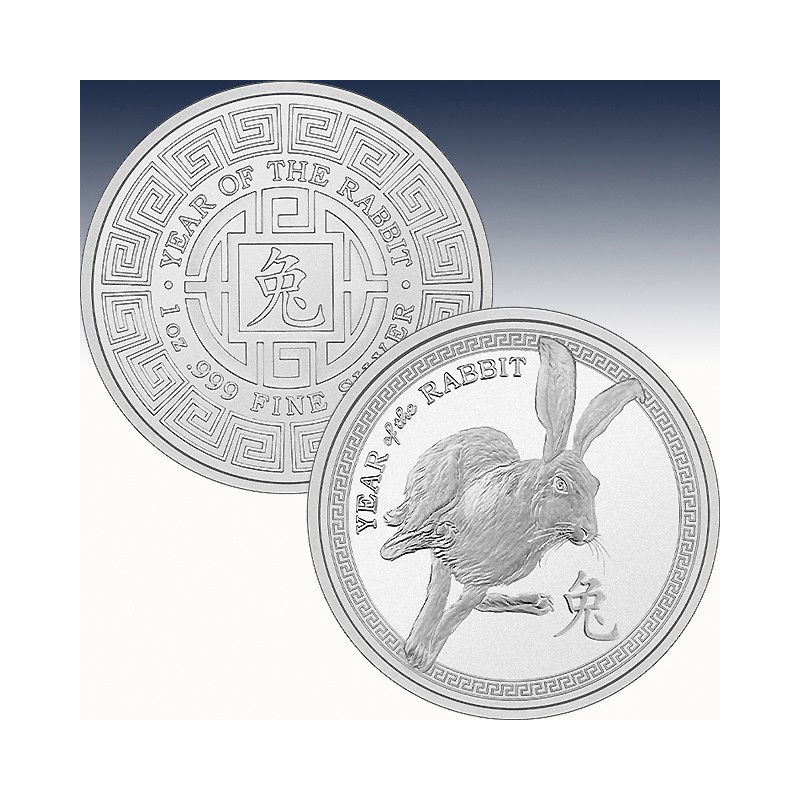 | | | |
| --- | --- | --- |
| Hersteller: |   | Golden State Mint |
| Steuersatz: |   | 19% |
| Prägung: |   | Stempelglanz |
| Stückelung: |   | 1 x 1 Unze |
| Material: |   | Silber |
| Feinheit: |   | 999/1000 |
| Gewicht: |   | 31,103 Gramm |
| Verpackung: |   | zip-Tüte |
| Durchmesser: |   | 39 mm |