Gold 1.759,54 Eur
Silber 21,36 Eur
Platin 923,05 Eur
Palladium 1.496,42 Eur
(49) 2935 - 3 390 375
Europaweite Lieferung
Europaweite Lieferung
Gold 1.759,54 Eur
Silber 21,36 Eur
Platin 923,05 Eur
Palladium 1.496,42 Eur
SILBER 15,39 EUR
PLATIN 853,48 EUR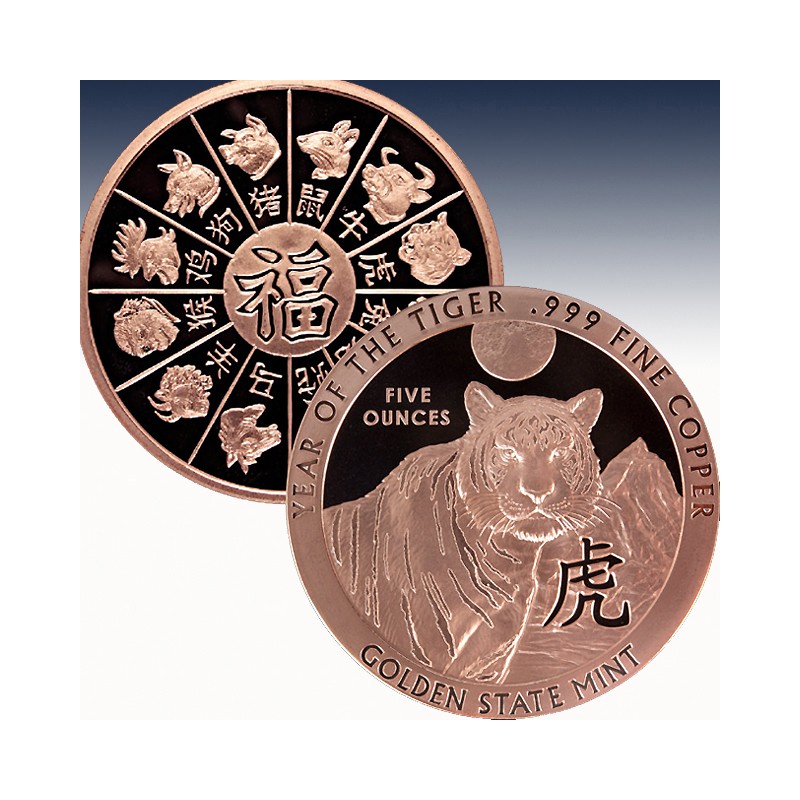  
1 x 5 Oz Copper Round Golden State Mint "ZODIAC - Year of the Tiger" -BU-
| | | |
| --- | --- | --- |
| Hersteller: |   | Golden State Mint |
| Steuersatz: |   | 19% |
| Prägung: |   | Stempelglanz |
| Stückelung: |   | 1 x 5 Unze |
| Material: |   | Kupfer |
| Feinheit: |   | 999/1000 |
| Gewicht: |   | 141,7 Gramm |
| Verpackung: |   | zip-Tüte |
| Durchmesser: |   | 63mm |
1 x 5 Unze (oz) Copper Round Golden State Mint
"ZODIAC - Jahr des Tiger 2022"

Golden State Mint is excited to bring in the 2022 Chinese Lunar New Year with our freshly minted .999 Copper 5 oz Year of The Tiger Rounds. This celebration, which begins on February 1, 2022, and ends Janurary 21, 2023, is perfectly commemorated with this freshly minted, meticulously designed round from our Chinese Zodiac collection.

The front face (obverse) of the Year of the Tiger displays a Tiger, with the Chinese symbol for tiger. On the Rim of the round you can find the round's purity and size noted with " Five Ounce" and ".999 Fine Copper". "Golden State Mint" at the bottom.

On the reverse of the Year of the Tiger Round there is an attractive wheel design that depicts all twelve animals, along with their Chinese symbol, that are represented in the Chinese zodiac; the rat, ox, tiger, rabbit, dragon, snake, horse, goat, monkey, rooster, dog, and pig. These beautifully designed rounds are a stunning example of artistry that is expected from Golden State Mint, and are a fantastic addition for any collector.
Steigen Sie ein und kaufen Sie sich eines oder mehrere dieser begehrten Sammlerstücke!
Jede dieser wunderschönen Copper Round enthält 999/1000 Feinkupfer und wurde im wunderschönem "Brilliant uncirculated" geprägt.
Technische Daten
Gewicht

141.7

Material

Kupfer

Jahreszahl

2022

Preis-Addition

19.5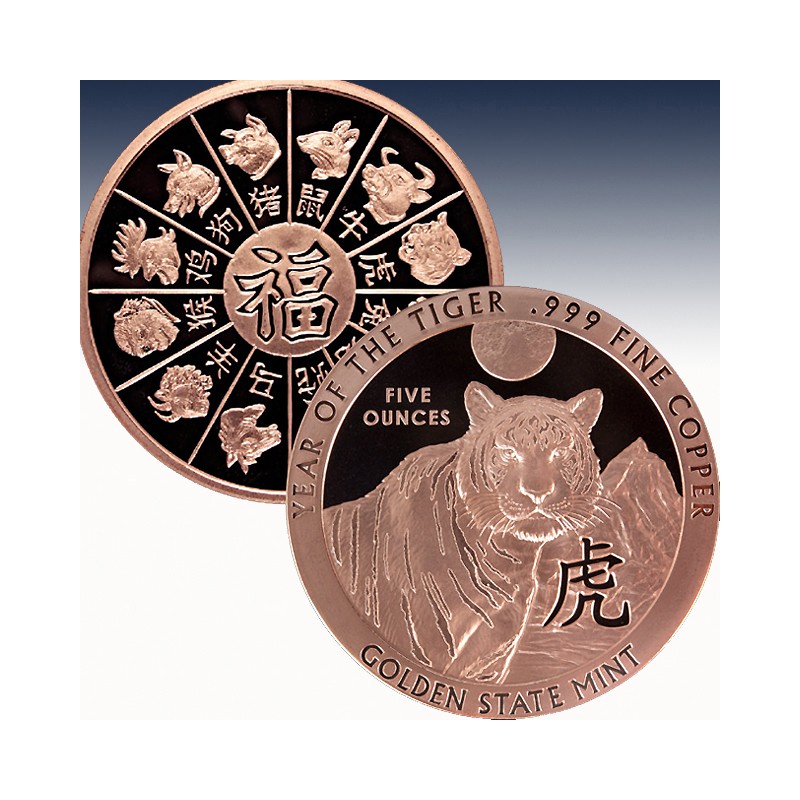 | | | |
| --- | --- | --- |
| Hersteller: |   | Golden State Mint |
| Steuersatz: |   | 19% |
| Prägung: |   | Stempelglanz |
| Stückelung: |   | 1 x 5 Unze |
| Material: |   | Kupfer |
| Feinheit: |   | 999/1000 |
| Gewicht: |   | 141,7 Gramm |
| Verpackung: |   | zip-Tüte |
| Durchmesser: |   | 63mm |