Gold 1.863,05 Eur
Silber 21,38 Eur
Platin 855,59 Eur
Palladium 879,72 Eur
(49) 2935 - 3 390 375
Europaweite Lieferung
Europaweite Lieferung
Gold 1.863,05 Eur
Silber 21,38 Eur
Platin 855,59 Eur
Palladium 879,72 Eur
SILBER 15,39 EUR
PLATIN 853,48 EUR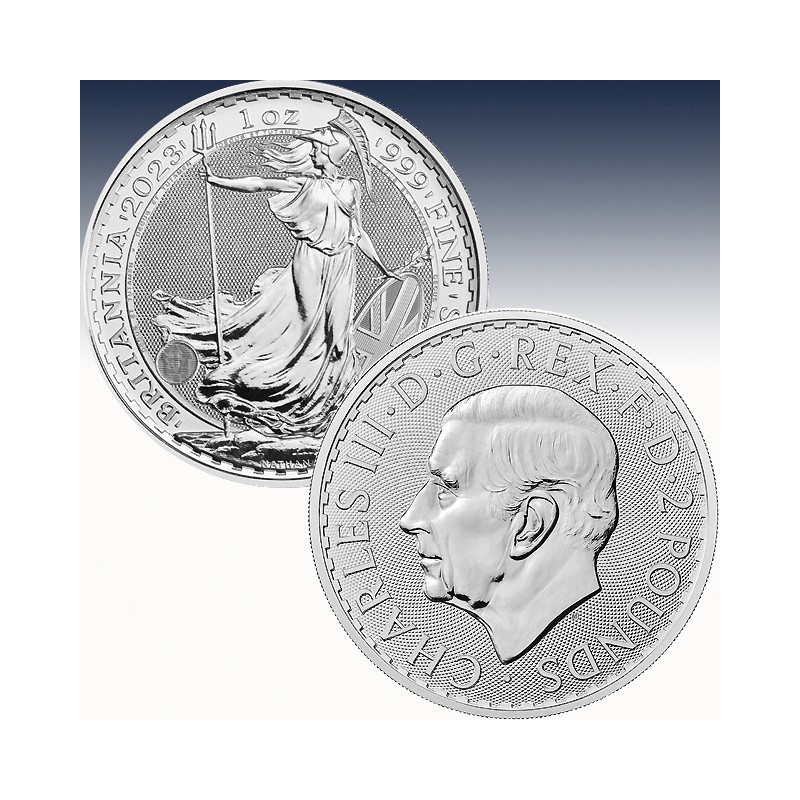  
1 x 1 Oz Silbermünze 2Pfd Großbritanien "Britannia 2023 Charles III. ohne Krone" - BS-*
| | | |
| --- | --- | --- |
| Hersteller: |   | British Royal Mint |
| Nennwert: |   | 2 Pfund |
| Prägejahr: |   | 2023 |
| Stückelung: |   | 1 x 1 Unze |
| Material: |   | Silber |
| Feinheit: |   | 999/1000 |
| Gewicht: |   | 31,103 Gramm |
| Verpackung: |   | Münztasche |
| Durchmesser: |   | 38,6 mm |
1 x 1 Unze (oz) Silbermünze 2Pfd Großbritnien
"Britannia 2023 Charles III. ohne Krone"
(diff.besteuert nach §25a UStG)
The Royal Mint featured a limited production run of Her Late Majesty Queen Elizabeth II on 2023 dated Britannia coins. This, the second Britannia release of 2023, debuts the effigy of His Majesty King Charles III.
The 1 oz Silver Britannia coins were first produced as Silver coins in 1997 and are renowned for their beauty, trustworthiness and special security features.

Coin Highlights:

Contains 1 oz of .999 fine Silver.
Coin comes in protective packaging. Multiples of 25 are sold in tubes and 500 come in 20 mint tubes inside a Monster Box.
Eligible for Precious Metals IRAs.
Obverse: Debuts the effigy of His Majesty King Charles III, along with the face value of 2 pounds.
Reverse: Features artwork by Philip Nathan that depicts the internationally recognized Britannia figure standing firm against a powerful wind. Her visage has symbolized Britain's strength and integrity on coinage since Roman times. The reverse includes a latent image, surface animation, tincture lines and micro text for added security.
Sovereign coin backed by the British government.

The Great Britain Silver Britannia Coin
The internationally recognized figure of Britannia standing firm against a ferocious storm is displayed on the Silver Britannia coins. Since Roman times, this image has represented Britain's power and integrity on coinage. In 2021, the design of the coin was enhanced with surface animation, a latent image, tincture lines and micro text to provide further protection. Silver Britannias may be purchased in mint tubes of 25 or sealed 500-coin Monster Boxes alongside single coins.

The Great Britain Britannia Coin Series
First released as 1 oz Gold Britannia coins in 1987, The Royal Mint began producing the 1 oz Silver Britannia coin in 1997 as a Proof, and then as a bullion coin in 1998. The coins minted from 1998 to 2012 contain .958 fine Silver, and beginning in 2013, bullion issues became the first to contain .999 fine Silver. Today, the coin series is released yearly in several sizes in Gold and Platinum Britannia coins, along with the Silver Britannia coins in both Brilliant Uncirculated and limited mintage Proofs. In 2023, The Royal Mint released the final Britannia to feature the effigy of Her Late Majesty Queen Elizabeth II. This was done as a limited production run and was followed by this, the release of 2023 Britannia coins debuting His Majesty King Charles III's effigy. The year 2023 marks a historical moment in the coin's history as the first year featuring two reigning monarchs.
Technische Daten
Gewicht

31.103

Material

Silber

Jahreszahl

2023

Preis-Addition

6.3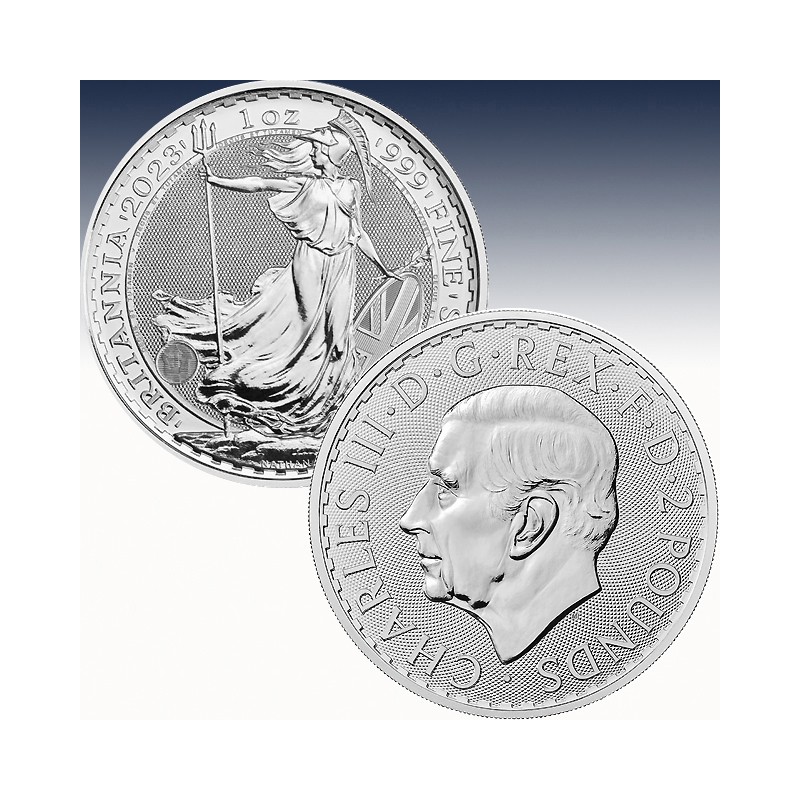 | | | |
| --- | --- | --- |
| Hersteller: |   | British Royal Mint |
| Nennwert: |   | 2 Pfund |
| Prägejahr: |   | 2023 |
| Stückelung: |   | 1 x 1 Unze |
| Material: |   | Silber |
| Feinheit: |   | 999/1000 |
| Gewicht: |   | 31,103 Gramm |
| Verpackung: |   | Münztasche |
| Durchmesser: |   | 38,6 mm |