Gold 1.863,05 Eur
Silber 21,38 Eur
Platin 855,59 Eur
Palladium 879,72 Eur
(49) 2935 - 3 390 375
Europaweite Lieferung
Europaweite Lieferung
Gold 1.863,05 Eur
Silber 21,38 Eur
Platin 855,59 Eur
Palladium 879,72 Eur
SILBER 15,39 EUR
PLATIN 853,48 EUR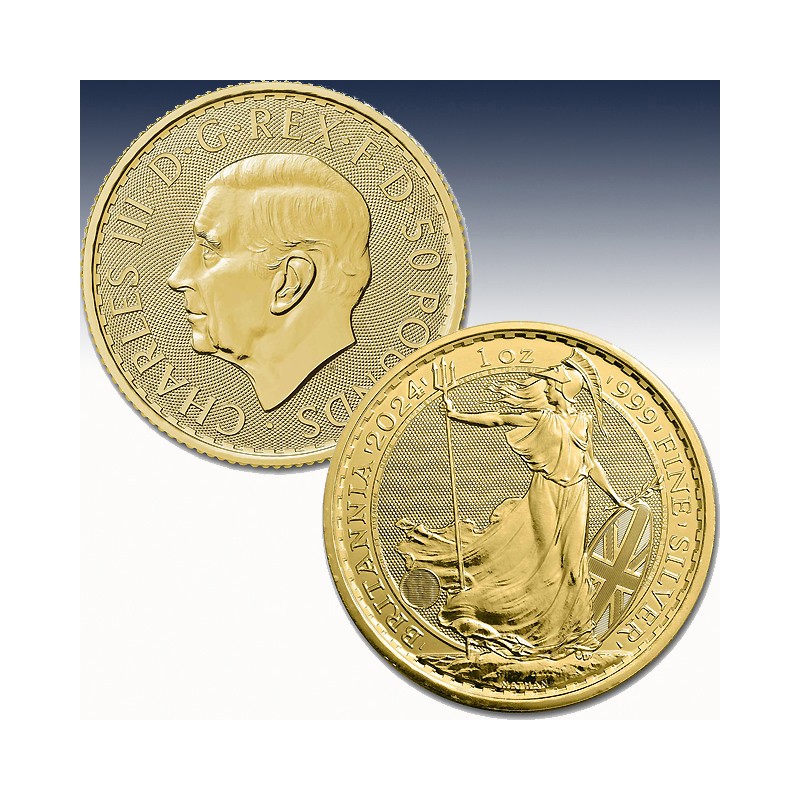  
1 x 1 Oz Goldmünze 50Pfd Großbritanien "Britannia - King Charles III 2024" - BS-*
| | | |
| --- | --- | --- |
| Hersteller: |   | British Royal Mint |
| Nennwert: |   | 2 Pfund |
| Prägejahr: |   | 2023 |
| Stückelung: |   | 1 x 1 Unze |
| Material: |   | Silber |
| Feinheit: |   | 999/1000 |
| Gewicht: |   | 31,103 Gramm |
| Verpackung: |   | Münztasche |
| Durchmesser: |   | 38,6 mm |
1 x 1 Unze (oz) Goldmünze 2Pfd Großbritnien
"Britannia - King Charles III 2024"
Gold Britannia coins are renowned for their beauty and reliability, which continues with the 2024 Gold Britannia. In addition to its classic design, the Britannia incorporates security features including surface animation, tincture lines and micro text.

Coin Highlights:
Contains 1 oz of .9999 fine Gold.
Coins will be in protective packaging. Multiples of 10 come in mint tubes while multiples of 100 come in 10 mint tubes inside a Monster Box.
Eligible for Precious Metalls IRAs.
Features The Royal Mint's guilloché obverse design.
Obverse: Featuring the first effigy of His Majesty King Charles III, along with the face value of 100 pounds.
Reverse: Showcases the internationally recognized figure of Britannia standing firm against a powerful gale. Her image has symbolized Britain's strength and integrity on coinage since Roman times.
Sovereign coin backed by the British government.
The Royal Mint Britannia Series

The Royal Mint's Britannia series was first introduced in 1987 and has remained one of the world's most popular coin series. While the design of the Britannia coins has changed slightly over the years, they all feature a statue of Britannia standing on a rock with a trident in her hand. The coins also feature the word "Britannia" and the year of minting. The Britannia coin series is highly prized by collectors, and coins from earlier years are especially valuable. In 2023, The Royal Mint released the final Britannia to feature the effigy of Her Late Majesty Queen Elizabeth II. This was done as a limited production run and was followed by the release of 2023 Britannia coins debuting the effigy of His Majesty King Charles III.

The Gold Britannia is one of the flagship coins of The Royal Mint and is one of the most popular products. Following the popularity of the Gold Britannia, The Royal Mint began using the popular design on a Silver coin for the first time in 1997 as a Proof coin. Soon after, in 1998, the Silver Britannia was also released in a bullion version. Today, the series has expanded to several sizes and also includes Platinum Britannia coins along with the limited mintage Proof Gold and Proof Silver Britannia coins.
Technische Daten
Gewicht

31.103

Material

Gold

Jahreszahl

2024

Preis-Addition

60
| | | |
| --- | --- | --- |
| Hersteller: |   | British Royal Mint |
| Nennwert: |   | 2 Pfund |
| Prägejahr: |   | 2023 |
| Stückelung: |   | 1 x 1 Unze |
| Material: |   | Silber |
| Feinheit: |   | 999/1000 |
| Gewicht: |   | 31,103 Gramm |
| Verpackung: |   | Münztasche |
| Durchmesser: |   | 38,6 mm |