Gold 1.816,23 Eur
Silber 22,04 Eur
Platin 958,41 Eur
Palladium 1.300,10 Eur
(49) 2935 - 3 390 375
Europaweite Lieferung
Europaweite Lieferung
Gold 1.816,23 Eur
Silber 22,04 Eur
Platin 958,41 Eur
Palladium 1.300,10 Eur
SILBER 15,39 EUR
PLATIN 853,48 EUR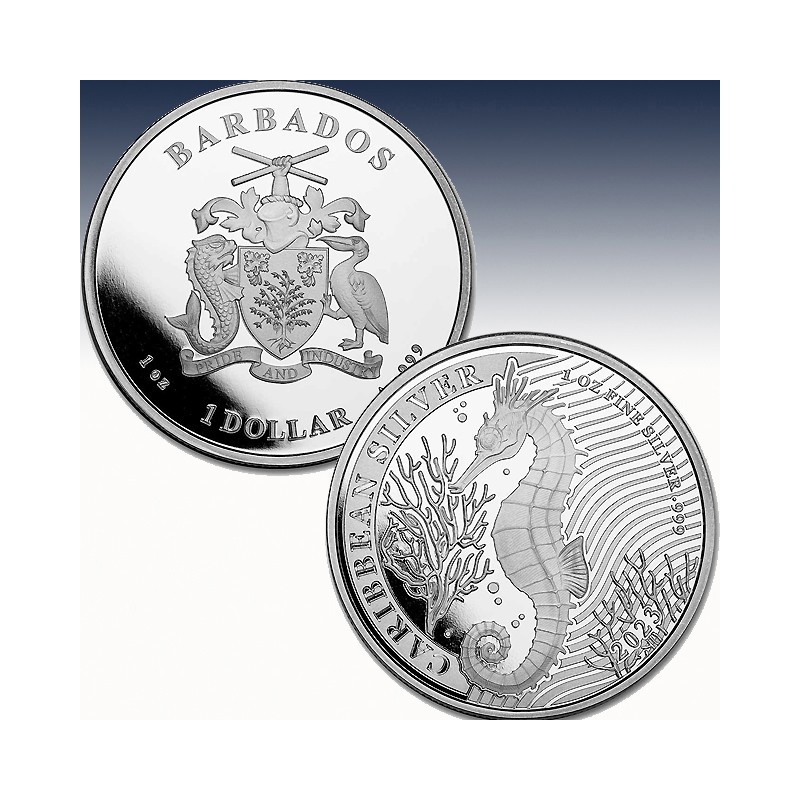  
1 x 1 oz Silbermünze 1$ Barbados "Caribbean Seahorse 2023" -BU-*
| | | |
| --- | --- | --- |
| Herkunftsland: |   | Barbados |
| Nennwert: |   | 1$ |
| Prägung: |   | Stempelglanz |
| Stückelung: |   | 1 x 1 Unze |
| Material: |   | Silber |
| Feinheit: |   | 999/1000 |
| Gewicht: |   | 31,103 gramm |
| Durchmesser: |   |  39,00 mm |
| Auflage: |   | 10.000 Stück |
1 x 1 Unze (oz) Silbermünze 1$ Barbados
"Caribbean Seahorse 2022"
This Barbados Caribbean Series has a limited mintage of 10,000 coins. This bullion Silver coin, issued by the country of Barbados, is the sixth coin in the series highlighting one of the most unique fish in the ocean, the seahorse.

Coin Highlights:
Contains 1 oz of .999 fine Silver.
Mintage of 10,000.
Multiples of 20 come in heat sealed rolls. All other coins will be in plastic capsules.
Obverse: Displays the Barbados coat of arms along with the face value and purity. The Golden Shield of the Arms carries two Pride of Barbados flowers (the national flower) and the bearded fig tree (ficus citrifolia). On either side of the shield are the supporters – on the right is a dolphin symbolic of the fishing industry, and on the left is a pelican, for Pelican Island, a small outcrop later incorporated into the Deep Water Harbor development. Above the shield is a helmet and mantling, and on a wreath is the arm and hand of a Bajan holding two crossed pieces of sugar cane that are symbolic of the sugar industry. The coat of arms carries the motto, "Pride and Industry."
Reverse: Features an image of an adult seahorse. In the background are graphics representing the waves of the ocean and ocean plants. The name of the coin, purity and year of issue are also on the reverse.
Sovereign coin backed by the Barbados government.

Seahorses are truly unique, and not just because of their unusual equine shape. Unlike most other fish, they are monogamous and mate for life. Rarer still, they are among the only animal species on Earth in which the male bears the unborn young. A baby seahorse is called a fry.
Barbados Seahorse Series
This is the sixth coin in the Caribbean Silver series featuring the unique seahorse. Each year, a new design features the seahorse – and in this year's coin, it is a single adult seahorse. This Silver bullion program has become popular not only with bullion buyers, but also collectors who want to own each design. All previous coins in this program have sold out and are difficult to find in the market. Check out our collection of other Barbados Gold and Silver coins.
Technische Daten
Gewicht

31.103

Material

Silber

Jahreszahl

2023

Preis-Addition

7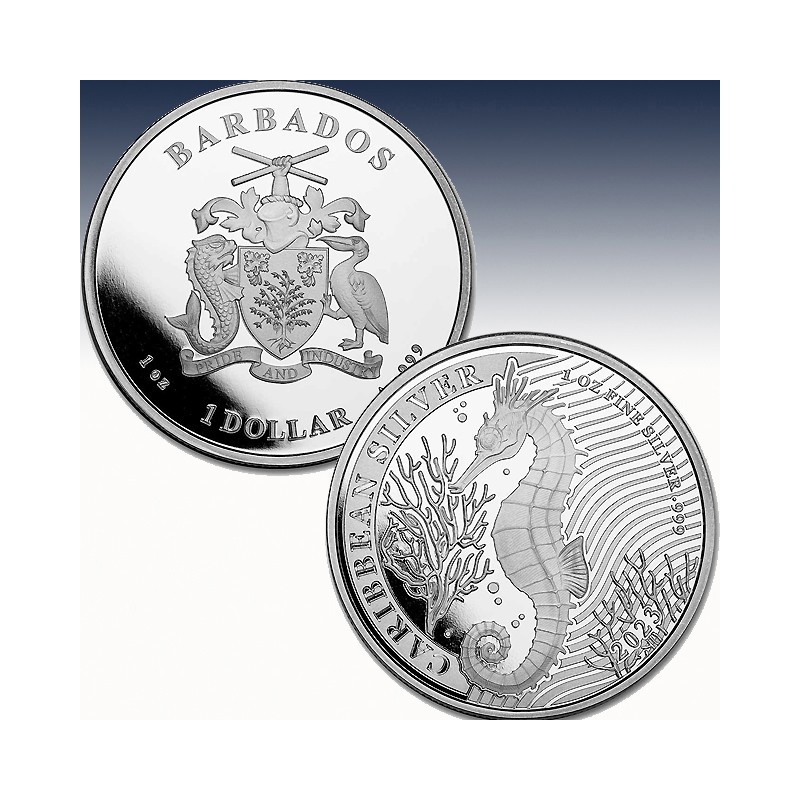 | | | |
| --- | --- | --- |
| Herkunftsland: |   | Barbados |
| Nennwert: |   | 1$ |
| Prägung: |   | Stempelglanz |
| Stückelung: |   | 1 x 1 Unze |
| Material: |   | Silber |
| Feinheit: |   | 999/1000 |
| Gewicht: |   | 31,103 gramm |
| Durchmesser: |   |  39,00 mm |
| Auflage: |   | 10.000 Stück |