Gold 1.817,57 Eur
Silber 22,05 Eur
Platin 959,31 Eur
Palladium 1.303,48 Eur
(49) 2935 - 3 390 375
Europaweite Lieferung
Europaweite Lieferung
Gold 1.817,57 Eur
Silber 22,05 Eur
Platin 959,31 Eur
Palladium 1.303,48 Eur
SILBER 15,39 EUR
PLATIN 853,48 EUR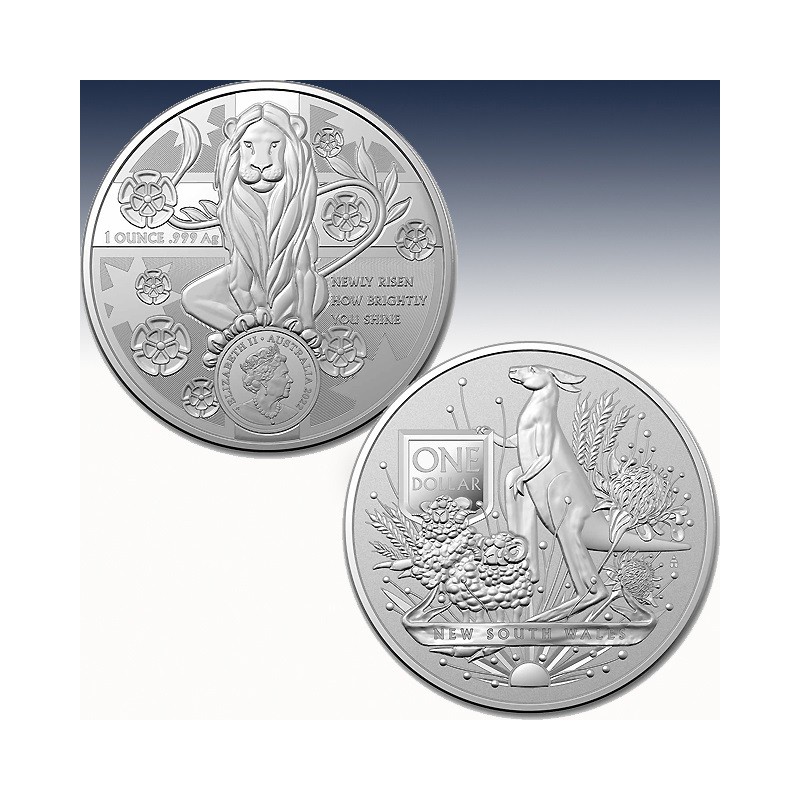  
1 x 1 Silbermünze 1$ Australien "RAM Coat of Arms - New South Wales 2022" -BU-*
| | | |
| --- | --- | --- |
| Hersteller: |   | Royal Austr. Mint |
| Nennwert: |   | 1 $ |
| Prägung: |   | Stempelglanz |
| Stückelung: |   | 1 x 1 Münze |
| Material: |   | Silber |
| Feinheit: |   | 999/1000 |
| Gewicht: |   | 31,103 Gramm |
| Durchmesser: |   |  40,00mm |
| Auflage: |   | 50.000 Stück |
1 x 1 Unze (oz) Silbermünze 1$ Australien
"RAM Coat of Arms - New South Wales 2022"

This .999 fine Silver coin is the second release of the Royal Australian Mint Coat of Arms series, inspired by the New South Wales coat of arms. There is a limited mintage of 50,000 coins in this 1 oz Silver size.

Coin Highlights:
Contains 1 oz of .999 fine Silver.
Each coin comes in an individual capsule.
Obverse: Features a lion and pointed stars from the New South Wales coat of arms, with the British Cross dividing the background and eight British Tudor roses, and also includes an effigy of Queen Elizabeth II and the motto "Newly risen, how brightly you shine."
Reverse: Features a kangaroo, Merino sheep, wheat and the floral waratah. Surrounding the NSW banner is each state's floral emblems with the rays of the rising sun.


Royal Australian Mint
Royal Australian Mint, located in Canberra, is well known for their popular releases of Domed Proof coins, lunar coins and limited mintage bullion releases in both Silver and Gold. The coins range from themes about history, to astronomy, animals, to the Chinese zodiac. The Royal Australian Mint also produces the circulating coins for Australia. The mint was first opened in 1965, and was the first mint of the country to not be a branch of The Royal Mint. Before Royal Australian Mint was formed, coins for the country were struck at various branches of The Royal Mint - the Sydney Mint, Melbourne Mint and The Perth Mint.
Technische Daten
Gewicht

31.103

Material

Silber

Jahreszahl

2022

Preis-Addition

10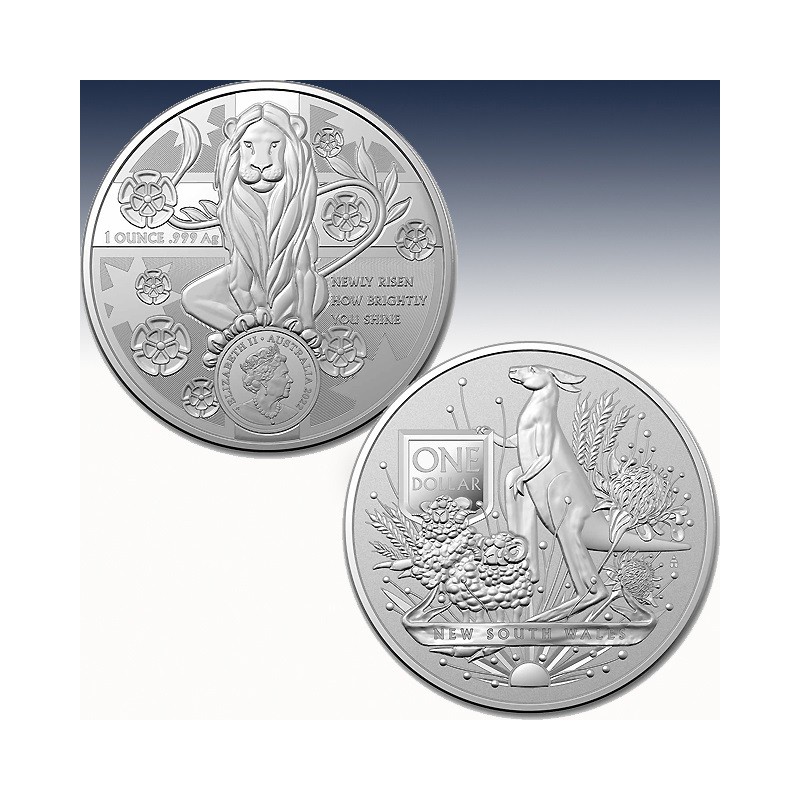 | | | |
| --- | --- | --- |
| Hersteller: |   | Royal Austr. Mint |
| Nennwert: |   | 1 $ |
| Prägung: |   | Stempelglanz |
| Stückelung: |   | 1 x 1 Münze |
| Material: |   | Silber |
| Feinheit: |   | 999/1000 |
| Gewicht: |   | 31,103 Gramm |
| Durchmesser: |   |  40,00mm |
| Auflage: |   | 50.000 Stück |