Gold 1.863,05 Eur
Silber 21,38 Eur
Platin 855,59 Eur
Palladium 879,72 Eur
(49) 2935 - 3 390 375
Europaweite Lieferung
Europaweite Lieferung
Gold 1.863,05 Eur
Silber 21,38 Eur
Platin 855,59 Eur
Palladium 879,72 Eur
SILBER 15,39 EUR
PLATIN 853,48 EUR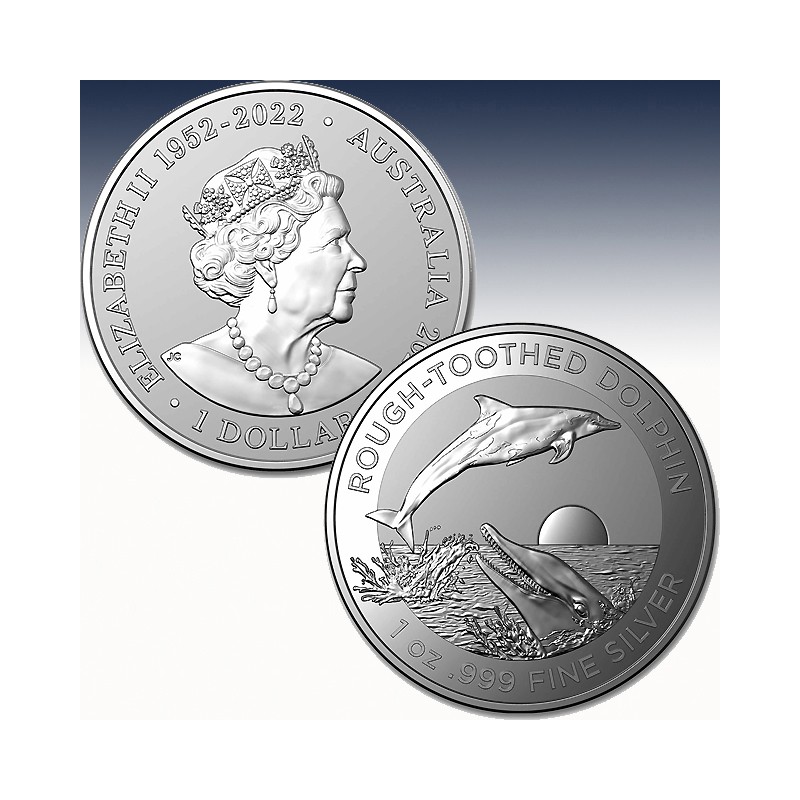  
1 x 1 oz Silbermünze 1$ Australien "Rough-Toothed - Dolphin 2023" -BU-*
| | | |
| --- | --- | --- |
| Hersteller: |   | Royal Australien Mint |
| Nennwert: |   | 1 AUD |
| Prägung: |   | Stempelglanz |
| Stückelung: |   | 1 x 1 Unze |
| Material: |   | Silber |
| Feinheit: |   | 999,9/1000 |
| Gewicht: |   | 31,103 Gramm |
| Durchmesser: |   | 40,60mm |
| Auflage: |   |  25.000 Stück |
1 x 1 Unze (oz) Silbermünze 1$ Australien
"5# Rough-Toothed - Delfin 2023"
Product Details
This low mintage coin is the fourth Silver release in the Dolphin bullion series by the Royal Australian Mint.
This coin has a limited mintage of 25,000 coins worldwide.
The fourth release of the Dolphin bullion series by Royal Australian Mint features three playful dusky dolphins leaping out of the ocean against a rising sun. This Brilliant Uncirculated Silver coin features an elegant design in 1 oz of .999 fine Silver.
Coin Highlights:
Contains 1 oz of .999 fine Silver.
Limited mintage of 25,000 coins worldwide.
Each coin comes individually packaged in a protective capsule.
Obverse: Effigy of Her Majesty Queen Elizabeth II, along with the monetary denomination and the 2023 year of issue are depicted.
Reverse: Features two rough-toothed dolphins, with one dolphin peaking its head out of the water and another leaping out of the sea toward the horizon. Also included is the metal content and purity.
Sovereign coin backed by the Australian government.
Silver Dolphin Series
The dolphin is a beloved animal depicted in many cultures, and is also native to Australian waters. Royal Australian Mint and APMEX partnered to release the Dolphin Series
in both Gold and Silver. In various cultures, the dolphin symbolizes happiness, power and protection. Dusky dolphins are one of the smallest species of dolphins, and are typically found in shallow, cooler waters and have a dark gray back and tail. They spend the majority of their time close to shore in small groups of 10 to 20 dolphins, however they travel further away from shore to feed in pods of up to 1,000 dolphins. These highly intelligent animals enjoy leaping and are incredibly social.
Royal Australian Mint
is known for minting superb quality Gold and Silver coins with limited mintages. Their popular Domed Proof coin series have quickly sold out at the mint, increasing the collectibility of the series. This Gold and Silver Dolphin Brilliant Uncirculated series brings the same approach the mint has on their Proof coins to the Dolphin bullion series.
Technische Daten
Gewicht

31.103

Material

Silber

Jahreszahl

2023

Preis-Addition

8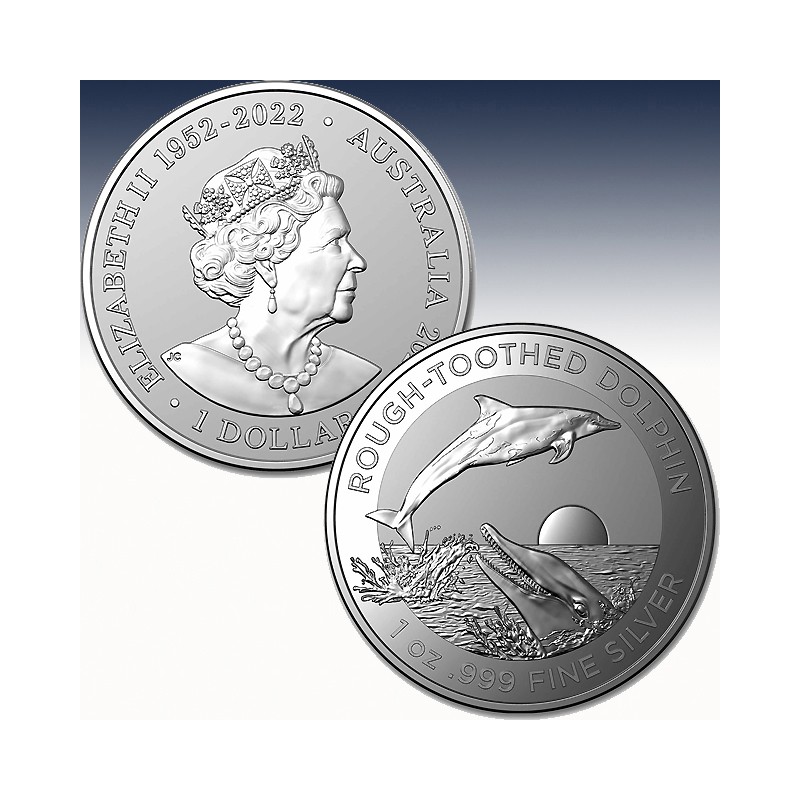 | | | |
| --- | --- | --- |
| Hersteller: |   | Royal Australien Mint |
| Nennwert: |   | 1 AUD |
| Prägung: |   | Stempelglanz |
| Stückelung: |   | 1 x 1 Unze |
| Material: |   | Silber |
| Feinheit: |   | 999,9/1000 |
| Gewicht: |   | 31,103 Gramm |
| Durchmesser: |   | 40,60mm |
| Auflage: |   |  25.000 Stück |