Gold 1.479,28 Eur
Silber 21,77 Eur
Platin 1.019,88 Eur
Palladium 2.380,04 Eur
(49) 2935 - 3 390 375
Europaweite Lieferung
Europaweite Lieferung
Gold 1.479,28 Eur
Silber 21,77 Eur
Platin 1.019,88 Eur
Palladium 2.380,04 Eur
SILBER 15,39 EUR
PLATIN 853,48 EUR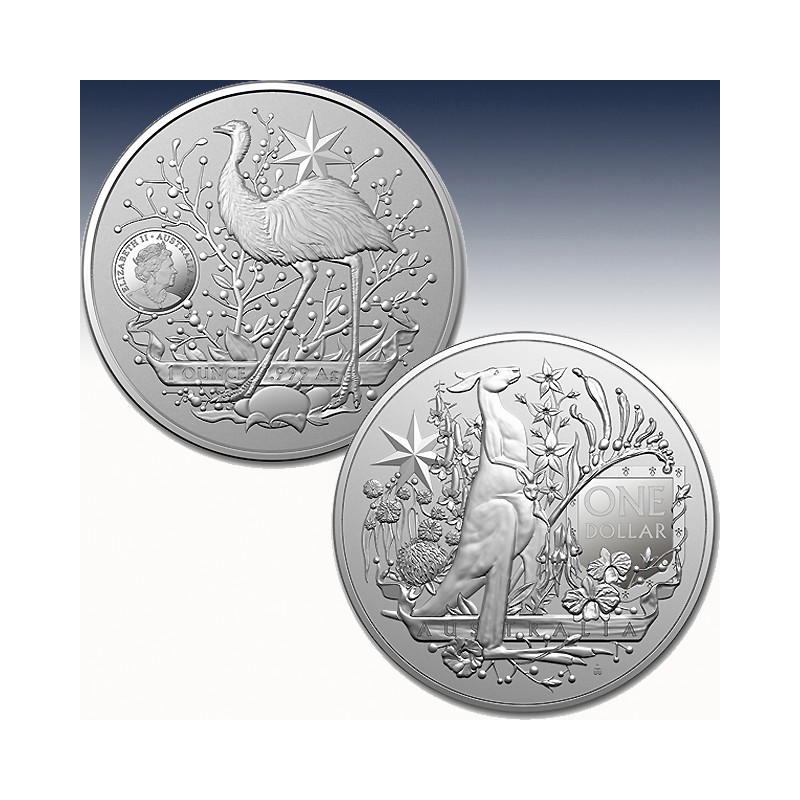  
1 x 1 Silbermünze 1$ Australien "RAM Coat of Arms 2021" -BU-*
| | | |
| --- | --- | --- |
| Hersteller: |   | Royal Austr. Mint |
| Nennwert: |   | 1 $ |
| Prägung: |   | Stempelglanz |
| Stückelung: |   | 1 x 1 Münze |
| Material: |   | Silber |
| Feinheit: |   | 999/1000 |
| Gewicht: |   | 31,103 Gramm |
| Durchmesser: |   |  40,00mm |
| Auflage: |   | 50.000 Stück |
1 x 1 Unze (oz) Silbermünze 1$ Australien "RAM Coat of Arms 2021"

(diff.besteuert nach §25a UStG)
The Royal Australian Mint has released a new bullion series, the Australia Coat of Arms. There is a limited mintage of 50,000 coins in this .999 fine, 1 oz Silver size.

Coin Highlights:
Contains 1 oz of .999 fine Silver.
Each coin comes in an individual capsule.
Obverse: Features an emu protecting its unhatched eggs against a backdrop of wattle that is yet to blossom, and also includes an effigy of Queen Elizabeth II and the Commonwealth Star with six points representing Australia's six states, and the seventh point representing Australia's territories.
Reverse: Features the Commonwealth Star and a kangaroo with a joey in its pouch, against a backdrop of vegetation comprising each state and territory's floral emblem.


Royal Australian Mint
Royal Australian Mint, located in Canberra, is well-known for their popular releases of Domed Proof coins, Lunar coins, and limited mintage bullion releases in both Silver and Gold. The coins range from themes about history, to astronomy, animals, to the Chinese Zodiac. The Royal Australian Mint also produces the circulating coins for Australia. The Mint was first opened in 1965, and the first mint of the country to not be a branch of the Royal Mint. Before Royal Australian Mint was formed, coins for the country were struck at various branches of the Royal Mint - the Sydney Mint, Melbourne Mint, and The Perth Mint.
Technische Daten
Gewicht

31.103

Material

Silber

Jahreszahl

2021

Preis-Addition

8.75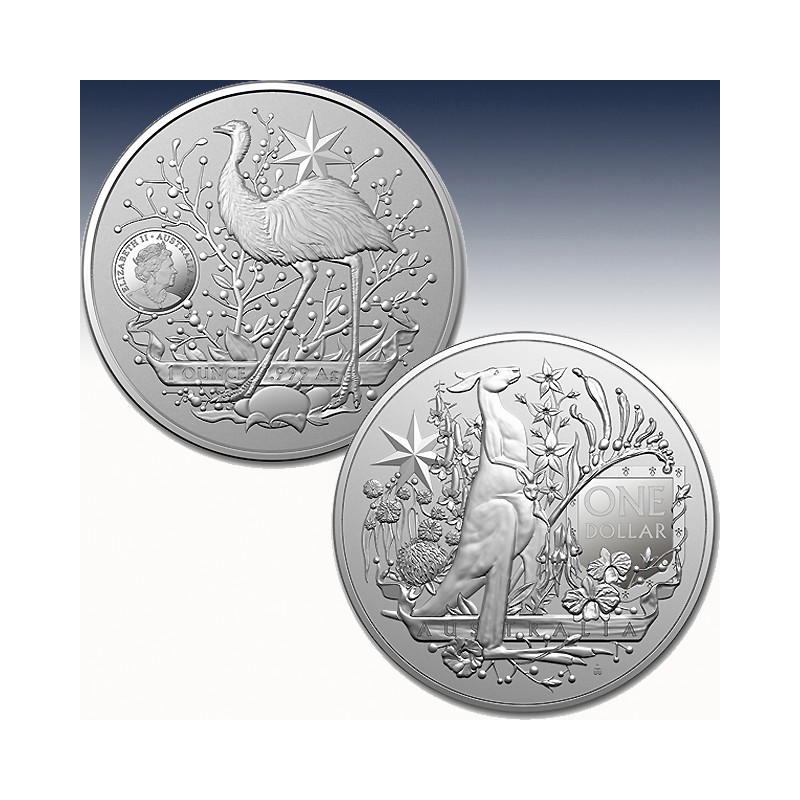 | | | |
| --- | --- | --- |
| Hersteller: |   | Royal Austr. Mint |
| Nennwert: |   | 1 $ |
| Prägung: |   | Stempelglanz |
| Stückelung: |   | 1 x 1 Münze |
| Material: |   | Silber |
| Feinheit: |   | 999/1000 |
| Gewicht: |   | 31,103 Gramm |
| Durchmesser: |   |  40,00mm |
| Auflage: |   | 50.000 Stück |