Gold 1.688,78 Eur
Silber 21,37 Eur
Platin 959,12 Eur
Palladium 1.795,00 Eur
(49) 2935 - 3 390 375
Europaweite Lieferung
Europaweite Lieferung
Gold 1.688,78 Eur
Silber 21,37 Eur
Platin 959,12 Eur
Palladium 1.795,00 Eur
SILBER 15,39 EUR
PLATIN 853,48 EUR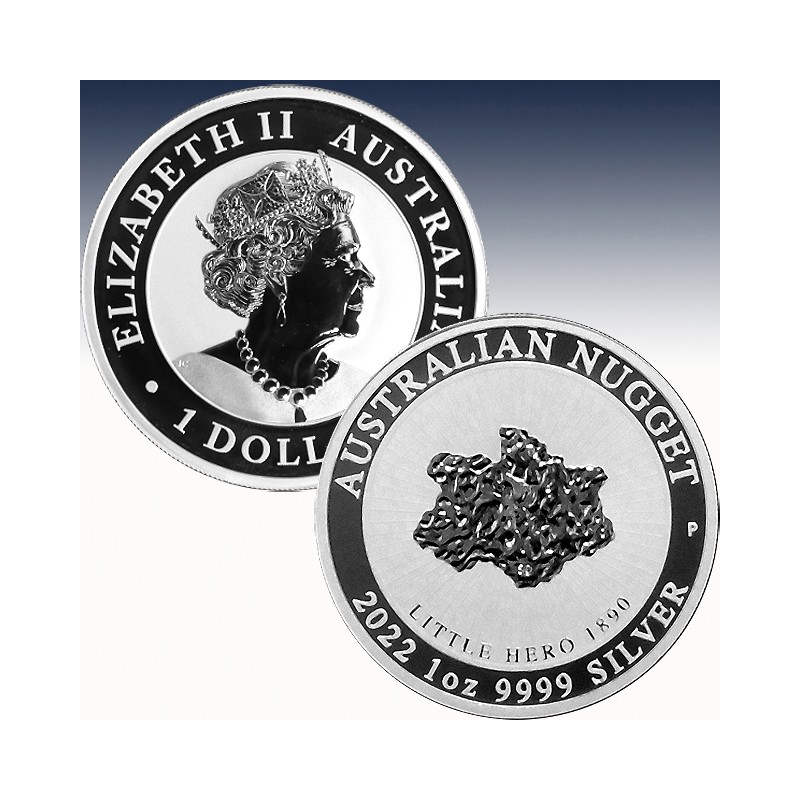  
1 x 1 oz Silbermünze 1$ Australian "Nugget - Little Hero 2022" -BU-*
| | | |
| --- | --- | --- |
| Hersteller: |   | Perth Mint |
| Nennwert: |   | 1 AUD |
| Prägung: |   | Stempelglanz |
| Stückelung: |   | 1 x 1 Unze |
| Material: |   | Silber |
| Feinheit: |   | 999/1000 |
| Gewicht: |   | 31,103 Gramm |
| Durchmesser: |   | 40,60x4,00 mm |
| Verpackung: |   | Kapsel |
| Auflage: |   | 30.000 Stück |
1 x 1 Unze (oz) Silbermünze 1$ Australien
"Nugget - Little hero 2022"
(diff.besteuert nach §25a UStG)

Neue Serie der Perth Mint - das erste Motiv zeigte den größten in Australien gefundenen Goldnugget!
The 2022 1 oz Silver "Little Hero" Nugget commemorates the 90th anniversary since the discovery of the golden Eagle natural gold nugget.

Coin Highlights:
Limited mintage of only 30,000 coins.
Contains 1 oz of .9999 fine Silver.
Packaged individually in a plastic capsule.
Obverse: Bears the Jody Clark likeness of Her Majesty Queen Elizabeth II along with the face value.
Sovereign coin backed by the Australian government.

Jede dieser wunderschönen Silbermünze enthält 999,9/1000 Feinsilber und wurde im wunderschönem Brilliant uncirculated geprägt.
Pro Einheit mit 20 Münzen erfolgt die
Lieferung in Original - Rolle!
Technische Daten
Gewicht

31.103

Material

Silber

Jahreszahl

2022

Preis-Addition

16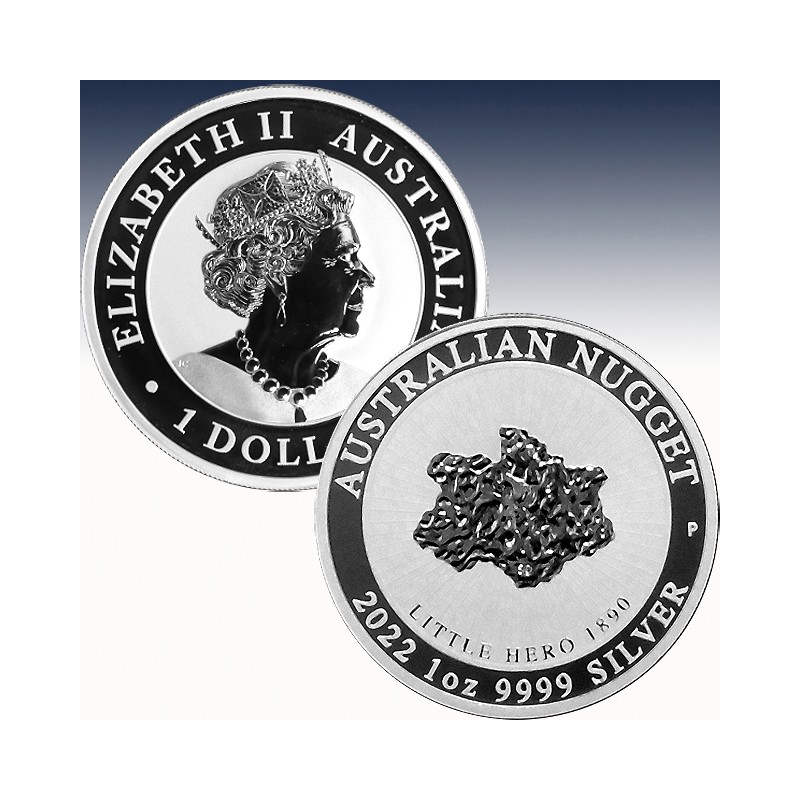 | | | |
| --- | --- | --- |
| Hersteller: |   | Perth Mint |
| Nennwert: |   | 1 AUD |
| Prägung: |   | Stempelglanz |
| Stückelung: |   | 1 x 1 Unze |
| Material: |   | Silber |
| Feinheit: |   | 999/1000 |
| Gewicht: |   | 31,103 Gramm |
| Durchmesser: |   | 40,60x4,00 mm |
| Verpackung: |   | Kapsel |
| Auflage: |   | 30.000 Stück |