Gold 1.863,05 Eur
Silber 21,38 Eur
Platin 855,59 Eur
Palladium 879,72 Eur
(49) 2935 - 3 390 375
Europaweite Lieferung
Europaweite Lieferung
Gold 1.863,05 Eur
Silber 21,38 Eur
Platin 855,59 Eur
Palladium 879,72 Eur
SILBER 15,39 EUR
PLATIN 853,48 EUR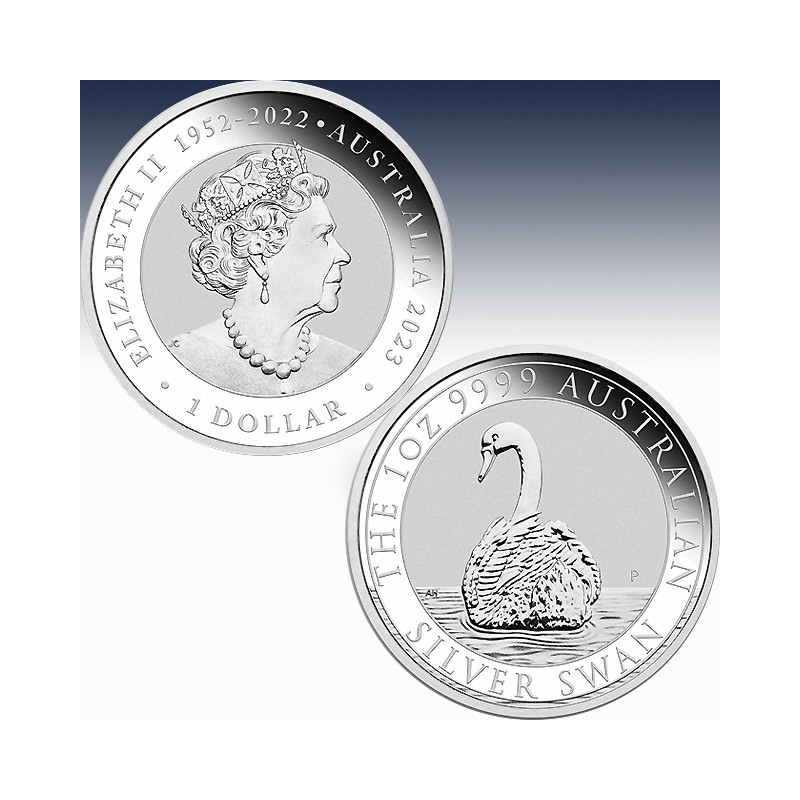  
1 x 1 oz Silbermünze 1$ Australien "Swan 2023" -BU-*
| | | |
| --- | --- | --- |
| Hersteller: |   | Perth Mint |
| Nennwert: |   | 1 AUD |
| Prägung: |   | Stempelglanz |
| Stückelung: |   | 1 x 1oz |
| Material: |   | Silbe |
| Feinheit: |   | 999,9/1000 |
| Gewicht: |   | 31,103 Gramm |
| Verpackung: |   | gekapselt |
| Durchmesser: |   | 40,60mm |
| Auflage: |   | 25.000 Stück |
1 x 1 Unze (oz) Silbermünze 1$ Australien "Schwan 2019"
(diff.besteuert nach §25a UStG)
New from The Perth Mint is the seventh release in the iconic Swans series. The 2023 Silver Swan has a limited mintage of 25,000 coins made of .9999 fine Silver.

Coin Highlights:

Contains 1 oz of .9999 fine Silver.
Limited mintage of 25,000 coins worldwide.
Presented in a protective plastic capsule. Multiples of 20 come in individual capsules in sealed rolls, with five rolls per sealed box.
Obverse: The Jody Clark likeness of Her Late Majesty Queen Elizabeth II with her years of reign - 1952-2022, the denomination and the 2023 year-date are featured.
Reverse: Portrays a single swan floating on the surface of the water, gracefully craning its neck to the side, with the inscription "The 1 oz 9999 Australian Silver Swan" and The Perth Mint's "P" mint mark.
Sovereign coin backed by the Australian government.


The Perth Mint 2023 1 oz Silver Swan
This coin is the seventh annual series of 1 oz limited mintage Silver Swan coins with designs varying each year, much like the heralded koala and kookaburra coin series from Perth. Featuring a limited mintage of 25,000 coins and .9999 fine Silver, this opportunity is sure to be fleeting. Learn more about the exciting The Perth Mint Swan series and the previous releases today.

The Perth Mint Swans
First launched in 2017, The Perth Mint Swan series became an instant classic due to its limited mintages and yearly unique designs. The Gold Swan and Silver Swan series feature yearly changing reverse designs, adding to their collectibility, and are available in bullion and Proof finishes along with a larger 5 oz Silver in Proof finish.

The Perth Mint
Located along the Swan River, The Perth Mint is Australia's oldest operating mint and throughout its expansive history, the name has become synonymous with some of the highest standards of bullion and collectible products. Along with the Gold Swan and Silver Swan series, some of The Perth Mint's most well-known coin programs include the Gold Kangaroo and Silver Kangaroo, Silver Koala, Gold Lunar and Silver Lunar and the Silver Kookaburra programs along with a wide variety of specialty bullion
Jede dieser wunderschönen Goldmünze enthält 9999 Feingold und wurde im wunderschönem Brilliant uncirculated geprägt.
Diese Münze wird in der Original-Kapsel
der Perth Mint geliefert
Technische Daten
Gewicht

31.103

Material

Silber

Jahreszahl

2023

Preis-Addition

13.5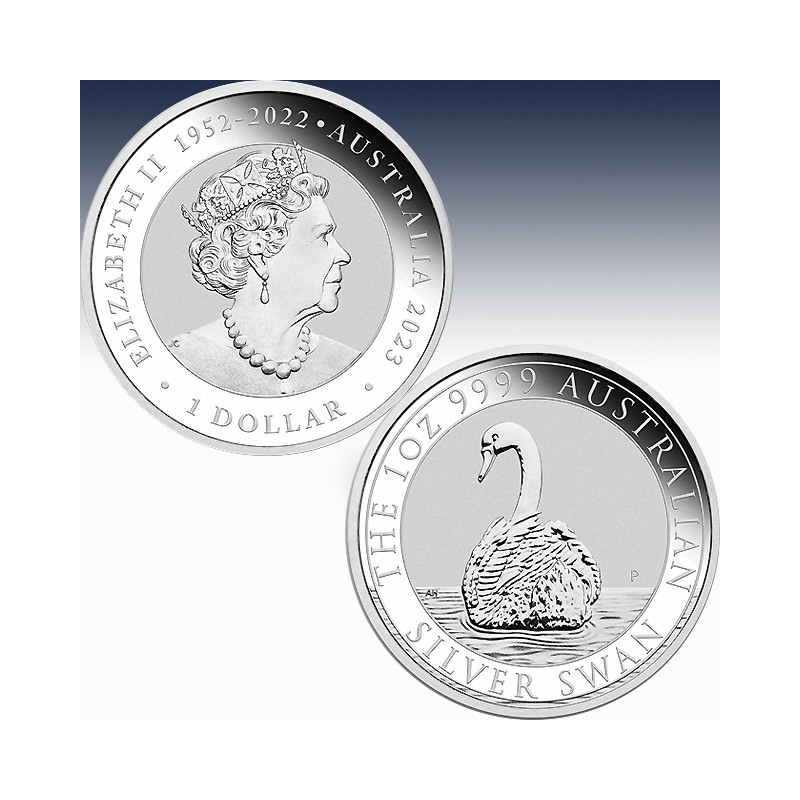 | | | |
| --- | --- | --- |
| Hersteller: |   | Perth Mint |
| Nennwert: |   | 1 AUD |
| Prägung: |   | Stempelglanz |
| Stückelung: |   | 1 x 1oz |
| Material: |   | Silbe |
| Feinheit: |   | 999,9/1000 |
| Gewicht: |   | 31,103 Gramm |
| Verpackung: |   | gekapselt |
| Durchmesser: |   | 40,60mm |
| Auflage: |   | 25.000 Stück |