Gold 1.863,05 Eur
Silber 21,38 Eur
Platin 855,59 Eur
Palladium 879,72 Eur
(49) 2935 - 3 390 375
Europaweite Lieferung
Europaweite Lieferung
Gold 1.863,05 Eur
Silber 21,38 Eur
Platin 855,59 Eur
Palladium 879,72 Eur
SILBER 15,39 EUR
PLATIN 853,48 EUR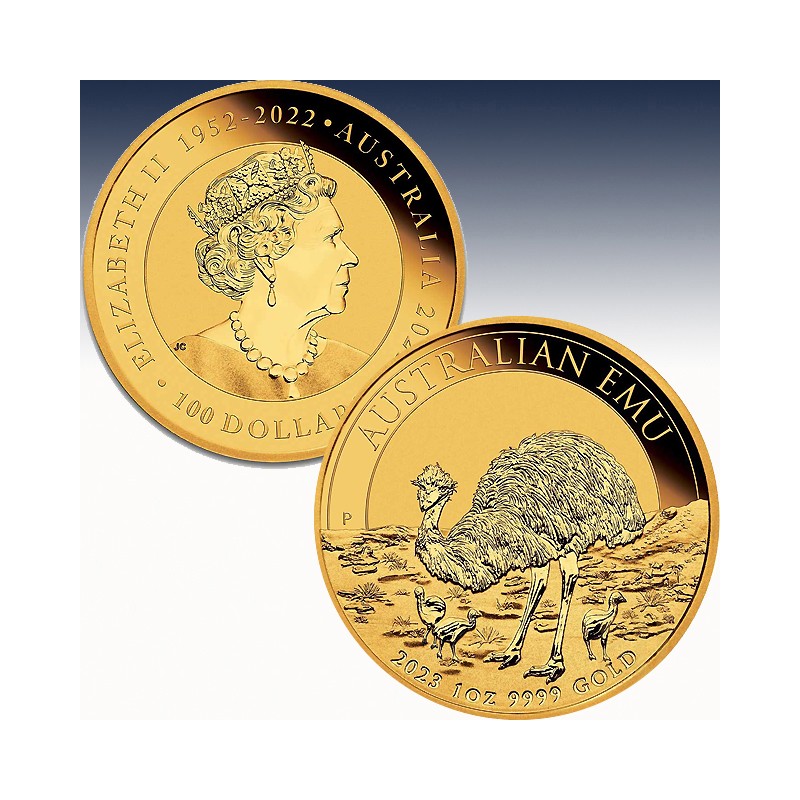  
1 x 1 oz Goldmünze 100$ Australien "Emu 2023" -BU-
| | | |
| --- | --- | --- |
| Hersteller: |   | Perth-Mint |
| Nennwert: |   | 100 AUD |
| Prägung: |   | Stempelglanz |
| Stückelung: |   | 1 x 1 Unze |
| Material: |   | Gold |
| Feinheit: |   | 999/1000 |
| Gewicht: |   | 31,103 Gramm |
| Durchmesser: |   | 32,60 mm |
1 x 1 Unze (oz) Goldmünze 100$ Australien "EMU 2023"
Impressive to behold, the emu is the largest native bird in Australia. Fittingly so, it is featured on this .9999 fine Gold coin.

Coin Highlights:
Limited mintage of only 5,000 coins.
Contains 1 oz of .9999 fine Gold.
Packaged in a protective plastic capsule.
Obverse: Bears the Jody Clark likeness of Her Majesty Queen Elizabeth II, the face value, year-date, weight and fineness.
Reverse: Depicts two Australian Emus on a landscape of foliage, trees, and grass. The design also includes the description "Australian Emu", The Perth Mint's "P" mintmark, the year date, weight, and purity.
Sovereign coin backed by the Australian government.

The Australian Emu is a large flightless bird that can trot great distances. Although emus have feathers, they cannot fly because their wings are too small. Emus are found throughout Australia in almost all habitat types and they feed mainly on grass flowers, seeds and insects. The emu is the second-largest living bird by height, after the ostrich.
Diese Münze wird von der Perth Mint gekapselt geliefert!

Technische Daten
Gewicht

31.103

Material

Gold

Jahreszahl

2023

Preis-Addition

150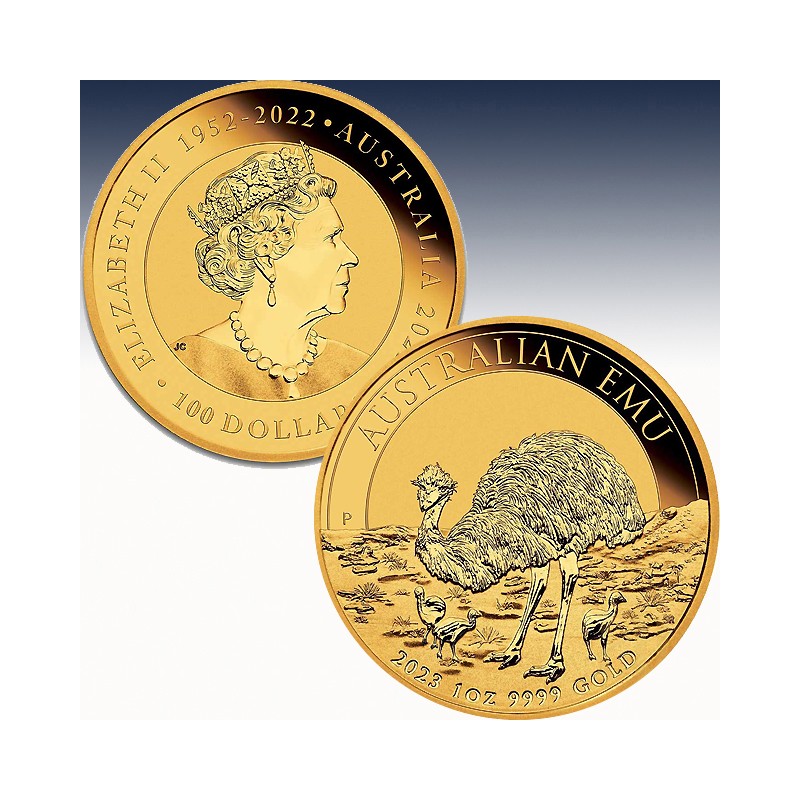 | | | |
| --- | --- | --- |
| Hersteller: |   | Perth-Mint |
| Nennwert: |   | 100 AUD |
| Prägung: |   | Stempelglanz |
| Stückelung: |   | 1 x 1 Unze |
| Material: |   | Gold |
| Feinheit: |   | 999/1000 |
| Gewicht: |   | 31,103 Gramm |
| Durchmesser: |   | 32,60 mm |