Gold 1.754,34 Eur
Silber 20,30 Eur
Platin 927,08 Eur
Palladium 2.192,50 Eur
(49) 2935 - 3 390 375
Europaweite Lieferung
Europaweite Lieferung
Gold 1.754,34 Eur
Silber 20,30 Eur
Platin 927,08 Eur
Palladium 2.192,50 Eur
SILBER 15,39 EUR
PLATIN 853,48 EUR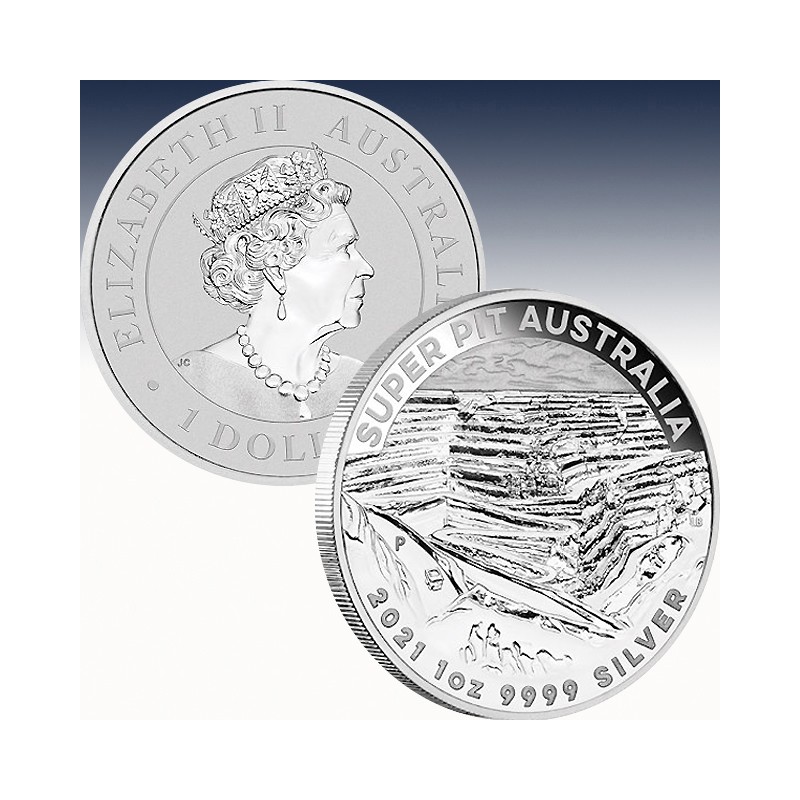  
1 x 1 Oz Silber 1$ Australien "Super Pit 2022" -Bu-*
| | | |
| --- | --- | --- |
| Hersteller: |   | Perth Mint |
| Nennwert: |   | 1 AUD |
| Prägung: |   | Stempelglanz |
| Stückelung: |   | 1 x 1 Unze |
| Material: |   | Silber |
| Feinheit: |   | 999/1000 |
| Gewicht: |   | 31,103 Gramm |
| Durchmesser: |   |  40,6 x5,6mm |
| Auflage: |   | 100.000 Stück |
1 x 1 oz Silbermünze 1$ Australien"Super Pit 2022"
(diff.besteuert nach §25a UStG)

In dieser neuen Serie der The Perth Mint Australia werden bekannte Gold und Silberminen gezeigt. Die Erstausgabe, die in 1 Oz Feinsilber und 1 Oz Feingold verfügbar ist, zeigt die Mine Super Pit. Die Münzen bestehen jeweils aus 9999er Feinsilber bzw. 9999er Feingold und sind streng limitiert. Die Serie soll mit weiteren Minenmotiven fortgesetzt werden. Besonderheit, das Edelmetall dieser Münzen stammt von der gezeigten Mine!

Coin Highlights:
Limited mintage of 100,000 coins.
Contains 1 oz of .9999 fine Silver.
Packaged individually in protective plastic packaging. Multiples of 25 are packaged in a tube from the mint and 10 tubes come per mint box.
Obverse: Bears the Jody Clark likeness of Her Majesty Queen Elizabeth II along with the face value.
Reverse: Portrays the original artistry of the awe-inspiring mine along with the inscription "SUPER PIT AUSTRALIA 1OZ 9999 SILVER" and The Perth Mint's "P" mintmark.
Sovereign coin backed by the Australian government.

Gold discoveries across the outback sent the world rushing to Western Australia in the early 1890s. The abundant finds included the celebrated Golden Mile at the mining town Kalgoorlie, which is now home to the Super Pit. At almost 3.5 km long, 1.5 km wide & more than 600 m deep, the Super Pit produces approximately 700,000 oz of Gold each year.
Diese Sammlermünze wird als ganze Unze herausgegeben und besteht aus 99,9 Prozent Feinsilber in der Prägung "Brilliant uncirculated" und hat einen Durchmesser von 40,6 mm. 
Auch diese Silbermünze gilt als gesetzliches Zahlungsmittel in ihren Herausgeberland Australien.
Die SUPER PIT Prägung in "Brilliant uncirculated" sorgt für ein besonders  detailreiches und schön anmutendes Motiv.
Technische Daten
Gewicht

31.103

Material

Silber

Jahreszahl

2022

Preis-Addition

6.9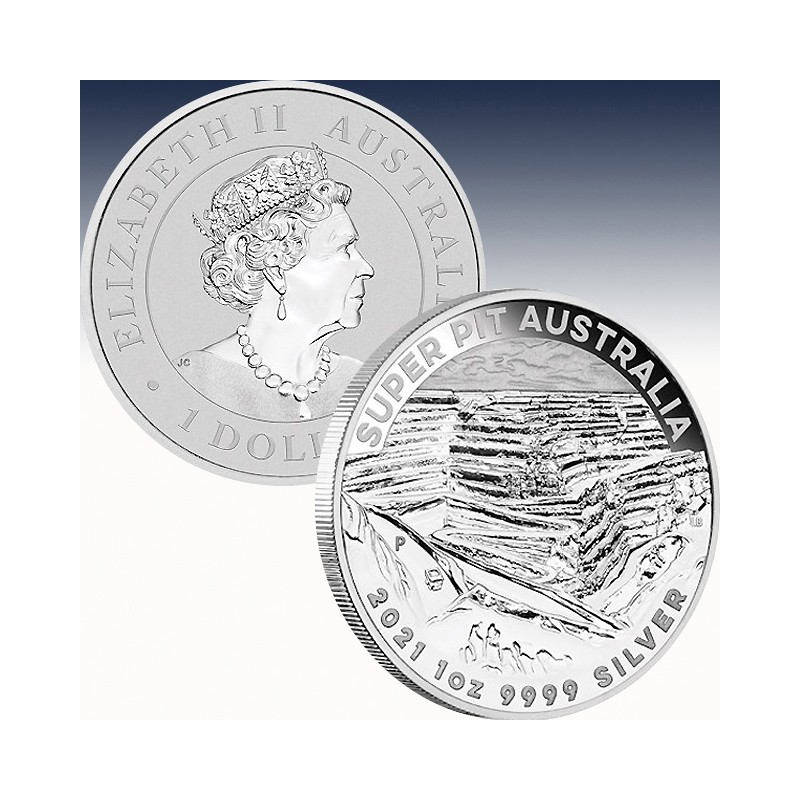 | | | |
| --- | --- | --- |
| Hersteller: |   | Perth Mint |
| Nennwert: |   | 1 AUD |
| Prägung: |   | Stempelglanz |
| Stückelung: |   | 1 x 1 Unze |
| Material: |   | Silber |
| Feinheit: |   | 999/1000 |
| Gewicht: |   | 31,103 Gramm |
| Durchmesser: |   |  40,6 x5,6mm |
| Auflage: |   | 100.000 Stück |