Gold 1.688,86 Eur
Silber 21,34 Eur
Platin 958,52 Eur
Palladium 1.798,00 Eur
(49) 2935 - 3 390 375
Europaweite Lieferung
Europaweite Lieferung
Gold 1.688,86 Eur
Silber 21,34 Eur
Platin 958,52 Eur
Palladium 1.798,00 Eur
SILBER 15,39 EUR
PLATIN 853,48 EUR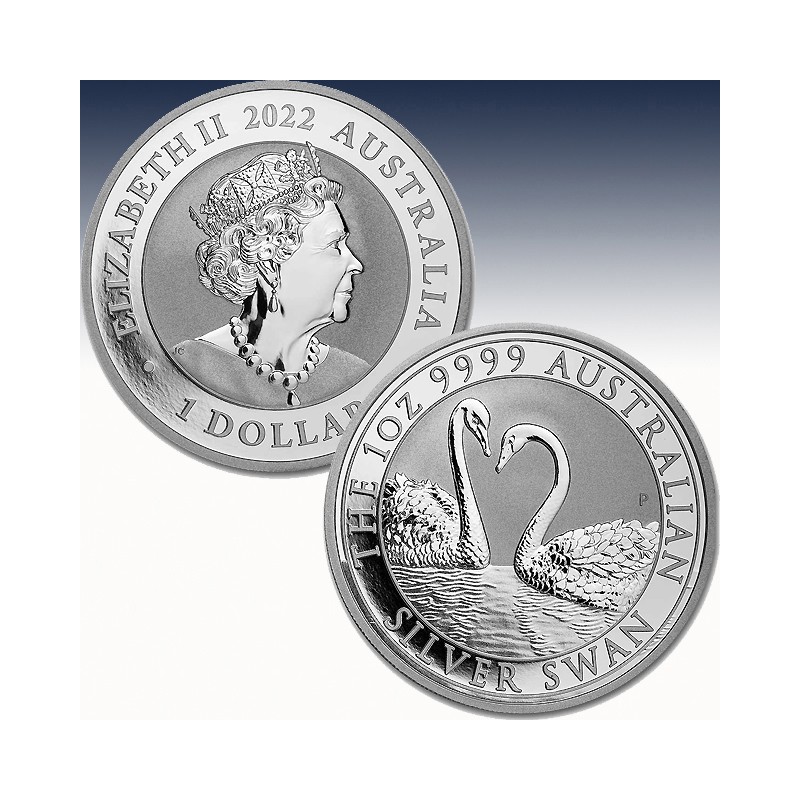  
1 x 1oz Silbermünze 1 $ Australien "Swan 2022" -BU-*
| | | |
| --- | --- | --- |
| Hersteller: |   | Perth Mint |
| Nennwert: |   | 1 AUD |
| Prägung: |   | Stempelglanz |
| Stückelung: |   | 1 x 1oz |
| Material: |   | Silbe |
| Feinheit: |   | 999,9/1000 |
| Gewicht: |   | 31,103 Gramm |
| Verpackung: |   | gekapselt |
| Durchmesser: |   | 40,60mm |
| Auflage: |   | 25.000 Stück |
1 x 1 Unze (oz) 1 $ Silbermünze Australien "Swan 2022"
 (diff.besteuert nach §25a UStG)
Exquisitely crafted, this Brilliant Uncirculated Silver Swan builds on the success of the Silver bullion Swan first launched in 2017. This 2019 BU Swan continues the limited mintage of 25,000 coins made of .9999 fine Silver.
This coin is the third annual series of 1 oz limited mintage Silver Swan coins with designs varying each year, much like the heralded Koala and Kookaburra coin series from Perth. Featuring a limited mintage of 25,000 coins and .9999 fine Silver, this opportunity is sure to be fleeting!

Coin Highlights:
Limited mintage of 25,000 coins worldwide.
Contains 1 oz of .9999 fine Silver.
Presented in a protective plastic capsule.
Obverse: The Jody Clark likeness of Her Majesty Queen Elizabeth II, the monetary denomination and the 2019 year-date are depicted.
Reverse: Portrays a swan swimming gracefully with a cygnet. A second swan lingers in the background. The design includes the inscription "The 1OZ 9999 Australian Silver Swan" and the Perth Mint's "P" mintmark.
Sovereign coin backed by the Australian government.

This swan is so lifelike that it appears to be ready to take flight off the coin itself. Add this spectacular 2019 1 oz Silver Swan coin to your cart today!

The Swan is an iconic species that is so synonymous with the Perth Mint itself that it even appears in the Mint's logo. The Perth Mint's operations are situated in the heart of Perth, the capital and largest city of Western Australia. Founded in 1829 on the shores of the Swan River, the original colony in the territory was in fact called Swan River Colony, the location of which is now Perth.

Perth grew rapidly in the late 19th century thanks to its rich deposits of natural resources such as oil, gas and perhaps most of all, Gold. From its origins the Perth Mint is in many ways personified by the Swan, a regal waterfowl that appears on the flag of Western Australia and symbolizes timelessness, elegance and beauty, much like the standard of coins produced by the Perth Mint itself.

The Perth Mint has a phenomenal reputation for producing high quality Silver bullion that also provides collectors the ability to collect an entire series that showcases different designs. Customers worldwide collect the Lunars, Kookaburras and Koalas due to their resell values and collectibility.

Swans are often a symbol of love and fidelity due to their long-lasting monogamous relationships. Swans are almost entirely herbivorous, though they will eat small amounts of aquatic animals. There are around seven different species of swan found around the world. Swans are classified as a threatened species mostly due to hunting and habitat loss. Pollution is also a contributing factor.
Technische Daten
Gewicht

31.103 g

Material

Silber

Jahreszahl

2022

Preis-Addition

29.5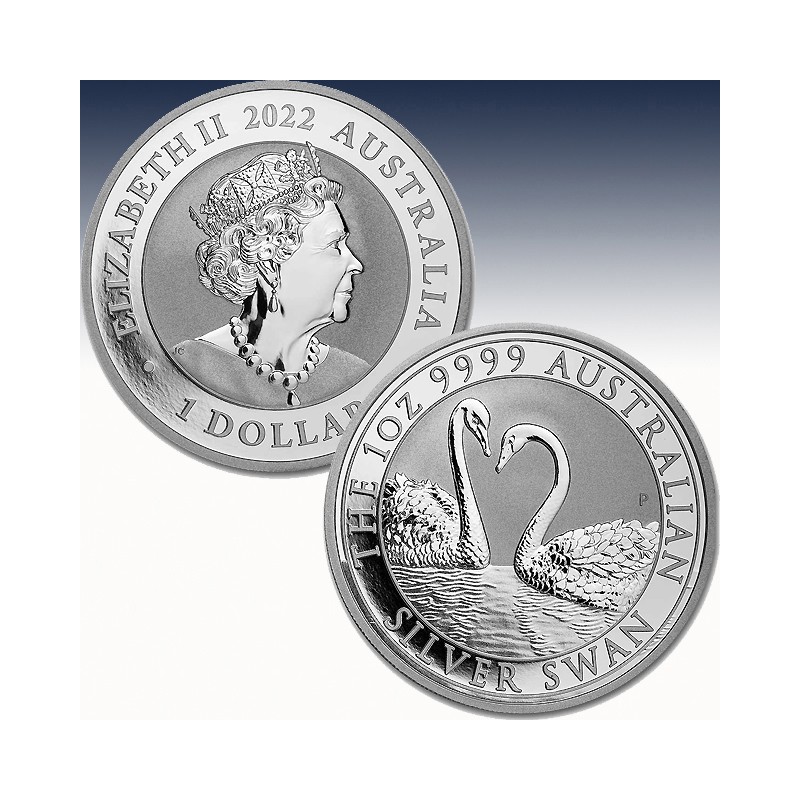 | | | |
| --- | --- | --- |
| Hersteller: |   | Perth Mint |
| Nennwert: |   | 1 AUD |
| Prägung: |   | Stempelglanz |
| Stückelung: |   | 1 x 1oz |
| Material: |   | Silbe |
| Feinheit: |   | 999,9/1000 |
| Gewicht: |   | 31,103 Gramm |
| Verpackung: |   | gekapselt |
| Durchmesser: |   | 40,60mm |
| Auflage: |   | 25.000 Stück |