Gold 1.764,51 Eur
Silber 21,34 Eur
Platin 861,31 Eur
Palladium 1.209,27 Eur
(49) 2935 - 3 390 375
Europaweite Lieferung
Europaweite Lieferung
Gold 1.764,51 Eur
Silber 21,34 Eur
Platin 861,31 Eur
Palladium 1.209,27 Eur
SILBER 15,39 EUR
PLATIN 853,48 EUR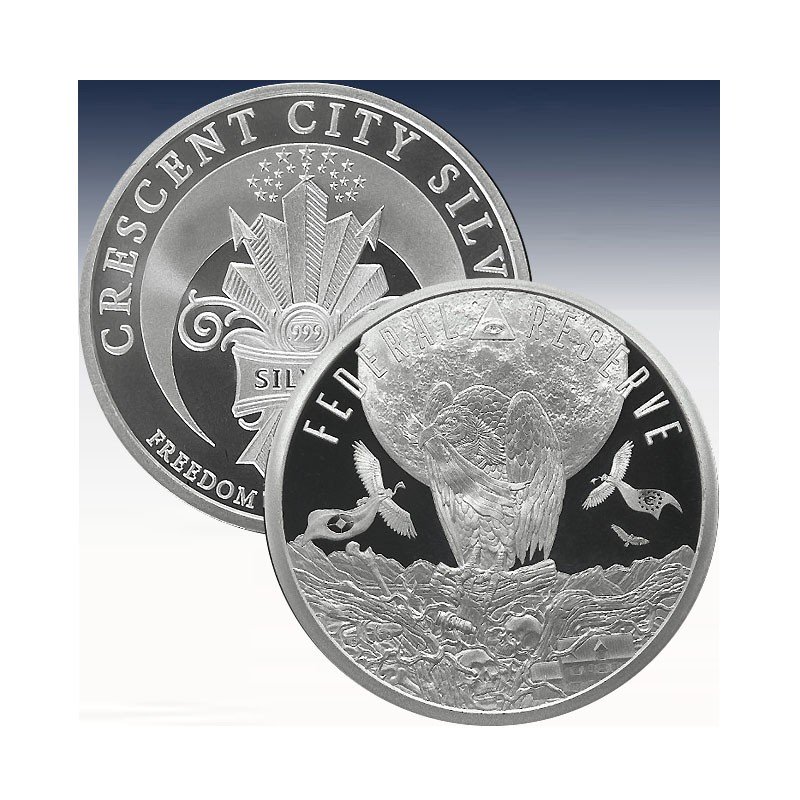  
1 x 2 Oz Silver Round Cresent City Silver "Federal Reserve" -BU-
| | | |
| --- | --- | --- |
| Hersteller: |   |  Golden State Mint |
| Steuersatz: |   | 19% |
| Prägung: |   | Stempelglanz |
| Stückelung: |   | 1 x 2 Unze |
| Material: |   | Silber |
| Feinheit: |   | 999/1000 |
| Gewicht: |   | 62,206 Gramm |
| Verpackung: |   | zip-Tüte |
| Durchmesser: |   | 47,18 mm |
1 x 2 Unze (oz) Silver Round Cresent City Silver "Federal Reserve"
History of the 1913 Federal Reserve Act

The Federal Reserve is the culmination of several periods of economic tumult in American history. Earlier in its history, the United States formed centralized national banks, much to the consternation of its more rural citizens. The national banks were typically controlled by large eastern banking powers, making them untrustworthy to those outside the area. State-chartered or "free banks" took over, issuing their own currency backed by gold.

In 1863, the National Banking Act was passed, allowing for nationally chartered banks again, which offered a way of providing a standardized currency backed by United States securities. But unstable financial markets in 1893 and 1907 resulted in market crashes and depressions, alleviated only by private infusions from J.P. Morgan. Banking reform became a priority to reassure the populace of the safety of their money. In 1912, President Woodrow Wilson asked for a solution from the House Committee on Banking and Finance. A decentralized bank was the answer and was established in the 1913 Federal Reserve Act.2
Die Silverrounds der Silvertowne bestechen durch eine hervorragende "Brilliant uncirculated" Prägequalität und einem außergewöhnlich schönem Design. Jede dieser wunderschönen Silverround enthält 999/1000 Feinsilber.
Technische Daten
Gewicht

62.206

Material

Silber

Jahreszahl

2023

Preis-Addition

20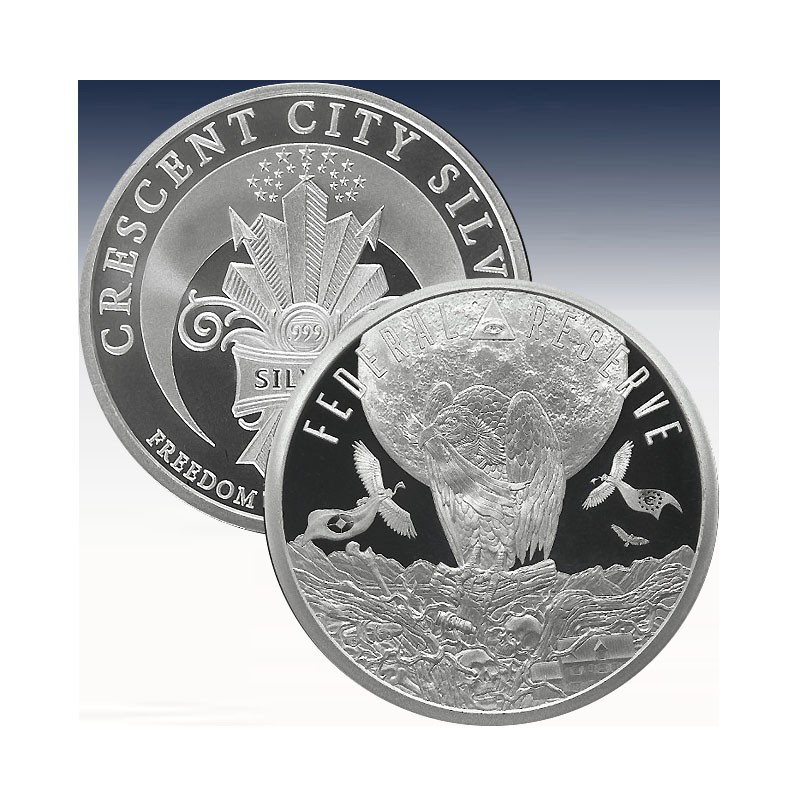 | | | |
| --- | --- | --- |
| Hersteller: |   |  Golden State Mint |
| Steuersatz: |   | 19% |
| Prägung: |   | Stempelglanz |
| Stückelung: |   | 1 x 2 Unze |
| Material: |   | Silber |
| Feinheit: |   | 999/1000 |
| Gewicht: |   | 62,206 Gramm |
| Verpackung: |   | zip-Tüte |
| Durchmesser: |   | 47,18 mm |