Gold 1.863,05 Eur
Silber 21,38 Eur
Platin 855,59 Eur
Palladium 879,72 Eur
(49) 2935 - 3 390 375
Europaweite Lieferung
Europaweite Lieferung
Gold 1.863,05 Eur
Silber 21,38 Eur
Platin 855,59 Eur
Palladium 879,72 Eur
SILBER 15,39 EUR
PLATIN 853,48 EUR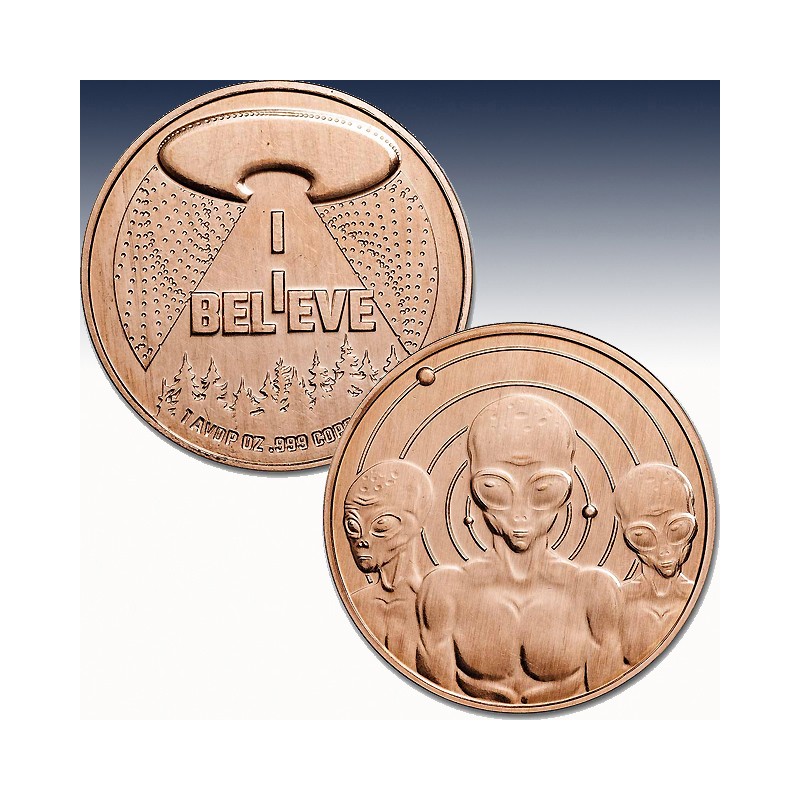  
1 x 1 oz Copper Round 9Fine Mint "Aliens "I Believe" UFO" -BU-
| | | |
| --- | --- | --- |
| Hersteller: |   | 9Fine Mint |
| Steuersatz: |   | 19% |
| Prägung: |   | Stempelglanz |
| Stückelung: |   | 1 x 1 Unze |
| Material: |   | Kupfer |
| Feinheit: |   | 999/1000 |
| Gewicht: |   | 28.349 Gramm |
| Verpackung: |   | zip-Tüte |
| Durchmesser: |   | 39x3,3 mm |
| Auflage: |   | - Stück |
1 x 1 Unze (oz) Copper Round 9Fine Mint "Aliens "I Believe" UFO"
Do they come in peace? Aliens have arrived on your Copper rounds, which you can now add to your holdings!

Round Highlights:
Contains 1 AVDP oz of .999 fine Copper.
Multiples of 20 rounds are packaged in sealed tubes. Multiples of 500 are packaged in boxes. All other rounds come in protective packaging.
Obverse: Depicts a trio of the classic gray aliens, though looking a bit more buff than usual as they stand in front of an orbital diagram.
Reverse: Displays a flying saucer projecting a beam over the word "BELIEVE" as the letter "I" and its duplicate are raised into the ship above a pine forest.
Jede dieser wunderschönen Copper Round enthält 999/1000 Feinkupfer und wurde im wunderschönem "Brilliant uncirculated" geprägt.
Pro Einheit mit 20 Münzen erfolgt die
Lieferung im Original - Münztube ohne Kapseln!
Technische Daten
Gewicht

KFIXRSZBQ

Material

Kupfer

Jahreszahl

2023

Preis-Addition

4.2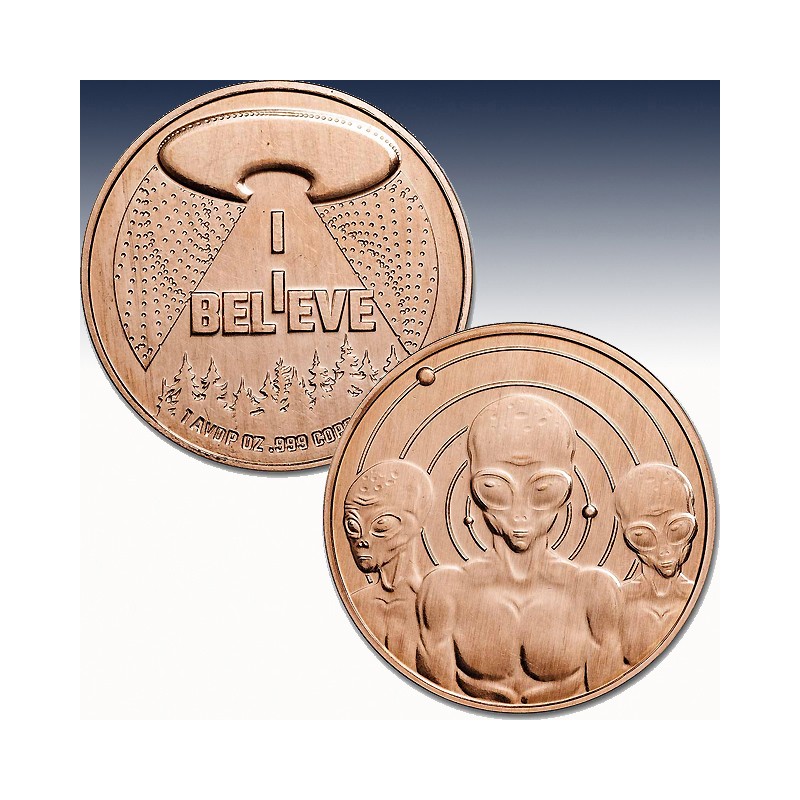 | | | |
| --- | --- | --- |
| Hersteller: |   | 9Fine Mint |
| Steuersatz: |   | 19% |
| Prägung: |   | Stempelglanz |
| Stückelung: |   | 1 x 1 Unze |
| Material: |   | Kupfer |
| Feinheit: |   | 999/1000 |
| Gewicht: |   | 28.349 Gramm |
| Verpackung: |   | zip-Tüte |
| Durchmesser: |   | 39x3,3 mm |
| Auflage: |   | - Stück |