Gold 1.690,01 Eur
Silber 21,32 Eur
Platin 956,08 Eur
Palladium 1.797,50 Eur
(49) 2935 - 3 390 375
Europaweite Lieferung
Europaweite Lieferung
Gold 1.690,01 Eur
Silber 21,32 Eur
Platin 956,08 Eur
Palladium 1.797,50 Eur
SILBER 15,39 EUR
PLATIN 853,48 EUR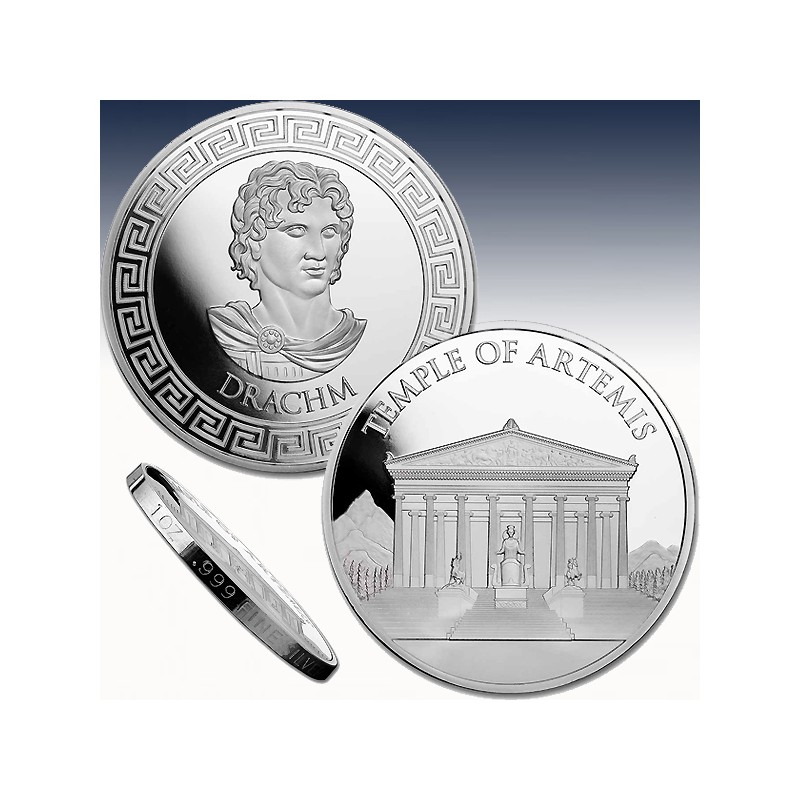  
1 x 1 Oz Silver Round Tetradrachm "7 Wonders of the Ancient World - Temple of Artemis"
| | | |
| --- | --- | --- |
| Hersteller: |   | 9Fine Mint |
| Steuersatz: |   | 19% |
| Prägung: |   | Stempelglanz |
| Stückelung: |   | 1 x 1 Unze |
| Material: |   | Silber |
| Feinheit: |   | 999/1000 |
| Gewicht: |   | 31,103 Gramm |
| Durchmesser: |   | 39,00 mm |
| Auflage:: |   |  7.777 Stück |
1 x 1 Unze (oz) Silver Round Tetradrachm
"7 Wonders of the Ancient World - Temple of Artemis"
The Seven Wonders of the Ancient World are among the most famous landmarks in human history.

Round Highlights:

Contains 1 oz of .999 fine Silver.
Limited mintage of 7,777 rounds.
Rounds come in capsules. Multiples of 20 are packaged in a heat-sealed roll.
Features edge mark with weight and purity, unique for a bullion round.
Obverse: Features the Temple of Artemis, a colossal structure dedicated to the Greek goddess of nature, wildlife and childbirth.
Reverse: Displays an effigy of Alexander the Great, known as one of the greatest kings to ever live. The round carries a denomination of 1 Drachm.


The Temple of Artemis
One of the Seven Wonders of the World is the Temple of Artemis, also known as the Temple of Artemesium. It is located in Ephesus, which is now western Turkey. The Temple of Artemis was a Greek temple dedicated to an ancient depiction of the goddess Artemis.

Around 550 BCE, Croesus, the king of Lydia, built the magnificent temple, which was subsequently destroyed by a lunatic named Herostratus in 356 BCE. The Artemesium was remarkable not just for its enormous size, which was 350 by 180 feet (about 110 by 55 meters), but also for the amazing artistic works of art that were on display within. According to legend, on the same day that the temple burned down, Alexander the Great was born. Artemis herself was so focused on his birth that she was unable to rescue her temple. Alexander offered to pay to restore the vast temple as an adult, but since he was considered a deity by some, his generous offer was declined.

The Temple of Artemis was home to a number of renowned Greek artists' sculptures. The temple also housed works by Polyclitus, Pheidias, Cresilas and Phradmon, as well as bright paintings and gilded columns inlaid with Gold and Silver. There were many sculptors competing to make the greatest statue. The Amazons, who are said to have established Ephesus, were frequently represented in these works.

Seven Wonders of the Ancient World
APMEX is proud to present the Seven Wonders of the Ancient World series. This exciting series will include seven releases featuring limited mintages of 7,777 Silver and 77 Gold, respectively. Each release of Silver and Gold rounds features a beautiful design of a mystical wonder of the ancient world and an effigy of a historical figure relevant to the subject, along with a denomination applicable to the period.
Technische Daten
Gewicht

31.103

Material

Silber

Jahreszahl

2022

Preis-Addition

10.5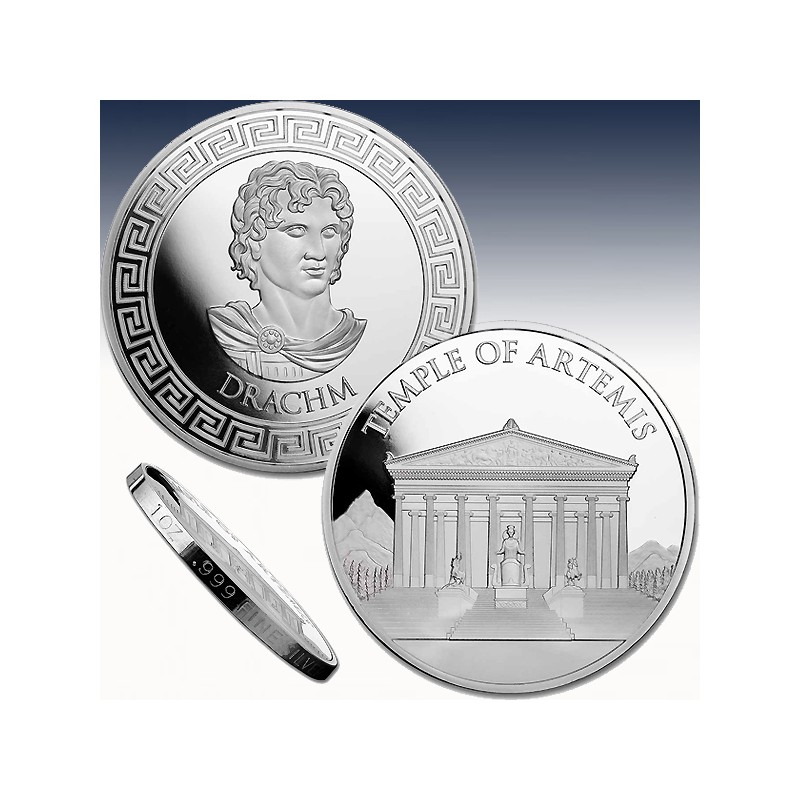 | | | |
| --- | --- | --- |
| Hersteller: |   | 9Fine Mint |
| Steuersatz: |   | 19% |
| Prägung: |   | Stempelglanz |
| Stückelung: |   | 1 x 1 Unze |
| Material: |   | Silber |
| Feinheit: |   | 999/1000 |
| Gewicht: |   | 31,103 Gramm |
| Durchmesser: |   | 39,00 mm |
| Auflage:: |   |  7.777 Stück |