Gold 1.736,75 Eur
Silber 20,31 Eur
Platin 865,75 Eur
Palladium 1.827,00 Eur
(49) 2935 - 3 390 375
Europaweite Lieferung
Europaweite Lieferung
Gold 1.736,75 Eur
Silber 20,31 Eur
Platin 865,75 Eur
Palladium 1.827,00 Eur
SILBER 15,39 EUR
PLATIN 853,48 EUR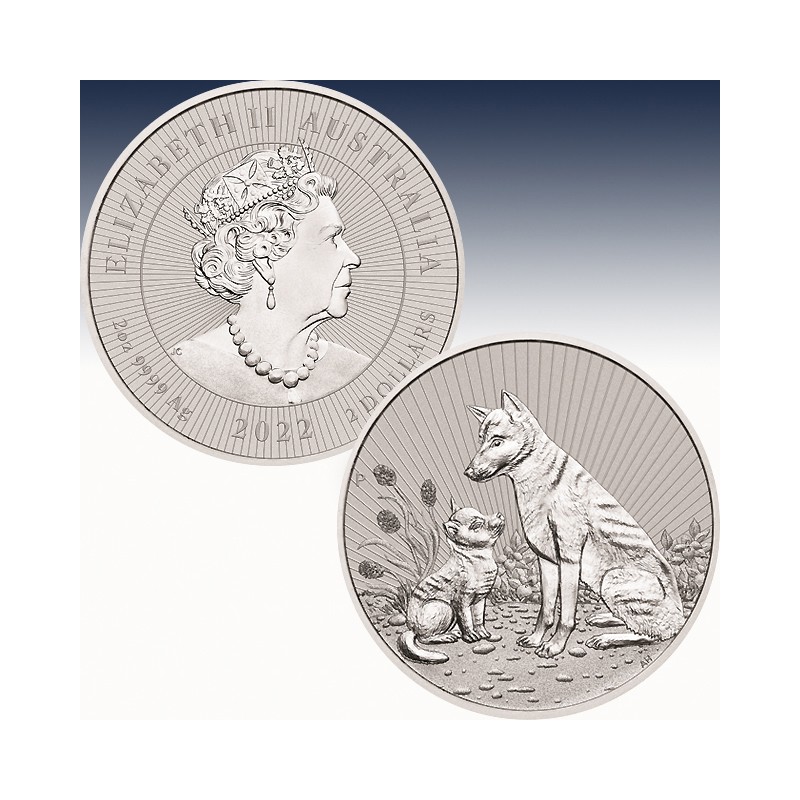  
1 x 2 oz Silbermünze 2$ Australien "Next Generation - Dingo with Baby 2022 (Piedfort)" -BU-*
| | | |
| --- | --- | --- |
| Hersteller: |   | Perth Mint |
| Nennwert: |   | 2 AUD |
| Prägejahr: |   | 2022 |
| Stückelung: |   | 1 x 2 Unze |
| Material: |   | Silber |
| Feinheit: |   | 999,9/1000 |
| Gewicht: |   | 62,20 Gramm |
| Verpackung: |   | zip-Tüte |
| Durchmesser: |   | 40,6 mm |
| Auflage: |   | 75.000 Stück |
1 x 2 Unze (oz) Silbermünze 2$ Australien
"Next Generation - 5# Dingo with Baby 2022 (Piedfort)"
(diff.besteuert nach §25a UStG)
Der Dingo ist die 5. Ausgabe der Next Generation Serie nach Koala 2018 und Krokodil 2019, Kookaburra und Platypus von der The Perth Mint Australia.
Perth Mint continues their Mother & Baby series with a new design for 2022. This piedfort coin features and Dingo & baby.

Coin Highlights:
Contains 2 oz of .9999 fine Silver.
Maximum Mintage of 75,000.
Each coin comes in a protective plastic. Multiples of 10 come in a tube and 10 tubes comes in a monster box.
Eligible for Precious Metals IRAs.
Obverse: Displays the Jody Clark likeness of Her Majesty Queen Elizabeth II and the monetary denomination. The 2021 year-date, and the .9999 purity are also featured in the design.
Reverse: Portrays a Dingo with Baby. The design also includes radial lines and The Perth Mint's "P" mintmark.
Sovereign coin backed by the Australian government.

Each release of the Next Generation coins will display a mother & baby from an Australian Outback species. In addition, each coin includes the enhanced security feature of micro-engraved radial lines. All coins in the series are struck as Piedfort coins, meaning they are the same diameter as Perth's standard round Silver coins of the same weight but are double the thickness.
Jede dieser wunderschönen Silverround enthält 999,9/1000 Feinsilber und wurde im feinsten "Brilliant uncirculated" geprägt.
              Pro kompletter Einheit erfolgt die Lieferung
                   in Original PVC Tube!
Technische Daten
Gewicht

62.206

Material

Silber

Jahreszahl

2022

Preis-Addition

17.25
| | | |
| --- | --- | --- |
| Hersteller: |   | Perth Mint |
| Nennwert: |   | 2 AUD |
| Prägejahr: |   | 2022 |
| Stückelung: |   | 1 x 2 Unze |
| Material: |   | Silber |
| Feinheit: |   | 999,9/1000 |
| Gewicht: |   | 62,20 Gramm |
| Verpackung: |   | zip-Tüte |
| Durchmesser: |   | 40,6 mm |
| Auflage: |   | 75.000 Stück |