Gold 1.759,87 Eur
Silber 21,38 Eur
Platin 922,72 Eur
Palladium 1.496,02 Eur
(49) 2935 - 3 390 375
Europaweite Lieferung
Europaweite Lieferung
Gold 1.759,87 Eur
Silber 21,38 Eur
Platin 922,72 Eur
Palladium 1.496,02 Eur
SILBER 15,39 EUR
PLATIN 853,48 EUR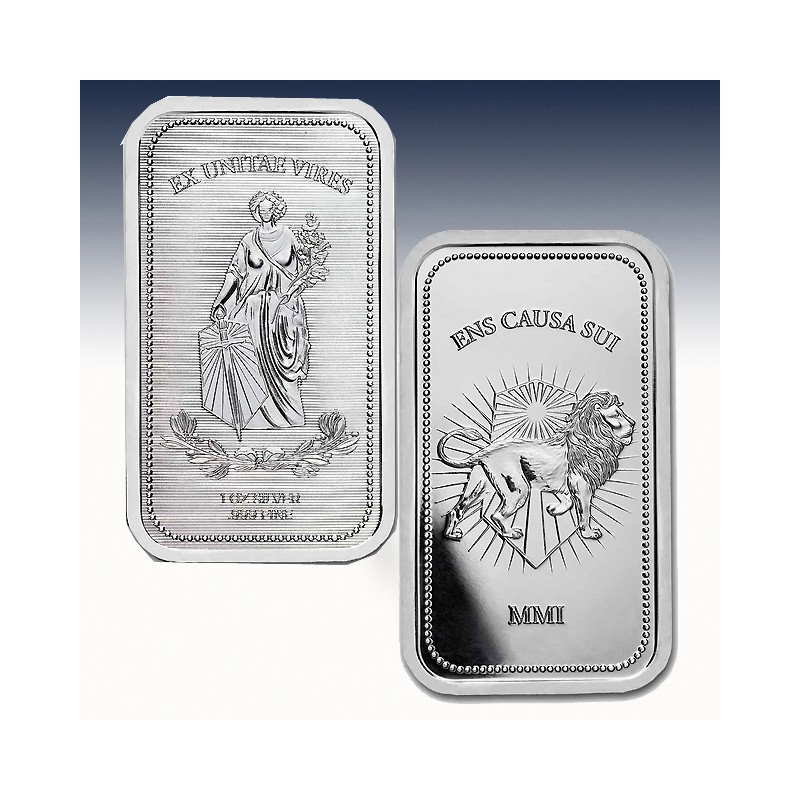  
1 x 1 Oz Silver Bar "Continental Coin John Wick®" -BU-
| | | |
| --- | --- | --- |
| Herkunft: |   | USA |
| Steuersatz: |   | 19% |
| Prägung: |   | Stempelglanz |
| Stückelung: |   | 1 x 1 Unze |
| Material: |   | Silber |
| Feinheit: |   | 999/1000 |
| Gewicht: |   | 31,103 Gramm |
| Verpackung: |   | zip-Tüte |
| Durchmesser: |   | 39 mm |
1 x 1 Unze (oz) Silver Bar "Continental Coin John Wick®"
This 1 oz .999 fine Silver continental bar is the perfect addition to your collection!

Bar Highlights:

Contains 1 oz of .999 fine Silver.
Multiples of 20 come packaged and delivered in protective packaging.
Obverse: Depicts a lion in front of a shield with rays of light extending from the center. On the coin's edge is the phrase, "Ens Causa Sui," which means "a cause within itself."
Reverse: Features a blindfolded woman reminiscent of the classical Blind Justice holding the same shield plus a sword in one arm and a branch in the other. A laurel wreath encircles the image with the text, "Ex Unitae Vires," which means "out of unity comes strength."

The John Wick Franchise
The John Wick films follow a beautifully-lethal ex-assassin forced out of retirement against former associates of a criminal underworld overseen by the international assassin's guild, the High Table. In this secret underworld, goods and services are not purchased with traditional currency or credit cards but with the ubiquitous Gold coin, which can be exchanged for a variety of goods and services, from whiskey to weapons, though it possesses no set monetary value. Instead, it represents the commerce of relationships. Accordingly, its value is tied to the social standing of the possessor. The coin is one's business card: without it, access is prohibited.

John Wick: Rounds and Bars
To celebrate the story of John Wick, APMEX proudly offers officially licensed Gold and Silver products from the films in .999 Precious Metal content. Our APMEXclusive® series releases in the past have included 1 oz Proof Gold, 1 oz Proof Silver, 1 oz Gold BU and 1 oz Silver BU rounds triple-struck for a beautiful finish. Silver bars were designed to make the perfect addition to your John Wick collection to expand the wildly popular series! Available in 1 oz, 5 oz and 10 oz sizes, these Silver continental bars are great for any movie enthusiast.
Pro Einheit mit 20 Münzen erfolgt die
Lieferung im Original - Münztube!
Technische Daten
Gewicht

31.103

Material

Silber

Preis-Addition

10.9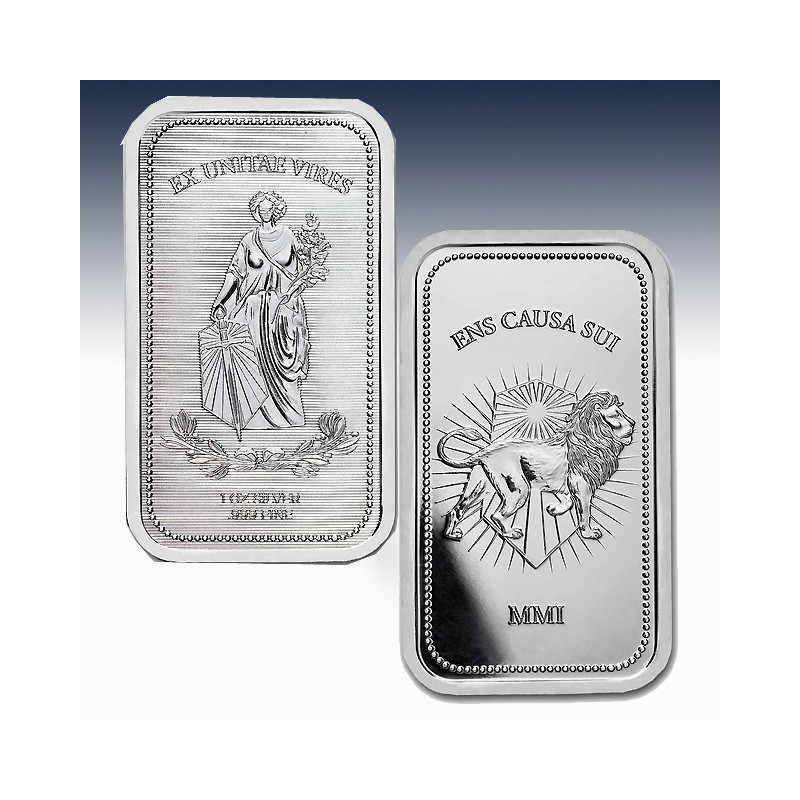 | | | |
| --- | --- | --- |
| Herkunft: |   | USA |
| Steuersatz: |   | 19% |
| Prägung: |   | Stempelglanz |
| Stückelung: |   | 1 x 1 Unze |
| Material: |   | Silber |
| Feinheit: |   | 999/1000 |
| Gewicht: |   | 31,103 Gramm |
| Verpackung: |   | zip-Tüte |
| Durchmesser: |   | 39 mm |