Gold 1.863,05 Eur
Silber 21,38 Eur
Platin 855,59 Eur
Palladium 879,72 Eur
(49) 2935 - 3 390 375
Europaweite Lieferung
Europaweite Lieferung
Gold 1.863,05 Eur
Silber 21,38 Eur
Platin 855,59 Eur
Palladium 879,72 Eur
SILBER 15,39 EUR
PLATIN 853,48 EUR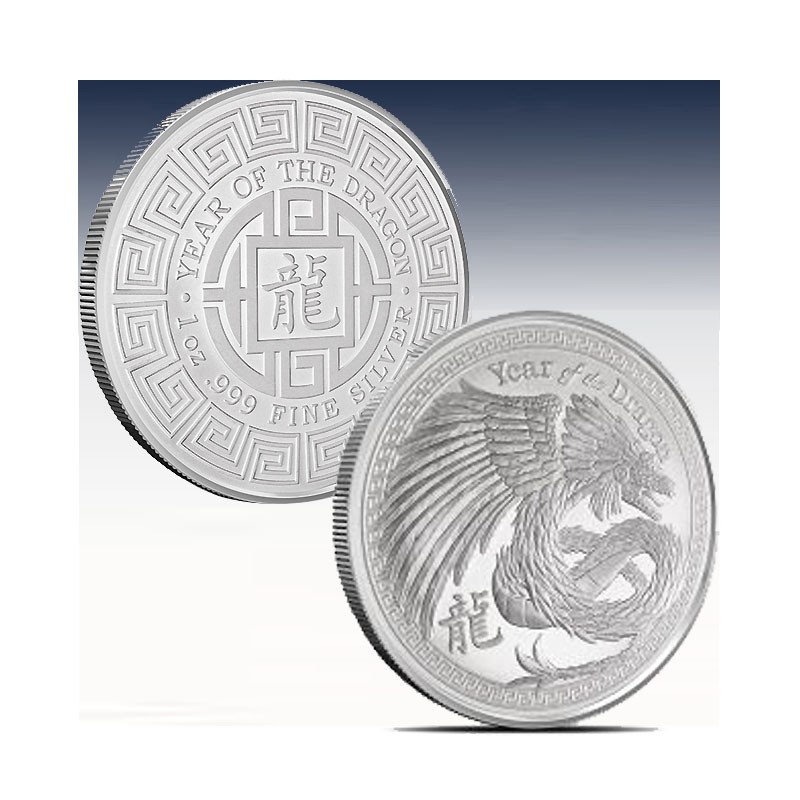  
1 x 1 oz Silverround Provident Metals Lunar "Year of the Dragon 2024" -BU-
| | | |
| --- | --- | --- |
| Hersteller: |   | Golden State Mint |
| Steuersatz: |   | 19% |
| Prägung: |   | Stempelglanz |
| Stückelung: |   | 1 x 1 Unze |
| Material: |   | Silber |
| Feinheit: |   | 999/1000 |
| Gewicht: |   | 31,103 Gramm |
| Verpackung: |   | zip-Tüte |
| Durchmesser: |   | 39 mm |
1 x 1 Unze (oz) Silver Round Provident Metals Lunar
The Chinese Lunar Calendar follows a 12-year cycle that sees a different animal sign assigned to each of the 12 years. In addition to the 12-year animal cycle, there is also a five-year elemental cycle in the Chinese zodiac. Each animal year is associated with one of the five elements: Wood, Fire, Earth, Metal, and Water. For example, 2012 was the Year of the Water Dragon, and 2024 is the Year of the Wood Dragon. Right now, 1 oz Year of the Dragon Silver Rounds are available to purchase online at JM Bullion.
Round Highlights:
Arrives inside protective flips, plastic tubes of 20, or boxes of 500 rounds!
Part of the popular Lunar Series!
Powerful depiction of the Chinese dragon!
Contains 1 Troy oz of .999 pure silver.
On the obverse is a Chinese dragon.
The reverse features the common emblem of the series.
Each of the 1 oz Year of the Dragon Silver Rounds available here come to you with individual protective flips. Multiples of 20 are available in plastic tubes, while multiples of 500 are available in boxes. The box contains 25 tubes of 20 rounds each.
The dragon is one of the most revered and iconic animals in Chinese culture. It is a symbol of power, strength, and good luck. People born in the Year of the Dragon are believed to inherit these traits. People born in the Year of the Dragon are often described as confident, charismatic, and ambitious. They tend to be natural leaders and are known for their enthusiasm and energy. Dragons are also seen as highly creative individuals.
On the obverse of the Year of the Dragon Silver Round comes with a depiction of a coiled Chinese dragon. The body of the dragon is coiled through the middle portions and forms a figure eight. The head of the dragon is featured in right-profile relief with large wings on its back.
The reverse side of 1 oz Year of the Dragon Rounds features the common design element of the series. This includes the image of the Chinese symbol for the dragon at the very center with decorative border design elements surrounding this central visual element.
Technische Daten
Gewicht

31.103

Material

Silber

Jahreszahl

2024

Preis-Addition

7.3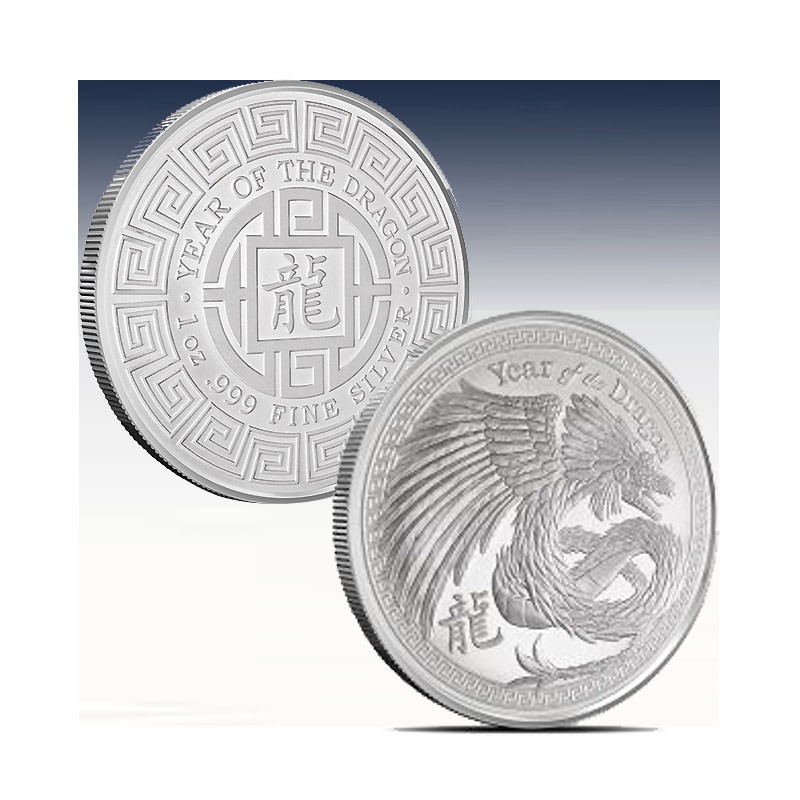 | | | |
| --- | --- | --- |
| Hersteller: |   | Golden State Mint |
| Steuersatz: |   | 19% |
| Prägung: |   | Stempelglanz |
| Stückelung: |   | 1 x 1 Unze |
| Material: |   | Silber |
| Feinheit: |   | 999/1000 |
| Gewicht: |   | 31,103 Gramm |
| Verpackung: |   | zip-Tüte |
| Durchmesser: |   | 39 mm |